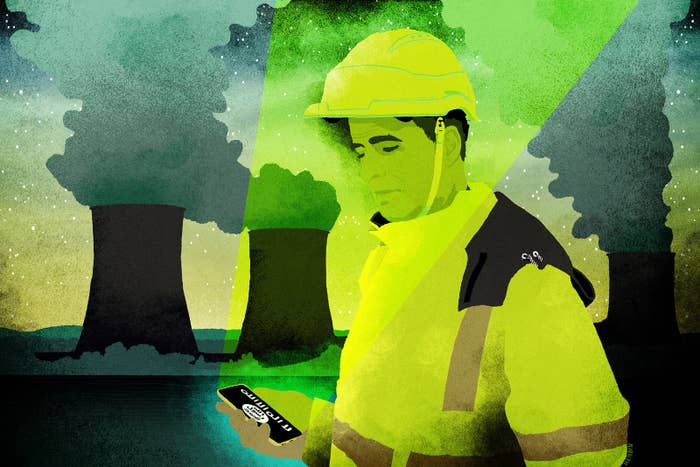 PARIS — A French radiation protection technician has been banned from working at nuclear power plants by a Paris court more than three years after he began posting in support of armed jihad on Facebook.
The 31-year-old technician, referred to in court proceedings as Rida E., was permitted to access nuclear plants for several months while he was being investigated by French authorities for suspected ties to terrorist groups in Syria. He was convicted on Dec. 7 of conspiring to commit acts of terrorism.
Rida E., a French citizen who immigrated from Morocco as a child, took a nuclear physics course after high school and then found work as a technician analyzing radiation risks in nuclear facilities. In 2012, he was hired by CERAP, a private agency authorized to train and send technicians and engineers to France's nuclear plants.
In June 2013, Rida E. was working at the Tricastin nuclear plant in southern France. Around this time, he used a Facebook account he'd opened a few years before using a pseudonym, "Ibn Mohamed El Moujahid VII." The account's profile photo was a black hand with a thumbs-up similar to Facebook's "like" icon, marked with an ISIS logo.
That month the technician's younger brother, then 20, left France for Syria, where he joined Jaish al-Muhajireen wal-Ansar, which is affiliated with ISIS. Then he joined Al-Nusra Front, which the US and Europe have designated as a terrorist organization. Over the next several months, Rida E. transferred money to his brother and the two corresponded on Skype and Facebook. Rida E. told the court he initially believed his brother was studying Arabic in Turkey and that he had been pretending to support terrorist groups to maintain his brother's trust and convince him to return. They also spoke on the phone, including at least one call Rida E. placed from the nuclear power plant's office.
In December 2013, after investigators found a USB drive at his home containing numerous images of jihadi propaganda, Rida E. was denied access to nuclear facilities through May 2014. In March 2014, he was indicted for "criminal association with a view to the preparation of acts of terrorism."
Despite these charges, Rida E. returned to work in French nuclear power plants in July 2014 and worked until October of that year. He was employed not by the facilities directly, but by CERAP.
CERAP's management confirmed to BuzzFeed News that the company had employed Rida E. and said they had not been told he was under investigation for suspected terrorist ties.
"We do not possess any information regarding [applicants'] judicial status or their past," a company spokesperson said. "We have no means of knowing, for example, whether they are implicated in cases like this one."
"Do not come back, I will join you myself later, inshallah," Rida E. wrote to his brother.

Background checks of staff are supposed to be conducted by Électricité de France (EDF), the mostly state-owned company that operates France's power plants and requests trained personnel from service providers like CERAP.

EDF told BuzzFeed News that government prefectures conduct background checks on external personnel sent by CERAP and decide if the individual should have access to nuclear sites. A review is conducted annually for all external personnel, including Rida E., who was hired by the company in 2012, after he had already begun posting online about his support for jihad. Greenpeace has called these verification processes insufficient.
CERAP dismissed Rida E. in November 2014, when France's domestic intelligence service withdrew his access to the facilities. The company said that at that point, it still didn't know why its employee's access had been revoked.
"One morning, this person was excluded from the nuclear site where he was supposed to work. His badge simply did not work anymore and he could no longer physically access the plant," CERAP told BuzzFeed News. "All we know is that EDF has deemed that he was no longer worthy of working on a nuclear site. But we don't know anything further. Before this ban, he had access to all the most critical areas of the plants where he worked."
A French counterterrorism expert told BuzzFeed France that Rida E. may have slipped through the cracks in surveillance due to human error, or a lack of communication between the different French security agencies. The expert, who only spoke on condition of anonymity, said Rida E. may also have taken advantage of the intelligence services' deliberate intention of leaving him in place in order to verify whether he intended to attack the facilities he had access to.
The French Interior Ministry and the Ministry of Environment and Energy did not respond to questions from BuzzFeed News.
CERAP told BuzzFeed News it is upset that it was never informed Rida E. was on the French authorities' radar.
"This means that we could very well hire someone who is under investigation," CERAP management said, noting that in the past few years, they have been "running into more and more cases of the same type. It is no longer a non-event."
This post was translated from French.