Trump's Greek Tragedy Is Getting Extra Oedipal
Donald Trump and Don Jr. are both sons of rich, emotionally abusive men, and both strived emulate and outdo them.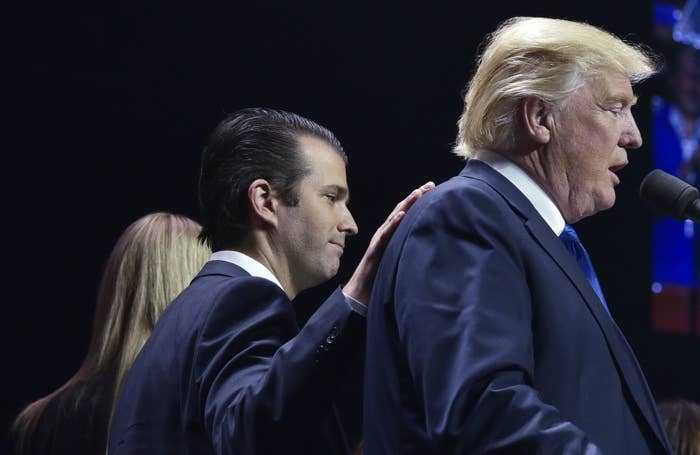 The Greek tragedy in Washington became a little more oedipal than usual last week when it was revealed via Senate transcripts that Donald Trump Jr. seems to have been willing to collude with Russia for dirt on Hillary Clinton during the presidential campaign. This bombshell was dropped just a week after news surfaced that Donald Jr. is currently dating Kimberly Guilfoyle, a host on the Fox News show The Five, and cheated on his pregnant wife — the mother of his five children — with a D-list contender on The Celebrity Apprentice.
For those of us who have lived in New York long enough, it is history repeating itself. Both Donald and Donald Jr. are sons of rich, powerful men who constantly demeaned them and ignored them for a favored sibling (for Donald it was Fred Jr., while for Donald Jr. it is Ivanka). Both men are one of five children, and both idolized their emotionally abusive fathers while eventually striving to not just emulate but outdo their dads — as if to finally prove their worthiness — while treating women as on-camera props. And now, Junior is willing to do anything to gain his father's approval, and his divorce is playing out across the front pages of the New York City tabloids — just like Daddy's did.
Donald Jr. didn't start out like this. When I began reporting for Page Six, the New York Post's gossip section, in the first decade of the new millennium, he'd just graduated from the University of Pennsylvania and was a ski bum in Colorado. Junior had a fraught relationship with his mercurial father, whom he didn't speak to for years after Senior left his mother, Ivana, for the younger, tauter Marla Maples in a highly publicized divorce that was fought out in the pages of the city's tabloids.
It wasn't just an emotionally rough relationship — according to some claims, Donald Sr. wasn't afraid to get physical. Scott Melker, one of Jr.'s former Penn classmates, wrote on Facebook last year about a disturbing incident when Senior arrived to take Junior to a Yankees game. "Don Jr. opened the door, wearing a Yankee jersey. Without saying a word, his father slapped him across the face, knocking him to the floor in front of all of his classmates. [Senior] simply said, "put on a suit and meet me outside,' and closed the door." (The Trumps deny this happened.)
But over the years, Junior succumbed and joined the family firm — and embraced the oedipal urge to not just join but possibly surpass his father. As the presidential spotlight grew stronger, he acted like a third-rate gossip columnist in an attempt to get dirt on Hillary Clinton, tried to land real estate deals in colorful circumstances, and cheated on his wife while his oldest child was roughly the same age he was when his father philandered on his mother.
"There can be an identification of, 'If I engage in these behaviors, if I can be dominant in that way — if I can emulate what my father does, I can finally win his affirmation and this is what it means to be a man,'" explains Dr. Michael Brustein, a New York–based psychologist (who has not treated anyone in the Trump family). "I can defeat my father by being him. It wouldn't surprise me if he had presidential aspirations too."
And that also means boosting the ego with women.
"He's wanting to meet and exceed those expectations that his father had," Brustein told me. In situations like this, "men don't work problems out, they find what's better, they maximize, they take the best opportunities. His behavior is normalized because his father already did it — this is what you do, it's not something to be conflicted about. It's like getting a new car. The old car is no longer affirming. I'm getting the bigger, better deal."
Unfortunately for Junior, he falls short of his dad in a number of ways. Most importantly, he's just not the relentless self-promoter his father proved to be — and he's nowhere near as skilled at manipulating the media.
Watching this generational saga play out feels like life is once again imitating art — and because this is the Trump family we're talking about, it's a specific kind of art: a cheesy 1980's film.
More specifically, it's One Crazy Summer, the 1986 flick starring John Cusack and Demi Moore, in which our protagonists, over the course of a summer in Nantucket, try to save a family estate from the mundanely evil Beckersted family (who, naturally, want to turn it into condos).
The grandson, Teddy, is a slick, Ferrari-driving, hot lady–dating bully who is browbeaten and hectored by his father, Aguilla. Both kowtow to the wealthy grandfather, Old Man Beckersted, who ultimately controls the purse strings and loathes them both.
In the end, the moderately successful yet craven Aguilla is (accidentally) taken down by his viciously bumbling son. They lose the development deal when, despite their best attempts to lie, cheat, steal, and win a yacht race (which, for some reason, is tied to the ownership of the estate) the grandfather gives it to someone else. No matter how successful they try to be, the daddy figure still hates them.
Sound familiar? In real life, it remains to be seen if Junior's ineptitude and mistakes will bring down Senior's presidency. But it's kind of sad to watch Junior star in a bad, oedipal remake of his father's life.
Paula Froelich is a public speaker and polymath. She previously served as deputy editor of the New York Post's Page Six and as editor-in-chief of Yahoo Travel, and is the founder of the travel site A Broad Abroad.