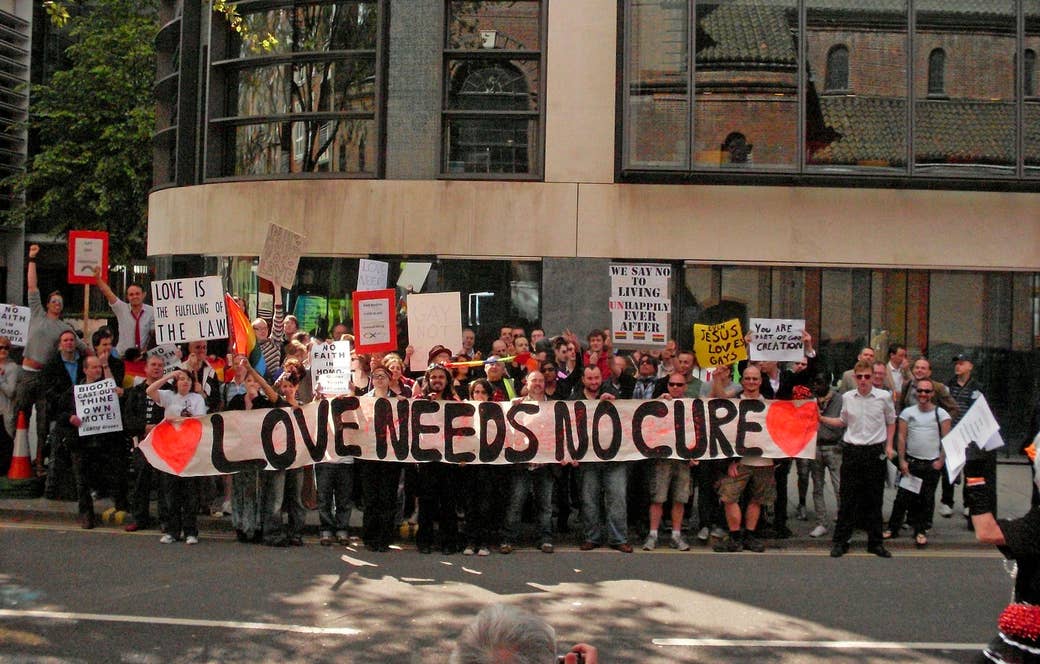 There was a single, terrible moment, while investigating conversion therapy, that changed me. I did not know that it would alter also the course of the conversion therapy movement in Britain, a movement hinged on a chilling idea: that gay people can be cured.

It was a few weeks into my investigation in the summer of 2009. I was in my living room, pacing, on the phone to one of the two people attempting to make me heterosexual. The therapist's name was Lesley Pilkington, and this was our second session.
The first had been in her plush, suburban home, near Amersham, northwest of London. A recording device was taped to my stomach, under my shirt, as she asked me if I had been sexually abused. She was trying to find out what childhood trauma had "triggered" my homosexuality, because those who consider being gay a sickness believe it is formed by trauma. I said no.
"I think there is something there," she replied. "You've allowed things to be done to you. It does need to come to the surface." And then she prayed. She wanted God to "bring to the surface some of the things that have happened over the years".
But it was not until the second counselling session that the transformative moment came. I asked again about the sexual abuse, and whether, because I couldn't remember it, it would have taken place within my family.
"Yes, very likely," she said.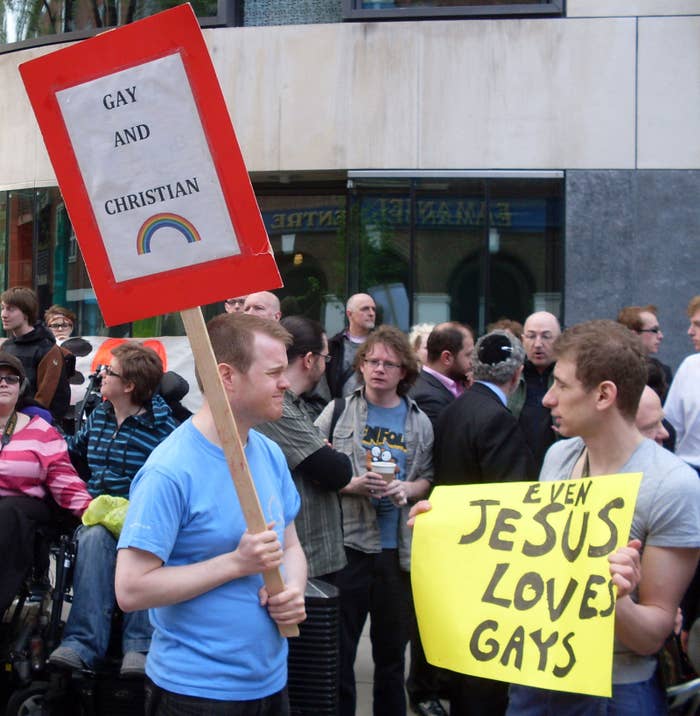 I started shaking. The reality of what conversion therapy is, and what it could do to people, hit. The ideology, that homosexuality must be caused by early psychological damage, means those who adhere to it will find such damage – whether or not it is there. It means, I realised, that anyone could be told that a member of their family sexually abused them – and believe it. Those already vulnerable would be damaged further, and probably profoundly.
The faces of my parents and siblings – always loving and supportive – flashed through my mind. The idea that any of them could have committed the most grotesque of crimes against me was so offensive that I did not just shake. I bit the inside of my cheek hard enough to taste iron. I had to control myself to prevent Pilkington becoming suspicious and my cover being blown.
Being muzzled in that moment cemented my resolve. It meant I would spend the next few years writing, speaking, and fighting – doing everything I could to give voice to what I knew to be true: conversion therapy is dangerous and must be stopped. This is why I did not mind when messages saying President Obama had called for a ban on subjecting minors to conversion therapy awoke me at 4.30am. I thought again about that moment in my living room, and all the men and women I have met and spoken to since: the stories of the psychological damage inflicted by supposedly godly therapists. The tales of suicide attempts when it did not work. The self-harm scars.

As a reporter, you are not supposed to convey how events affect you. And – the golden rule – you are never to let yourself become the story. The problem was, the story became me. It had to. There was no other way to document the dire, word-for-word detail of what occurs during such therapy. And when the time came to take Pilkington to a professional tribunal for a case that would last years, inviting wave after wave of press coverage, there was no one else that could do it.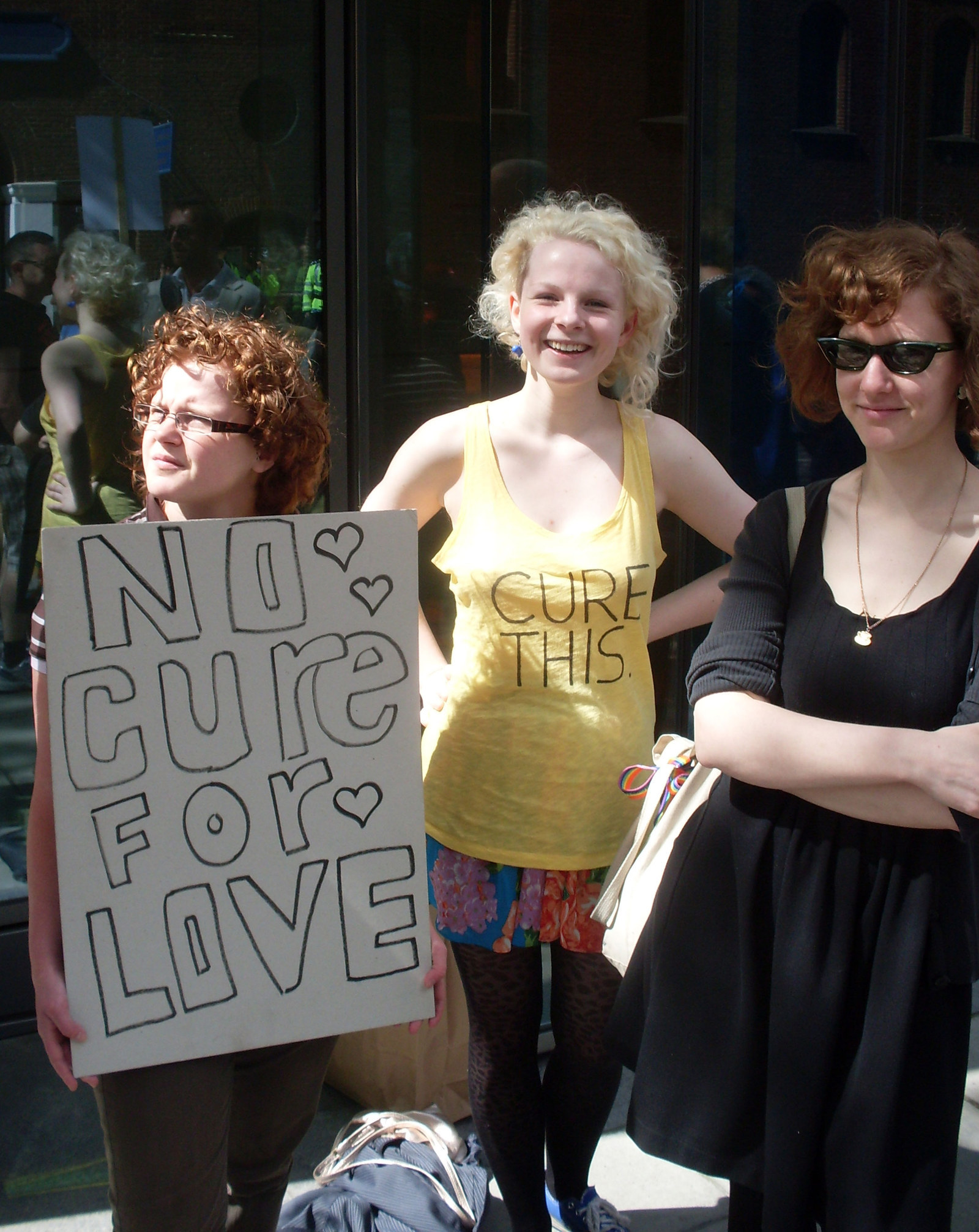 I have never revealed what happened to me during this time. While still in treatment with Pilkington, and, separately, Dr Paul Miller, a Belfast-based psychiatrist – who attempted to cure my homosexuality over Skype – I started having "neurological events". That was how the neurologist to whom I was referred described the episodes.
They involved involuntary spasms that mostly affected my face and neck and jaw but could take place anywhere in my body. I would be walking to work and suddenly be hit by a violent contortion – a crazed grimace, a hand kicking up. It was terrifying. The specialist sent me for a brain scan and an EEG test – electrodes attached to the skull to measure electrical impulses to search for epilepsy. She could find no biological cause for the spasms. She said she had only witnessed such inexplicable symptoms in patients experiencing tremendous stress. "Are you under a lot of stress?" she asked.
It was not only the more disturbing aspects of conversion therapy that horrified me. Some of it was almost funny. Pilkington advised me to take up rugby in order to lessen my homosexuality. Miller suggested I attend weekly massage sessions with a male therapist and stand naked in front of the mirror, touching myself and affirming my masculinity, to lessen my gayness. Even the lighter moments were dark.
But the first battle came even before the initial investigation came out. It took six months to find a newspaper that would publish the article. The Observer held on to it for three months, at the end of which I was told the editor "doesn't fancy it". I approached The Guardian, "the world's leading liberal voice". It declined. So too did The Times and the Sunday Times.

No one, it seemed, was interested in a 4,000-word expose of what was happening in Britain to vulnerable lesbian, gay, bisexual, and transgender people. Even though, at the time, almost no one knew conversion therapy happened in the UK. Finally, The Independent bit.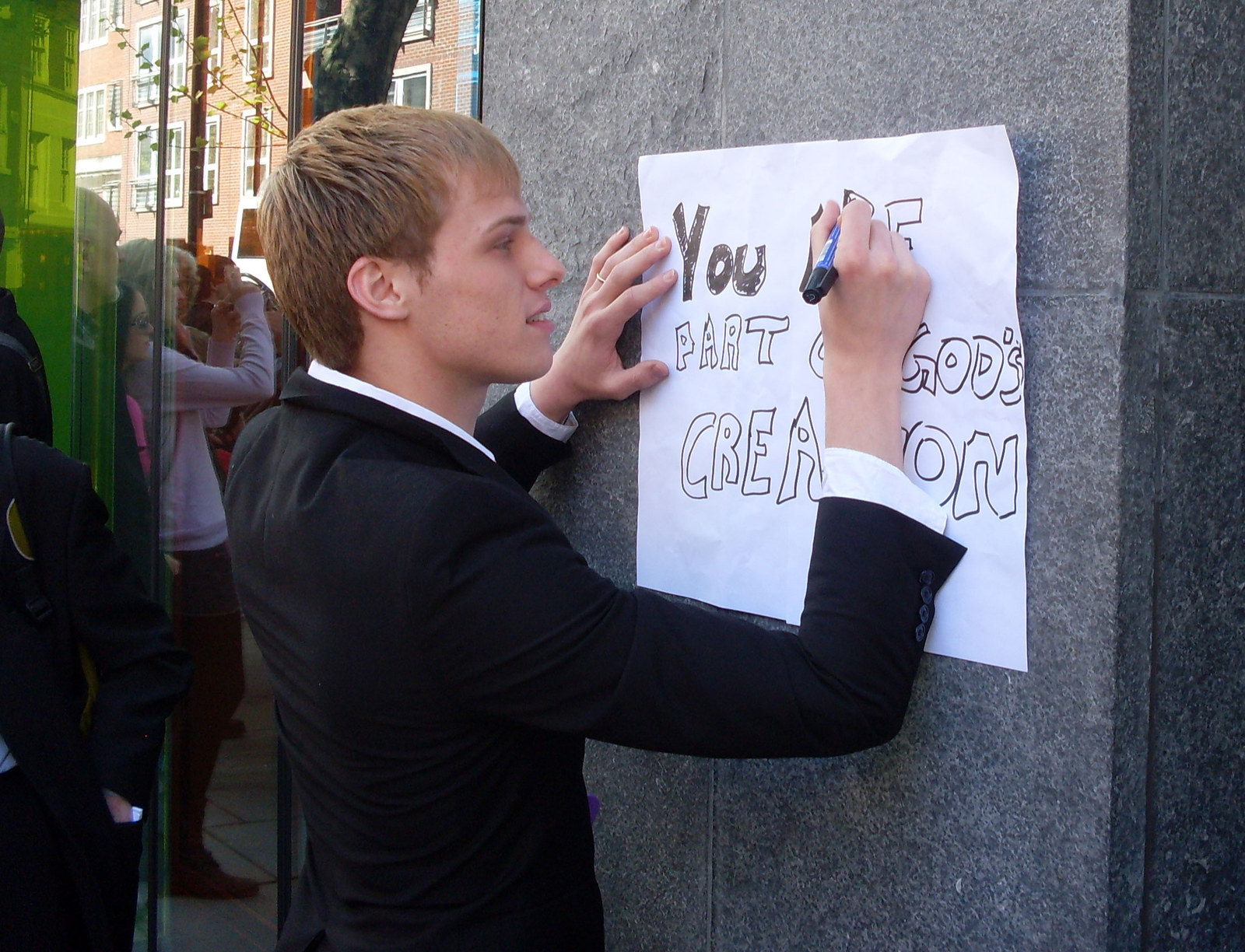 On 1 Feb 2010, the investigation finally appeared on newsstands. Messages from across the world flooded my Facebook and email accounts as victims of conversion therapy shared their stories. One of those stories was from a former client of Miller. Like all those I came to know, he did not have the strength to make a complaint.
I set up a pressure group, the Stop Conversion Therapy Taskforce (SCOTT), and organised a protest in Northern Ireland outside a conversion therapy conference. (I had already been to one the year before, where I met Pilkington and Miller: hours of lectures, variations on the theme that gay people are broken, psychological cripples.)
I swiftly filed official complaints to the General Medical Council about Miller and the British Association for Counselling and Psychotherapy – the largest body for therapists in Britain – about Pilkington.
A date was eventually set for the professional conduct hearing. A few days before, in January 2011, the Sunday Telegraph phoned, asking me to respond to an at-home interview they were about to run with Pilkington. Therapists, when subject to professional investigation, are not supposed to speak to the press. But Pilkington was not about to go quietly. And, it transpired, she had hired Paul Diamond, the barrister who had represented a succession of Christians claiming religious persecution.
I had to find a lawyer to represent me. I had no money. So I phoned the Lesbian and Gay Lawyers Association to ask for help. Within minutes of the call, my phone rang. It was a barrister with a chirpy, no-nonsense voice. "My name is Sarah Bourke, and I want to help you." She said she would do so for free.
In the following two and a half years, Bourke carried me through. When I was pacing (again) in the private room set aside for us at the conduct hearing, so nervous I could barely speak, she remained upbeat and practical. When I was about to be cross-examined, she whispered gently, "Take your time." All I could think about were those who had been through the treatment, and that I had to set a precedent for them.
The first hearing was delayed for another few months before finally taking place in April 2011. In what was to become a landmark case, Pilkington was found guilty of professional malpractice. She appealed. It took another year. Amid these hearings, fellow journalists and columnists ensured the process was as difficult as possible. The Daily Mail ran a story claiming the original hearing had been adjourned after an expert defence witness was "intimidated". It might have rung true were it not for the fact that there were no witnesses. And the "witness" statements Pilkington submitted – testimonies from conversion therapy clients claiming it was beneficial – had all names and identifying details removed. Even if I had wanted to intimidate anyone, it would have been impossible. (In fact, the hearing was adjourned because Pilkington had gone to the press.)

The Daily Express columnist Ann Widdecombe – a former shadow home secretary – wailed about the "homosexual lobby", and how poor honest Christians like Pilkington were being targeted by "arrogant" "gay activists" such as me. The Church of England Newspaper ran a column citing me as an example that the gay rights movement was now akin to the Nazis. Even The Independent, the newspaper that ran my investigation, attacked. Christina Patterson, one of its columnists, called me a liar on account of the fact that I did not tell the therapists I did not really want to be made heterosexual. The concept of undercover journalism appeared to have escaped her. And Lord Carey, the former Archbishop of Canterbury, signed an open letter, along with many leading figures in the Church hierarchy, supporting Pilkington.
In the end, she lost. In September 2012, when I learned that she had become the first therapist removed from a professional body after attempting to "cure" a gay patient, I wept, relieved, calm for the first time in three years.
A domino effect ensued. The British Association for Counselling and Psychotherapy finally issued a statement condemning conversion therapy, telling all its members their fates would echo Pilkington's if they were found engaging in it. The British Medical Association passed a motion condemning the practice and calling on the NHS to investigate. The United Kingdom Council for Psychotherapy declared its opposition to conversion therapy. The Department of Health joined them, and even, eventually, so did the Association of Christian Counsellors. The movement in Britain was crumbling, but, with counselling and psychotherapy as yet unregulated, there are still no real safeguards.
Geraint Davies, the Labour MP, called me in to to help draft a bill to introduce statutory regulation for the profession. It is still passing through parliament, and it's not expected to succeed. So, with no state intervention in Britain over who can call themselves therapists and what they can do to their patients, an Obama-esque ban on conversion therapy – a law to prevent it – must surely be the next step to protect people. I thought I didn't need protection. When I entered into conversion therapy, I thought I knew what it would entail, and what it would do to me. I knew nothing.