This is Jackson Mukasa and his partner, Kim. They live in Uganda. Early one morning a mob came to their house, along with their landlord. They were still asleep.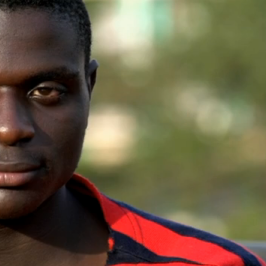 Mukasa claims the landlord told them to bring their belongings out of their house because "we do not let gays in our village". He says they were then beaten badly.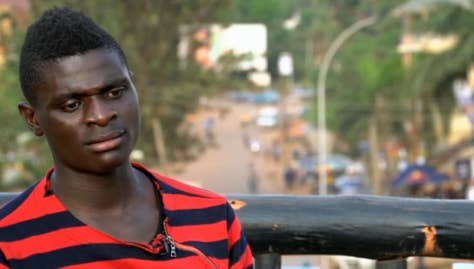 After the beating, they escaped but were then arrested by local police for being gay. "We were denied the chance to get in touch with our families, denied to contact our lawyers," says Mukasa.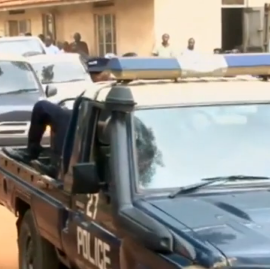 In custody, everything got worse. "Even the inmates in the jail, they shout, 'Why are you gay?'" says Mukasa. "Even if you go to the wash room people wanted to rape us. They were saying, 'You are sodomising yourself, let us also enjoy you.'"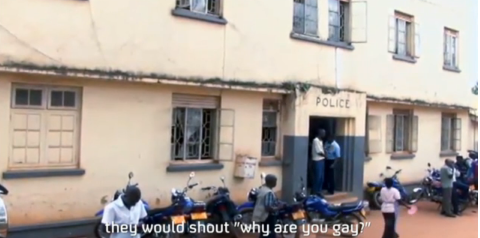 Mukasa and Kim talk about their experiences in this short clip, released to BuzzFeed News by Channel 4. It is part of a new documentary, Hunted: Gay and Afraid, charting the backlash against LGBT rights across the world.
Channel 4
It traces the influence of the "global network of organisations that promote what they believe to be family values", and was filmed across four continents. Journalist Liz MacKean found Mukasa and Kim in Uganda after an anti-homosexuality bill was initially passed in December 2013, further criminalising LGBT people.
After their arrest the couple faced charges of "engaging in sex acts against the order of nature", an old British colonial offence. But despite the case being dismissed due to lack of evidence, "Jackson and Kim are now jobless, have no permanent home and are social pariahs," narrates MacKean.
"I lost everything," adds Mocasa, who was later called Rehana. "We are even desperate, nowhere to eat, nowhere to sleep."
Although the anti-homosexuality bill was eventually annulled last year, there are calls in Uganda for it to be reintroduced. A local LGBT activism group, SMUG (Sexual Minorities Uganda), has reported a dramatic rise in violence directed at gay people since the law first appeared.
Ugandan lawmakers first proposed a version of this law after Ugandan Christian activists sponsored a conference that included such American anti-LGBT activists as Pastor Scott Lively, president of the Abiding Truth Ministries, who visited the Ugandan parliament in 2009.
The legislation, enacted in February 2014, meant not only that homosexuality was punishable by life imprisonment but also that it was a crime to support LGBT causes. This carried a sentence of up to seven years in prison.
Since then, hostility towards LGBT people has risen sharply, with newspapers outing people on their front pages. Footage has also emerged of public beatings, with gangs setting upon gay people in the street.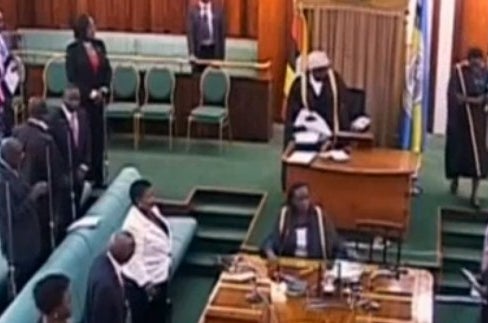 In the documentary, MacKean goes to visit Lively at his base in Massachusetts, where she confronts him about his visits to Uganda and his rhetoric about gay people.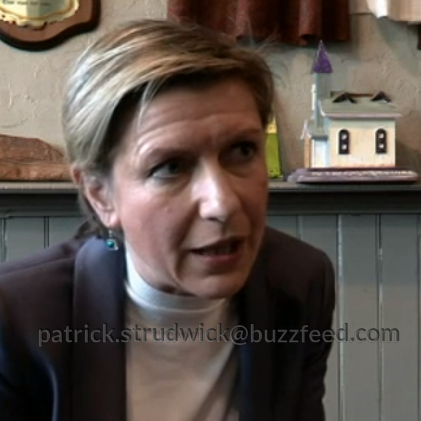 "There's an overlap between homosexuality and paedophilia," says Lively, before accusing gay men of spreading "diseases".
"How many people have died because we didn't take a position when the AIDS epidemic emerged that discouraged anal sex?" he says. "Instead we followed the gay political agenda." He concludes: "It is mass murder."
In December 2014, following two attempts by Lively's lawyers to dismiss a lawsuit against him for violating international law, a US district court judge ruled that Lively is to face trial for crimes against humanity.
Hunted: Gay and Afraid is on Channel 4 on 23 July 2015 at 11.05pm.