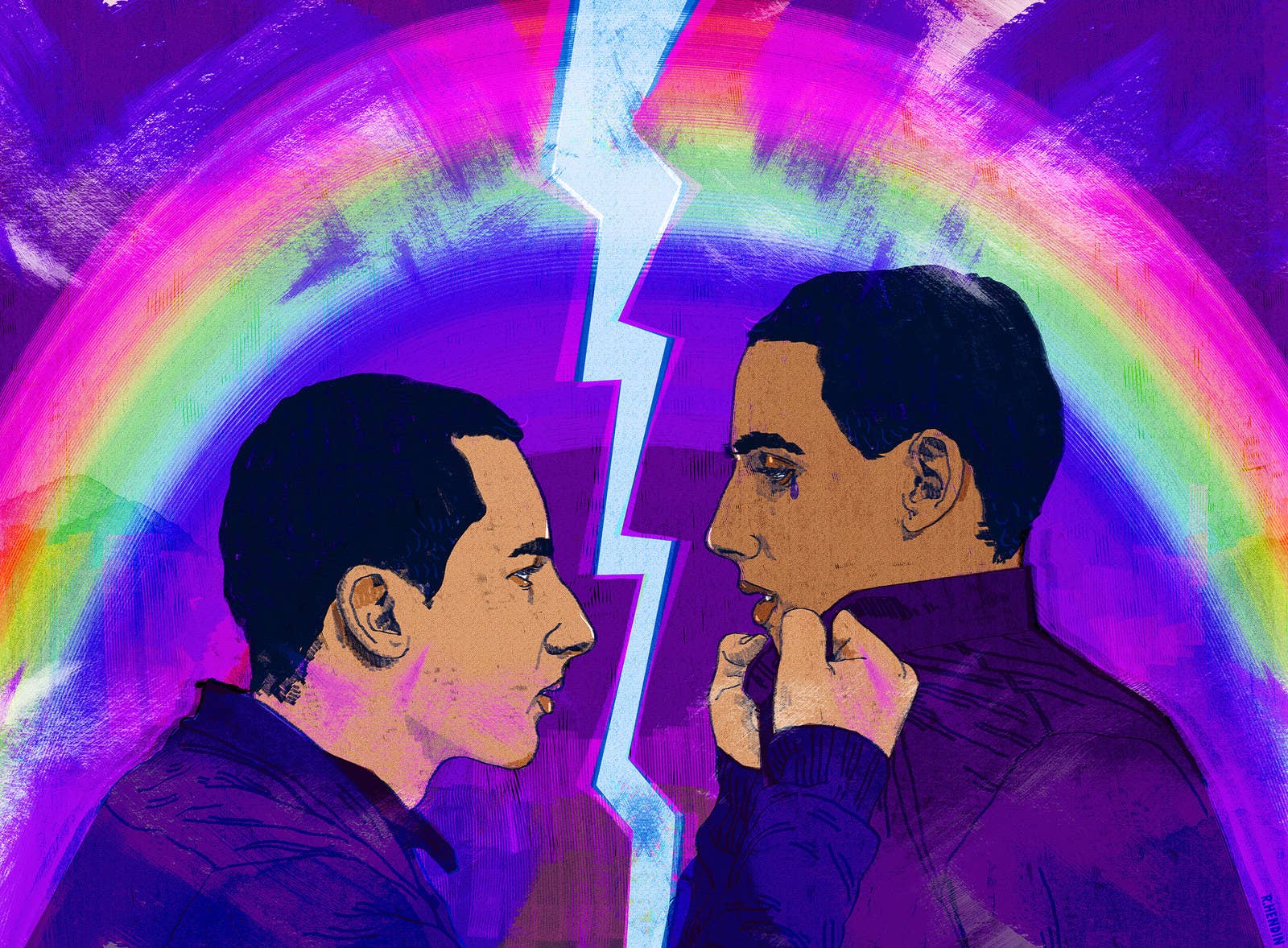 Britain's only national charity for LGBT victims of domestic abuse collapsed amid allegations of serious financial mismanagement and a failure of oversight by both its trustees and its biggest backer, the Home Office, BuzzFeed News can reveal.
Broken Rainbow, which ran both a helpline and an advice service for LGBT people in abusive relationships, went into liquidation on 3 June, with the causes of the collapse unknown.
But BuzzFeed News has now seen a huge cache of internal files – including accounts, expenses claims, bank statements, and demands from unpaid creditors – that reveal crucial new information about the charity's collapse.
The documents, which were disclosed by a whistleblower, detail spending on first-class travel, expensive offices, and luxury gifts, even as the charity's CEO was being warned that it had only a few pounds in its account, or was even in the red.
The leaked files show that:
• Grants worth tens of thousands of pounds from major funders such as the Home Office and Comic Relief were spent within 24 hours of payment, often being used to cover running costs such as new computers and staff expenses;
• A treasurer for the charity quit within weeks of being appointed, warning the board of trustees that "restricted funds" had been "misspent", and that this could amount to "illegal activity";
• The charity spent more than £23,000 – equivalent to the running costs of its helpline for six months, according to the whistleblower – on travel expenses, mainly for the CEO;
• The charity received repeated demands from HMRC for unpaid tax and national insurance from staff salaries;
• While appealing for more funds, the charity spent lavishly on iMacs, iPads, £800 train tickets, bouquets of flowers, and catered lunches;
• Thousands of pounds were spent on legal fees following a bullying allegation by a member of staff.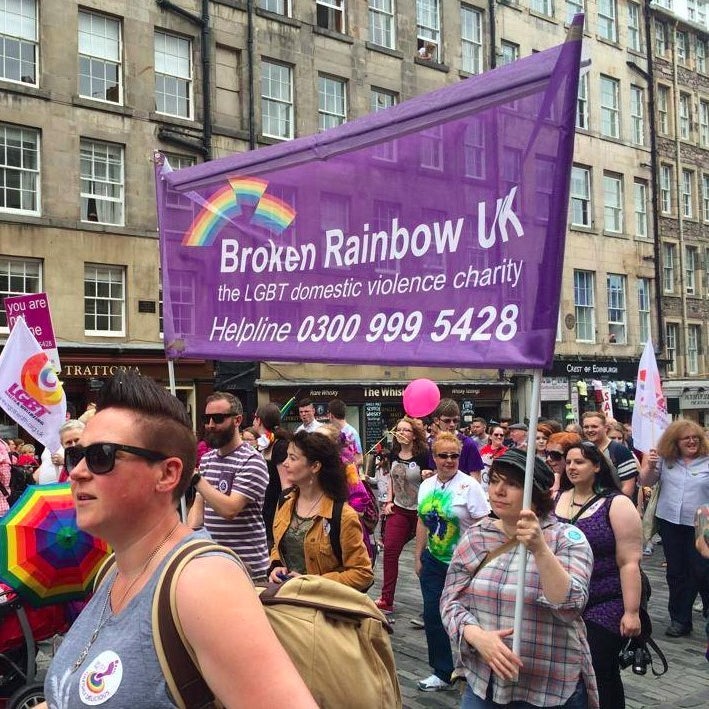 The revelations raise serious questions for Broken Rainbow's trustees who were responsible for oversight of the charity but apparently failed to act on a number of warnings from staff, including the whistleblower.

In a statement, the board of trustees denied negligence but said "a comprehensive investigation into the operation of Broken Rainbow is both warranted and necessary".
The statement added: "Most of the issues identified by your source took place before any of the existing trustees were in post and we simply cannot comment on what we do not as yet know."
The government is also now facing questions over what, if any, due diligence the Home Office carried out when it continued to pour public money into Broken Rainbow right up to its collapse. The Home Office has subsequently promised to continue funding the helpline but through Galop, another LGBT charity.
The revelations come less than a year after the collapse of Kids Company, the charity to which the Cabinet Office controversially gave £3 million just days before its closure, amid multiple allegations of financial impropriety.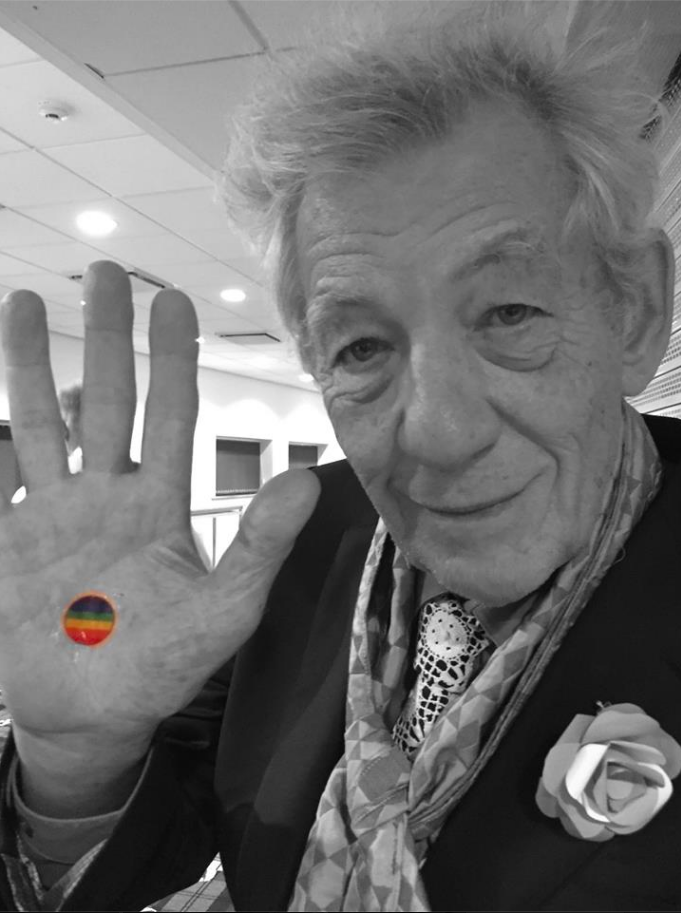 During interviews and in correspondence seen by BuzzFeed News, four Broken Rainbows employees separately made the same comparison between the charity's demise and the collapse of Kids Company. The Charity Commission told BuzzFeed News that following complaints made to it against Broken Rainbow the commission has opened a case to examine "what regulatory action might be required".
A Home Office spokesperson did not respond to detailed questions put by BuzzFeed News, but said: "We will work with the Charities Commission to determine an appropriate course of action for investigating Broken Rainbow's collapse."
Further material obtained by BuzzFeed News – including emails, legal letters, Facebook messages, and interviews with charity associates – also shows how the organisation was beset by infighting, rapid staff turnover, and grievance claims.
The most recent public sign of Broken Rainbow's financial crisis came in April this year when BuzzFeed News reported that it was facing imminent closure, according to staff, unless it received "£25,000 in the next 48 hours". The small charity, with a clutch of employees and a handful of volunteers, which was set up in 2002 and claimed to help 10,000 people a year, appeared to be on the brink. This was despite high-profile endorsement from a wealth of celebrity supporters including Sir Ian McKellen, Caroline Lucas, and Stephen Fry.
But the whistleblower then emailed BuzzFeed News with a single line: "You're not being told the truth." He said the charity was already "bust" long before it closed and was in "chaos".
"The accounts are a mess," he told BuzzFeed News.
A text sent in April this year by CEO Jo Harvey Barringer appears to confirm that. It begins, "We are in chaos here" and ends with an admission that "HMRC [Her Majesty's Revenue and Customs] are chasing me for a tax payment" on unpaid PAYE tax from staff salaries.
This is the story of how Broken Rainbow went broke.


For the whistleblower, whom we will call Paul, there was one moment that crystallised his problem with the financial management of Broken Rainbow. When the charity's CEO, Jo Harvey Barringer, got married last year, the then chair of the board, Andrew Grant, sent her and her new wife a bouquet of flowers, costing £54.99, with a box of champagne truffles at £9.99 – and put them through on expenses. With delivery charges, the gifts came to £74.97. The expense claim for the gift was then approved by its recipient. On his LinkedIn profile, Grant describes himself as a "commercially astute leader".
But this represents a tiny fraction of the charity's use of funds. Accounts seen by BuzzFeed News show that in 2015, while frequently leaving insufficient money in its bank account to pay staff redundancies in the event of its collapse, Broken Rainbow spent £23,446 (its entire income for 2015 was £177,565) on travel expenses, much of which was for the CEO.
"As a proportion of what they need in order to run that's a huge amount," said Paul. "That's the [running costs of] the helpline for six months." It also represents more than a quarter of the £90,000 the Home Office gave the charity last year to run the helpline. The Home Office was Broken Rainbow's largest funder.
These travel expenses comprise numerous first-class train tickets. On one occasion, on 17 September 2015, after a summer in which the charity went into the red on several occasions, Harvey Barringer booked a first-class train ticket from London to Edinburgh and charged the charity £510.10. Broken Rainbow's offices are in London and Manchester.
It was not a one-off. That July, she had travelled the same route first-class for £356.10, and again just three weeks later, this time at a cost of £442.50. But this was less than the month before – June 2015 – when Harvey Barringer took the same journey and put the first-class fare through on expenses. It cost £805.50. She had already charged the charity £2,440.95 that month on several other train tickets to Edinburgh.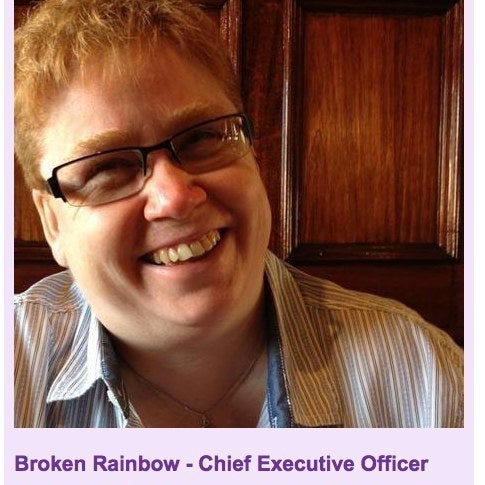 In two weeks, from late October to early November 2015, Harvey Barringer charged another £2,780.50 to the charity in train fares to Edinburgh.

The whistleblower sent her a text on 12 November. It pointed out that the charity had "6 whole British pounds" left.
Catered lunches were also routine at Broken Rainbow, the accounts show. At a seminar in February 2015, 14 attendees were treated to goat's cheese tarts, Parma ham wraps, gravadlax on rye bread, red snapper, and tandoori chicken at a price of £332.50. By 5 March 2015, there was just £61.48 in the bank. Later that month, a staff meeting cost the charity £5.10 on bananas alone. Another £25 went on a fruit platter.
Meals out were not uncommon, according to the receipts with the expense claims. They feature one item more regularly than any others: Peroni beers. Two dinners, together priced £83.93, were held at restaurants in Brighton, nowhere near either the London or Manchester office, but not far from the CEO's home. Other claims included lunches and dinners at Ask, TGI Fridays, Ed's Diner, Pizza Express, and All Bar One.
Many of the food receipts are for trivial amounts, but all were signed off despite the charity having almost no funds left. In September last year, for example, Haribo sweets were delivered to the Broken Rainbow office in Manchester through an office supplies company, costing £7.20.
On 30 September, the whistleblower sent Harvey Barringer another text. It said: "40p in the bank."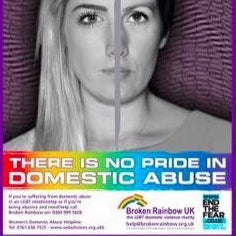 Much more significant amounts were spent on office space. Until last year, Broken Rainbow operated from an office in London that cost around £400 per month, and then, according to whistleblower Paul, the main office was transferred to Manchester. But for the first few months afterwards, Broken Rainbow operated from a serviced office, which cost between £1,800 and £2,500 per month, depending on what services they used. Sometimes this included a laundry service.
The charity then signed a lease last October with another serviced office (546 sq ft) in the city centre at a cost of £1,447 a month, or £17,366 per year. "We all know serviced offices are not value for money," said Paul.
Meeting rooms were hired in London, along with "data projectors" at a cost of £300 per day.
There were gifts not only for the CEO. One expense form from April 2015 charged £12.50 to the charity for Marks and Spencer flowers for "Julie's B'day". A former trustee who wrote to BuzzFeed News said that she too received flowers on her wedding day. And a further expense claim of £2.99 for an employee birthday card was found in the paperwork.
Some of the expenses were considerably more unusual: two lots of Pantene conditioner (£1.97 each), Gillette razor blades at £8, Sure deodorant (£1.63), and a memory foam cushion, last July, costing £83.98.
A significant amount also went on paying Jo Harvey Barringer, who until late last year was on an hourly rate of £25. According to her invoices, on one day she worked for 19 hours, costing the charity £475. In October 2015, she was paid £5,362 all on an hourly rate.
In June last year, a charitable foundation called Esmee Fairbairn agreed to a £30,000-per-year grant towards Harvey Barringer's salary. The grant offer reveals that Harvey Barringer detailed three key outcomes for success at the charity, the last of which was "greater financial sustainability". The month the grant arrived there was less than £300 in Broken Rainbow's account.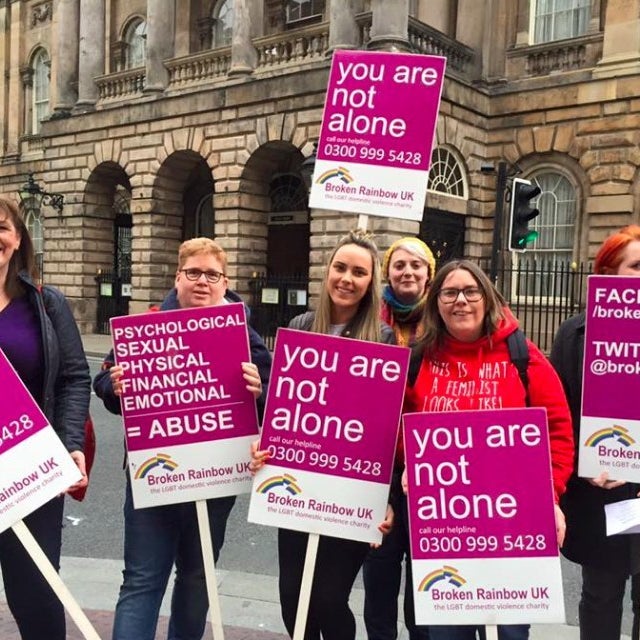 Harvey Barringer was paid a bonus of £7,500 in April 2015, the accounts show. This, according to Paul, was "for the way she'd stopped the organisation going under".

Within months, costs would rise. A member of staff accused Harvey Barringer of bullying. According to Paul, it was "verbal and intimidation. They suspended her [Barringer]. Full pay…I had lots of phone calls with Jo [about it]."
Broken Rainbow then spent £9,120 on legal advice from an employment lawyer. After the lawyer concluded that there was no case to answer, Harvey Barringer returned to her position. Shortly after, an email from the board of trustees to staff said, "We are reviewing our code of conduct" and added, "We need to make sure we talk to each other in a way that reflects the aims and values of our organisation."
The employee who alleged bullying – Wendy Wilde – did so in an email to the board of trustees on 28 July 2015. Seen by BuzzFeed News, it contains the accusation of "a culture of fear and intimidation" at the domestic abuse organisation.
Wilde also told BuzzFeed News that she and another former staff member reported Broken Rainbow to the Charity Commission, alleging bullying and financial misconduct, and attached her resignation letter, which alleges the charity was being run for "personal gain". Wilde said she received only a confirmation of her email, with no further correspondence from the Charity Commission. The other member of staff did receive a response from the commission, however – five months later.
"I recommended the Charity Commission look over the bank account [of Broken Rainbow]," Wilde told BuzzFeed News. "Because one of the things I repeatedly said to the board was, 'You need to check your bank account. Just having accounts prepared for you by Jo [Harvey Barringer] is not enough.'"
For Wilde, one memory stands out as a turning point for her resignation. "A group of schoolchildren all brought in a penny and sent us in that money," she said. "It wasn't much but all those kids got that money together." Wilde then watched as, she said, funds "went on first-class train tickets".
Wilde insists that the blame for Broken Rainbow's problems lies with the board as well as with Harvey Barringer, as "the trustees didn't really understand what they were doing". Another former staff member, Emma Baldry, told BuzzFeed News both CEO and board were at fault, while a former trustee alleged that most of the failures were due to her fellow trustees.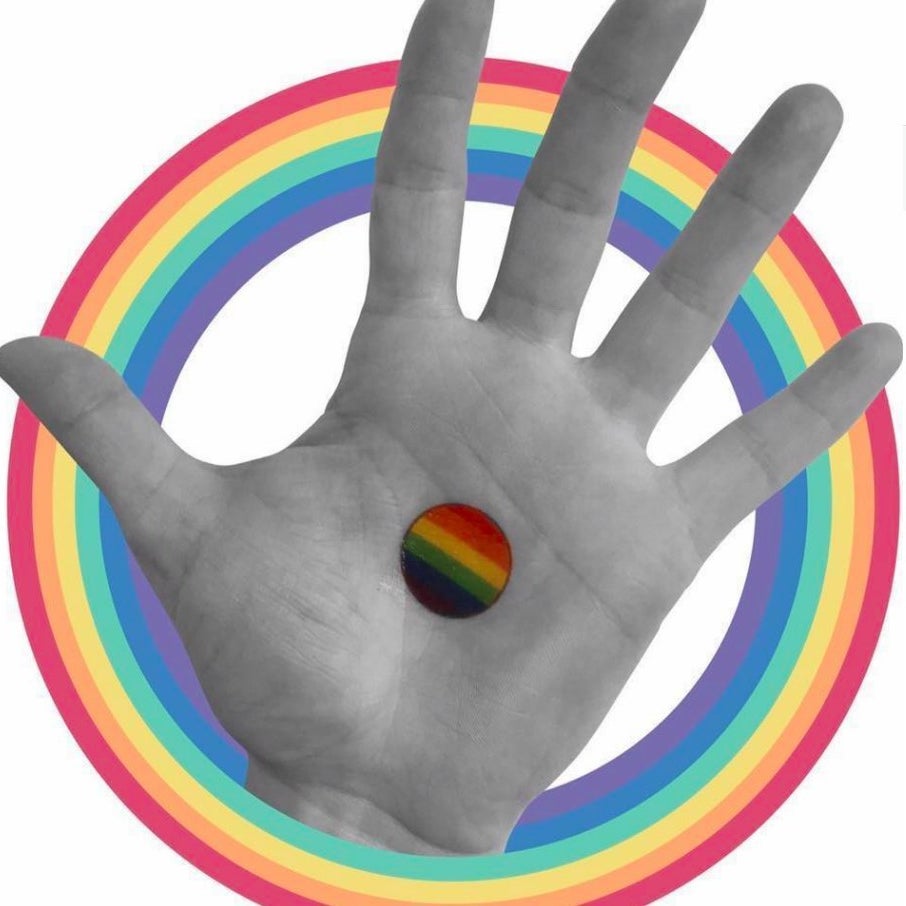 Broken Rainbow's "Rainbow dot" campaign
BuzzFeed News asked a former chair of the board of trustees, John Munro, whether the board should not have merely taken Harvey Barringer's word about the accounts but instead investigated when the whistleblower warned them. He replied: "I think that is a charge that could be perfectly reasonably levied."
For Baldry, and for Wilde, what they witnessed at the charity called to mind one thing. "It's Kids Company," said Wilde. "When all the news came out about Kids Company I was like, 'I really hope this is going to be said about Broken Rainbow as well.'"
From the documents seen by BuzzFeed News, Harvey Barringer's management of the charity's finances is perhaps most starkly illustrated in two texts she sent to Paul on 26 November 2015. It was the day a grant arrived from Comic Relief:
"Comic relief has gone in can [you] load up salary payments including the two invoices for Jasna." Eleven minutes later she texted: "And don't forget to take £250 from me for you either."
Paul said he had lent Harvey Barringer £250, a personal loan, and therefore her texts appeared to be an instruction to take back the money from what was now in Broken Rainbow's account – money that had come from Comic Relief. There is no indication from the accounts – nor any suggestion – that Paul took £250 from the Broken Rainbow account, despite apparently having permission to do so.
The charity spent grants from both Comic Relief and the Home Office at a considerable speed. On 28 January 2016, the quarterly £30,000 grant from the Home Office arrived in Broken Rainbow's bank account. The charity was already £7,730.83 in the red so immediately there was only £22,269.17 left, but later that same day it was all gone. It was back in the red by £689. The grant was meant to keep the helpline going for months.
But this was the modus operandi – grants to fund the service for months evaporated within hours. Comic Relief gave Broken Rainbow £17,331 on 26 November 2015. By the next day it was all spent. £6,293.50 had gone to Harvey Barringer, despite half of her salary being paid by the Esmee Fairbairn foundation.

Six months earlier, on 20 May 2015, £21,000 arrived from Comic Relief. Harvey Barringer, that same day, bought herself the new iMac computer, at a cost of £1,049. She charged £3,550.11 in expenses for that month. The entire grant was spent within a week.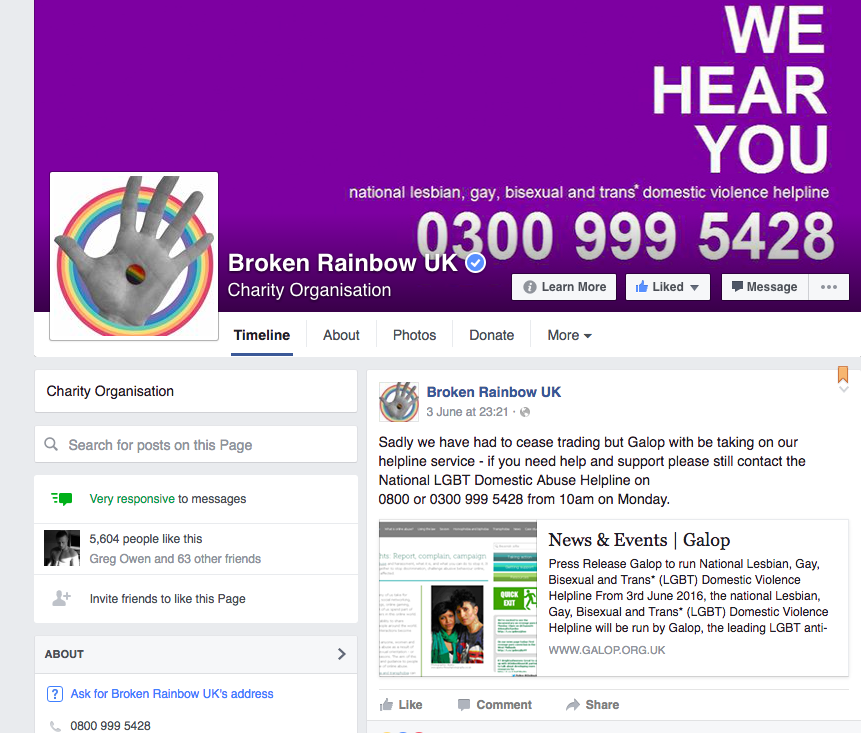 This was only three weeks after £30,000 had come from the Home Office. The day the money arrived Harvey Barringer claimed £6,179.95 in salary, plus she received the £7,500 bonus already mentioned. Nearly half of the government grant, therefore, went to the CEO on the day it hit the charity's bank account. Within 48 hours, Broken Rainbow was £1,306.79 in debt.
When the £30,000 grant from the Esmee Fairbairn foundation arrived on 8 June 2015 it marked a lucrative month for Harvey Barringer. It was supposed to last a year, but according to the accounts, by 1 July Broken Rainbow had £439 in the bank. In total, in June 2015, £14,331.58 was paid to Harvey Barringer.

Last summer, Manchester City Council started pursuing Broken Rainbow for overdue business rates. By September 2015, the charity owed £3,000, with the council threatening "debt recovery action".

Several times last year there were insufficient funds in Broken Rainbow's accounts to pay staff; many were paid late. (And in June 2016, one staff member told BuzzFeed News that she still hadn't been paid for the month of May).
Throughout last year, Broken Rainbow was becoming used to warning letters arriving from a range of commercial and public organisations, chasing the charity for unpaid invoices, sometimes for pitiful amounts.
In March 2015, with funds almost gone, the charity stopped various direct debits. One of them was to Windsor Telecom, a business phone company, which wrote to Broken Rainbow asking for just £69.68.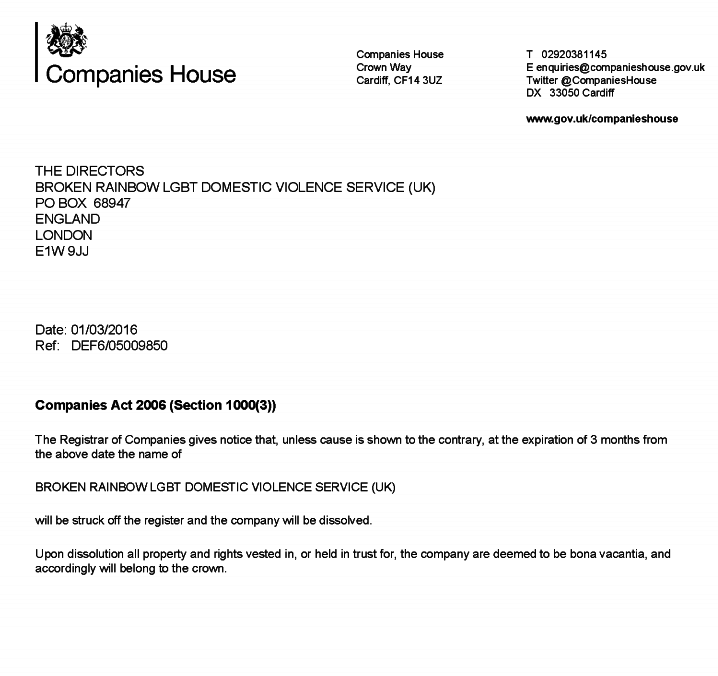 This was small fry compared with what Broken Rainbow had failed to pay HM Revenue and Customs. As far back as December 2014, HMRC was sending letters to the charity asking where the PAYE and National Insurance contributions from staff salaries were. That month, despite previous letters, HRMC demanded £6,577.09 in outstanding payments.

Two months later, in February 2015, there was another demand, for £3,330.93. And two months after that another letter arrived from HMRC, asking for £2,233.50 and warning: "We can enforce debts by visiting your premises and arranging for your goods to be seized and sold at public auction."
Broken Rainbow was also being threatened with legal action by Companies House, which wrote to the charity in March last year warning the charity about its "overdue accounts" as those that had been submitted "were rejected as unacceptable for filing".
The letter informed Broken Rainbow that "Failure to file accounts and annual returns within the statutory times allowed is a criminal offence", but that Companies House would defer any prosecution for 28 days, adding that "if the company record is not brought up to date by that time, the directors will face criminal proceedings". In any case, the letter advised, "as the accounts are already late a civil late filing penalty will automatically be incurred".
In March 2016 – a year later – another letter arrived about the missing accounts, with a more serious threat: "Unless cause is shown to the contrary, at the expiration of 3 months from the above date [1/3/16] the name of Broken Rainbow LGBT Domestic Violence Service (UK) will be struck off the register and the company will be dissolved."

Yet, despite the many warning signs, the government continued to hand more public money to the charity.
The following month, Broken Rainbow complained to the press that the promised Home Office grant was late and that it would close if the money didn't arrive swiftly.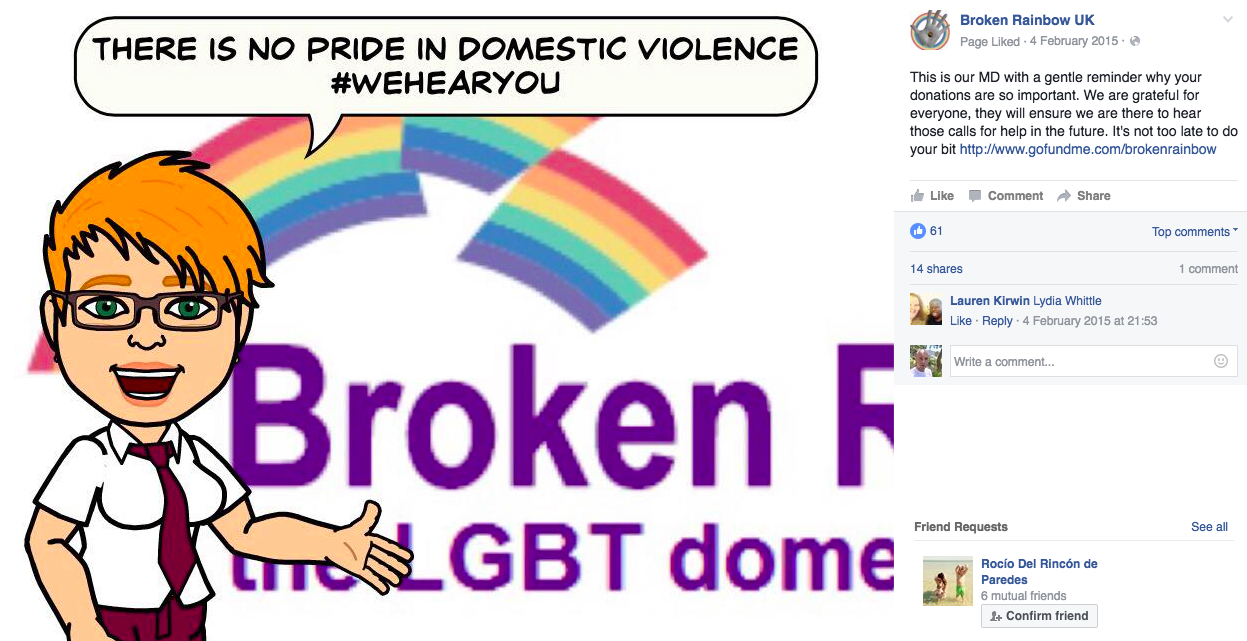 Within 24 hours, the grant was paid. Broken Rainbow sent out a press release confirming this. Harvey Barringer also confirmed the news on the charity's Facebook page, in a message that ended: "We continue to need donations to ensure we build up our reserves and never find ourselves in the position again. So please keep donating."
A month later, a new treasurer of Broken Rainbow, who had been in his post for only a few weeks, resigned. In his resignation email, seen by BuzzFeed News, he outlined his concerns to the board. These included that Harvey Barringer, who is "incompetent in all matters relating to finance", made it impossible to submit the accounts "due to a lack of information, documentation and willingness to cooperate."
He added: "Things have come to light off the back of these accounts which concern me deeply and I advise you all, as remaining members of the Board to urgently look into these which at best are obvious failures in governance and controls and at worst illegal activity."
These potential illegalities, he wrote, comprised "the misspending of restricted funds" – that grants from the Home Office that were meant for the helpline were in fact spent on other things. "The fact that the 2015 accounts shows this and Jo can not prove that this did not happen is most alarming. If the accounts are submitted showing this, there will no doubt be an investigation from the Home Office and if the accounts are not submitted at all, there will be an investigation and possible prosecutions by Companies House."
He further accused Harvey Barringer of saying, "It's fine not to reconcile the restricted fund completely." The treasurer explained in the letter that this was "plainly wrong", and "This is the reason why Kids Company was so publicly struck off last year and should act as a warning to all charities." He also claimed that expenses were paid to Harvey Barringer "without any approval".
What has most concerned whistleblower Paul, however, has been what he claims is the inaction of the Home Office. "They have done no due diligence," he said. There was a Home Office audit of Broken Rainbow in 2014, but, said Paul, it did not look at the overall solvency of the charity. "It didn't really go into the numbers," he said.
Since the collapse of Broken Rainbow, the Home Office has agreed to continue funding the helpline, which will now be run by Galop, an anti-hate-crime charity for LGBT people, which had also been giving grants to Broken Rainbow.
Questions now remain about both governance and funders, about why public money and donations from other charities continued to be pumped into Broken Rainbow, despite clear signs that it was in trouble.
Paul, the whistleblower, tried to warn those within the charity of the dire situation in which they continued to operate.
He emailed the then head of the board of trustees, John Munro, on 5 February 2016: "The agency is essentially trading insolvent, which means that not only is that a legal issue for the trustees, they are also now personally liable for any bills, redundancy payments etc."
According to Paul, his warnings had no effect.
John Munro told BuzzFeed News: "He [Paul] did raise concerns over the viability of the charity, which was contrary to the position that had been reported to the board." Munro said he raised Paul's email with the CEO but "was told the information wasn't accurate", and added: "I believe that we may have been given misinformation."
Munro said: "I couldn't investigate it myself because I did not have access to any of our online banking systems." With regards to the board of trustees, he said that "none of us are experts" but that the board "did everything they believed was reasonable to make sure this charity was being run in the best possible way".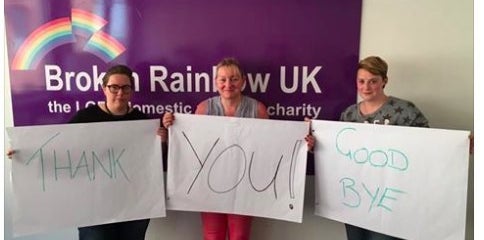 In February 2016, Paul, the whistleblower, also reported Broken Rainbow to the Charity Commission for financial misconduct, but, he said, did not receive a reply – the commission told BuzzFeed News it did not receive his letter.
Paul alerted Munro again, in April, in an email also seen by BuzzFeed News: "I was made aware yesterday about BRUK potentially going bust. I cannot stress enough how dangerous it is that you are trading in this way. Both Companies House and the Charity Commission have strict legal and regulatory requirements for the board to comply with or be personally liable." Munro told BuzzFeed News he could not remember this email.
"The board knew there was no money in the account," Paul told BuzzFeed News. Two chairs of the board have resigned this year, with a third (Robert Brown) taking over in May. Brown told BuzzFeed News he sacked Harvey Barringer before the charity's closure. Paul added, regarding Harvey Barringer, "I told Jo [the charity was broke] on many occasions and she said, "Oh yes, yes, but this money is coming in."
On 2 June 2016, the money stopped coming in, and four days later staff were clearing out the offices of a failed, defunct charity – the only one of its kind, and the only one some of Britain's most vulnerable LGBT people turn to when they are most in danger.
"Broken Rainbow, along with other agencies, helped saved my life," Gordon Mundie, a former service user, told BuzzFeed News. "Now, only the helpline remains, and without the extra services, more victims of abuse will be at risk. Why hasn't the Charity Commission investigated? Why did the Home Office keep funding it and refuse to step in? Who, in the end, is going to take responsibility?"

A Home Office spokesperson told BuzzFeed News: "We will work with the Charities Commission to determine an appropriate course of action for investigating Broken Rainbow's collapse."
In a statement, a legal representative for Jo Harvey Barringer wrote:
"Our client strongly rejects any suggestion that she was over-paid as CEO, that she mis-appropriated funds or that she has mis-managed the finances of the charity. On the contrary our client has worked tirelessly in the face of constant funding pressures and ensured that Broken Rainbow could continue to operate for many years."
The board of trustees also released a statement to BuzzFeed News that denies any wrongdoing but says "a comprehensive investigation into the operation of Broken Rainbow is both warranted and necessary" and that "We are confident that at the conclusion of the investigation it will be shown that the Board of Trustees have not been negligent in their duties."
In response to specific points, the board added that: gifts for staff help motivate them and a small amount of unrestricted funds were available for this purpose; the CEO was responsible for operational expenditure and that "no issues were raised through the organisation's whistleblowing procedure"; first-class travel was justified in the event of "physical limitation" of a staff or board member; taxis were appropriate for carrying equipment; it was a "mistake" not to set an upper limit on the daily pay of Harvey Barringer; the previous board authorised a bonus for Harvey Barringer; and the investigation into bullying concluded there was "no case to answer".
And in a statement to BuzzFeed News, the Charity Commission said: "The Commission received a complaint last year about the governance of the charity and alleged unauthorised payment of trustees. The Commission opened a case and wrote to the charity in order to seek clarity on these issues. In June this year, a further complaint was made to the Commission. The Commission is now also assessing these more serious concerns in order to determine whether there is evidence to support them and what regulatory action may be required. The Commission's case is ongoing.
"The Commission has not been able to trace two complaints which are said to have been submitted to the Commission. We urge those who have attempted to contact the Commission to resubmit their concerns and any relevant evidence. It is not the Commission's policy [to] provide regular updates or ongoing commentary to all complainants."