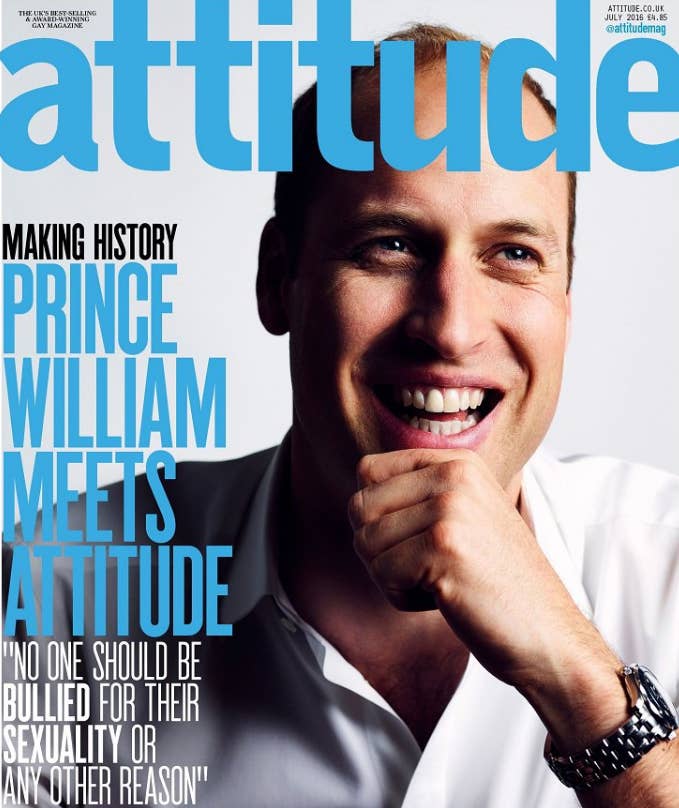 Prince William has been photographed for the cover of Britain's bestselling gay magazine, Attitude, making him the first member of the royal family to pose for an LGBT title. It is due to be published on Thursday, just four days after the murder of 49 people in an LGBT nightclub in Orlando, Florida.
The Duke of Cambridge, whose late mother, Diana, Princess of Wales, was famously supportive of LGBT people and an early champion of people living with HIV/AIDS, has continued her legacy with both a cover shoot and an extensive feature in the July issue of the magazine.
The article focuses on the devastating impact of homophobic, biphobic, and transphobic bullying – and the consequent impact on the mental health of LGBT people. William, who is second in line to the throne, met with nine LGBTQ people who have all been the victims of abuse because of their sexual orientation or gender identity.
They include Paris Lees, Britain's most prominent transgender activist and journalist, who has been an outspoken campaigner around transphobic bullying and its link with the suicides of young trans people.

Prince William told the magazine: "No one should be bullied for their sexuality or any other reason and no one should have to put up with the kind of hate that these young people have endured in their lives. The young gay, lesbian and transgender individuals I met through Attitude are truly brave to speak out and to give hope to people who are going through terrible bullying right now. Their sense of strength and optimism should give us all encouragement to stand up to bullying wherever we see it."
He added: "What I would say to any young person reading this who's being bullied for their sexuality: Don't put up with it – speak to a trusted adult, a friend, a teacher, Childline, Diana Award or some other service and get the help you need. You should be proud of the person you are and you have nothing to be ashamed of."
The meeting with Prince William had a powerful effect on the LGBT people who took part. Paris Lees told BuzzFeed News: "It was an honour to meet the Duke and I believe he was genuinely moved by our stories. When I first became an activist a few years back one of the biggest struggles was even getting people to admit transphobia was a thing. It is a thing. So is homophobia, and these prejudices are, as we've been tragically reminded just this week, killing people."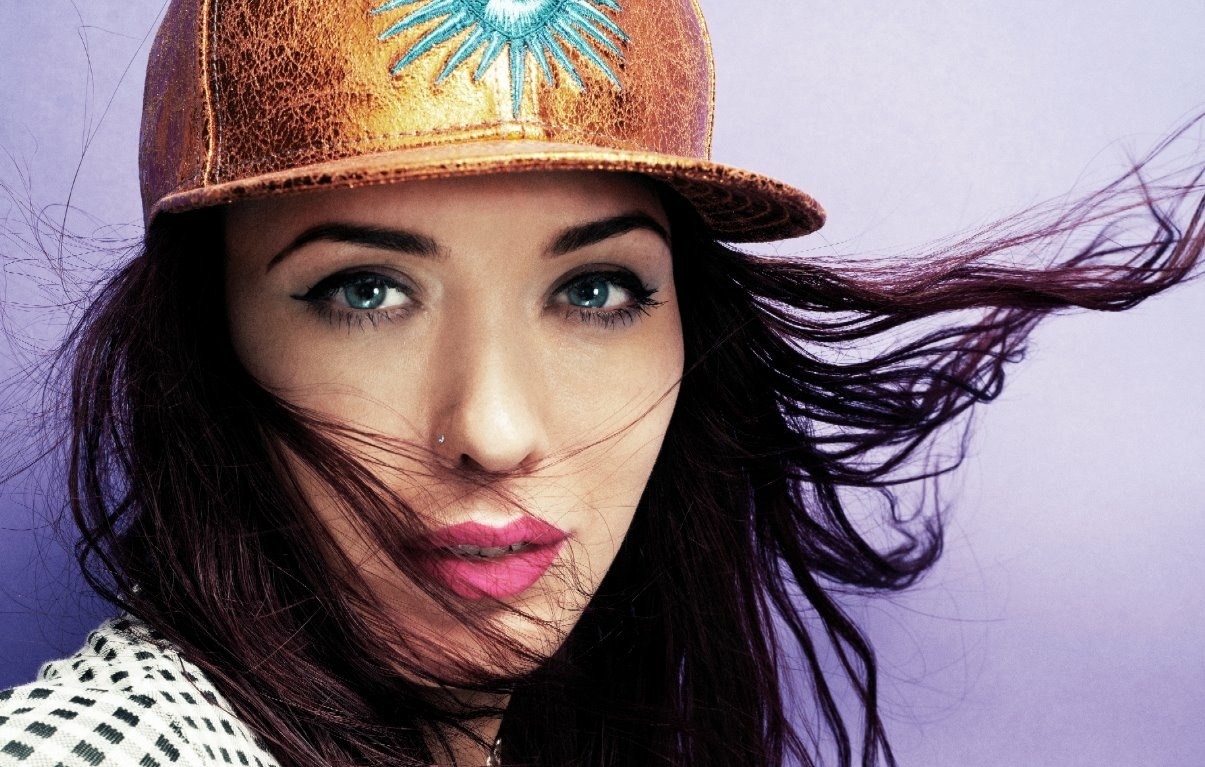 Lees also said: "Like many LGBT people I grew up in a society and household that made me feel ashamed to be me. I'm proud we spoke to the future King and that he has spoken up for the community – it sends a strong message around the world that everyone deserves to be treated with basic human dignity."
When Prince William becomes King, he will also become head of the Commonwealth, in which the majority of countries criminalise homosexuality. His engagement with LGBT rights in such a visible fashion marks a dramatic step-change for the royal family, who avoid overtly political statements.
Editor Matthew Todd told BuzzFeed News: "We're delighted that Prince William agreed to appear on the cover because it sends such an important message not just here in the UK but around the world: homo-, bi- and transphobia is not acceptable."
Todd added: "My big hope is that this sends a message to straight people that they need to take over the lobbying of schools to protect all children. It's always seen as a gay issue but I've met so many parents who have lost kids from suicide or overdoses as a result of homo- or transphobic bullying yet we're stuck in this crazy situation where it's not considered a mainstream issue. It is a mainstream issue and it has to be seen as one."
William's participation in the magazine article builds on work that he did last year for the Diana Award, a young person's organisation set up in his mother's name, for which he attended two events aimed at raising awareness of homophobic bullying.
Details of the exclusive had been kept a closely guarded secret by Attitude, the prince, and the royal household. However, on Tuesday, while William was visiting the American Embassy to sign a book of condolences for the 49 people murdered in Orlando, he let slip that he would be appearing in the magazine.
The revelation triggered an immediate but muted confirmation from Attitude, whose managing director, Mike Buckley, said: "We will have some exciting announcements to share soon." A Kensington Palace spokesperson echoed: "We look forward to speaking about this soon."
In its 22-year history, Attitude has featured a number of global figures on its cover who are heterosexual, including David Beckham (the first high-profile footballer to pose for a gay magazine), Tony Blair (the first prime minister to do so), Madonna, Heath Ledger, Daniel Radcliffe, and Kylie Minogue – as well as a raft of LGBT celebrities, including Elton John, Lady Gaga, and George Michael.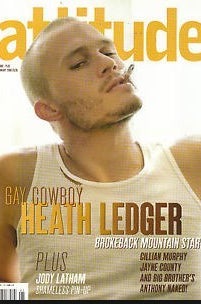 The Prince William issue marks the swan song for Todd, its award-winning editor, who is stepping down after eight years in charge and who this month releases a book, Straight Jacket: How to Be Gay and Happy, about LGBT mental health.