This Was The Happiest, Gayest, Greatest Night In Irish History
The same-sex marriage referendum sparked some of the most jubilant celebrations Dublin had ever seen. BuzzFeed News went among the crowds to capture a historic night.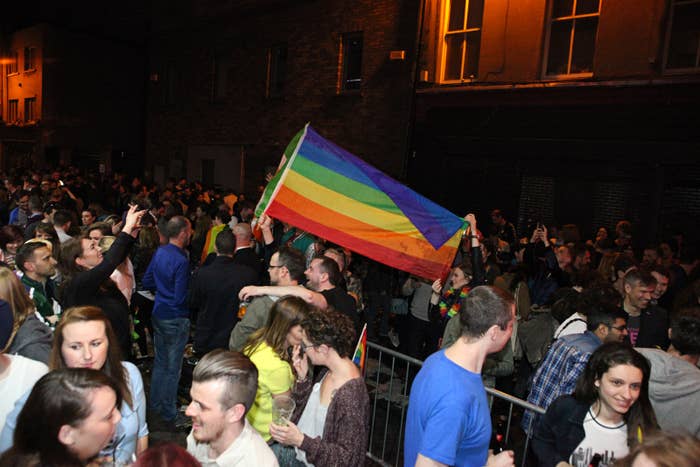 After the result came the celebrations. Thousands who had gathered in the courtyard of Dublin Castle to hear the referendum declaration spilled out on to the streets.
There, they found thousands more, throngs of people of all ages, all sexual orientations, lining the streets, climbing on to buildings and railings, weeping openly, embracing and cheering as the historic moment began to resonate.
Revellers hanging off City Hall were met with beeping horns from passing car after passing car, as drivers wound down their windows to punch the air in solidarity.
As the crowds found their way to Dublin's gay scene, streets became pavements as unprecedented numbers came out to rejoice. On the cobbles of Parliament Street, outside the Front Lounge bar, people sat and stood and drank and hugged. A gang of bikers whizzed by, hooting and revving their engines in congratulation.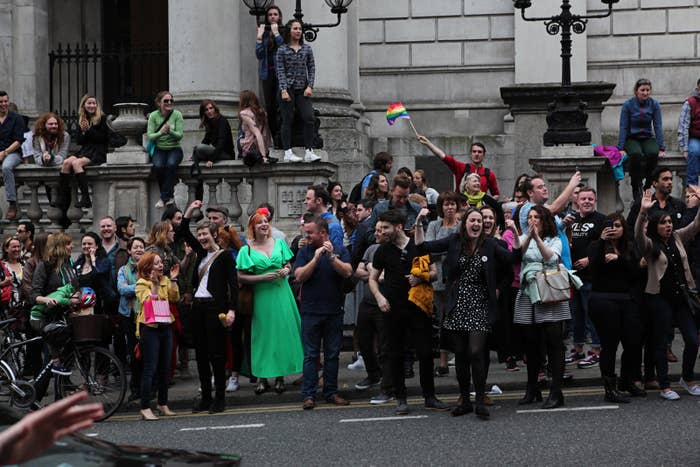 When BuzzFeed News started speak to those celebrating, story after story emerged of how Ireland's LBGT people had for too long endured the pain of societal rejection – but how it was slowly becoming real to them their country had embraced them, fully and equally, for the first time.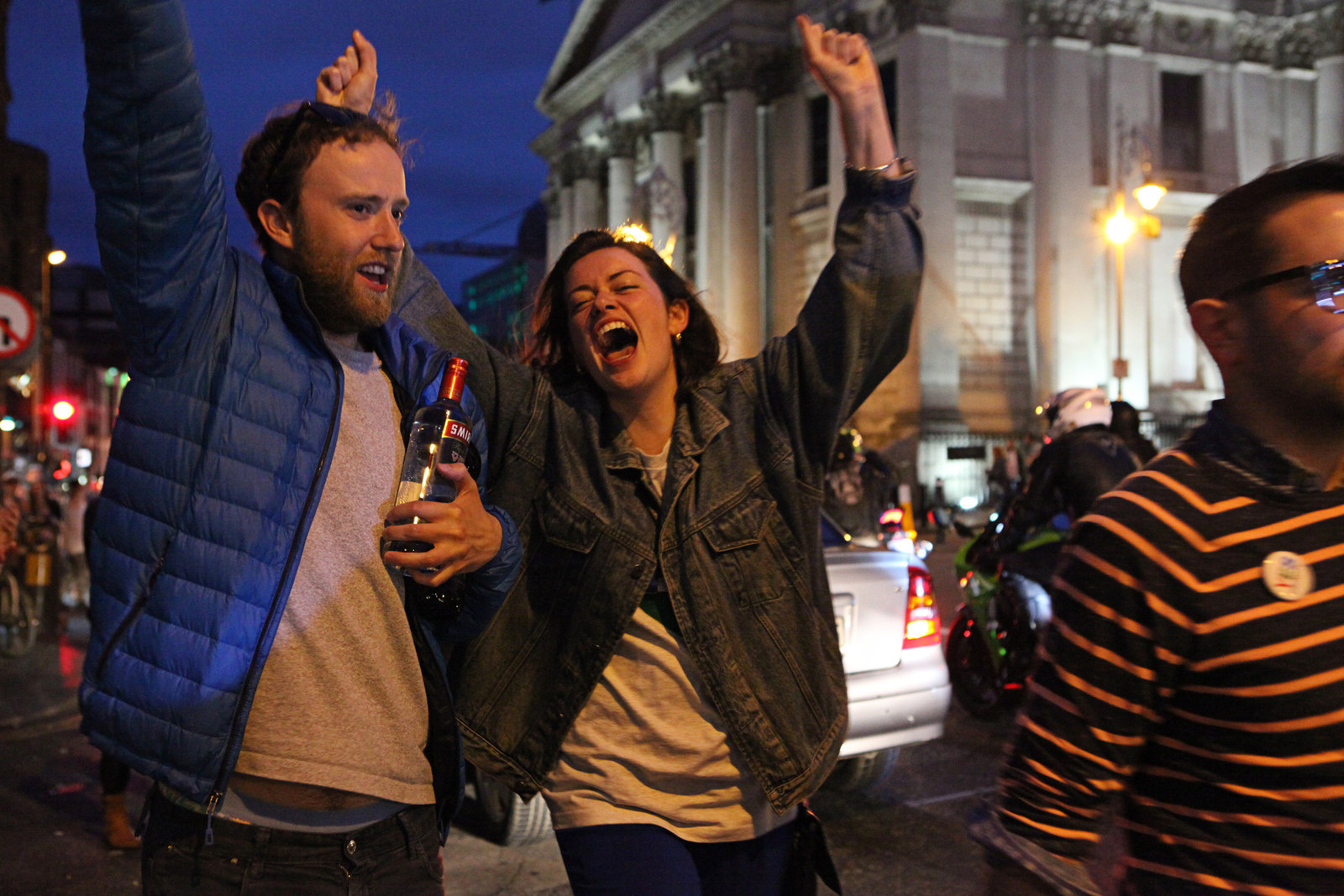 A 27-year-old woman called SJ told BuzzFeed News:
"I'm absolutely elated. I've been crying for the past week with nerves and this morning I just felt like something had changed. There's nothing like it.
"It almost feels like the country belongs to us, just for today. I know we've had that feeling at Pride but this is like Ireland has opened its arms."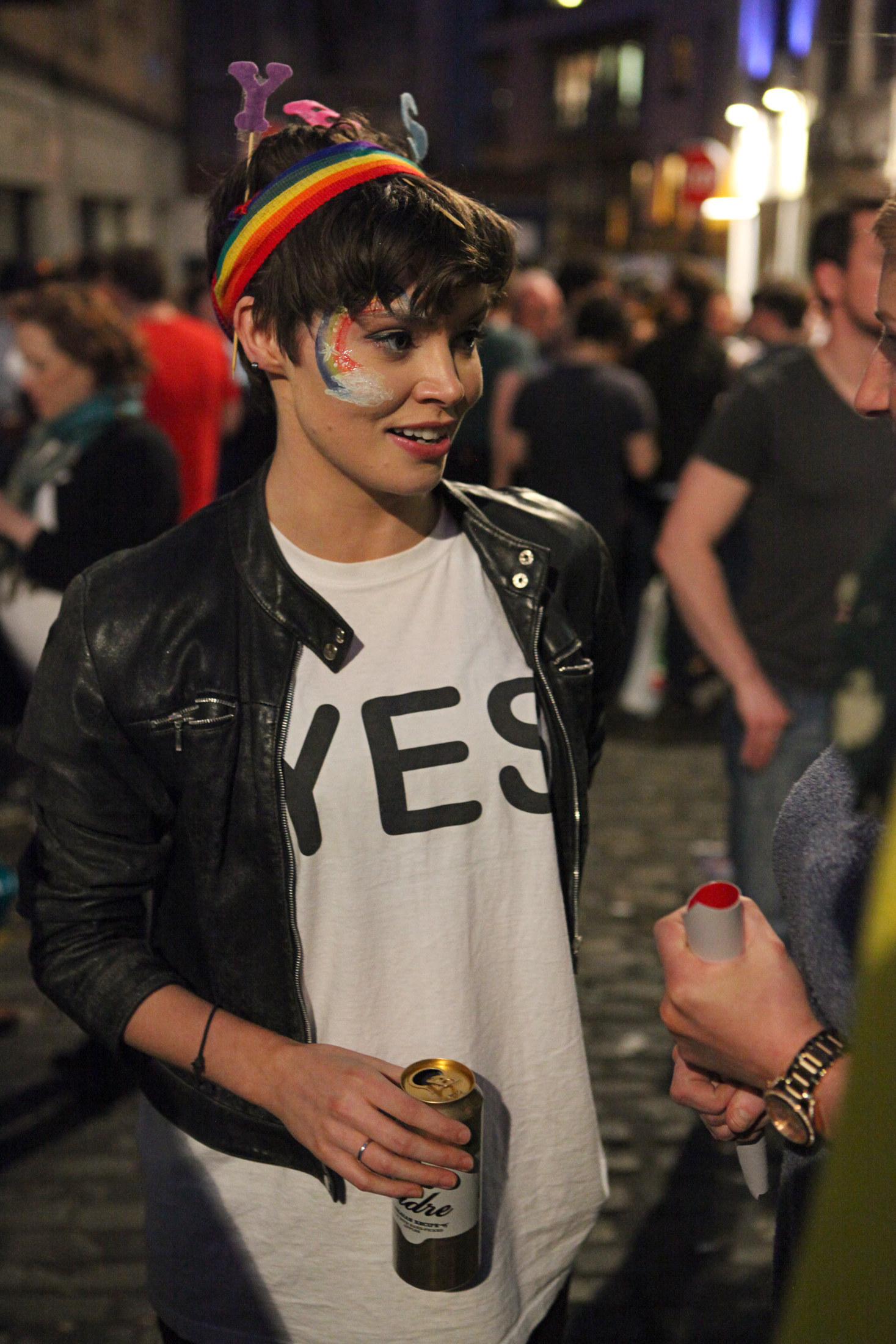 "I never thought I'd see this day," she added. "I met my girlfriend at a march for marriage two years ago, but I never thought we'd get to today and I never thought it'd mean as much to me as it does.
"Finding yourself crying, little things that push you over the edge … you can see on the faces of people around here just how much it meant to them. I'm so proud of the country for coming through for them. And families going together to vote – that's never happened before. It's brought the country together – communities, families, everything."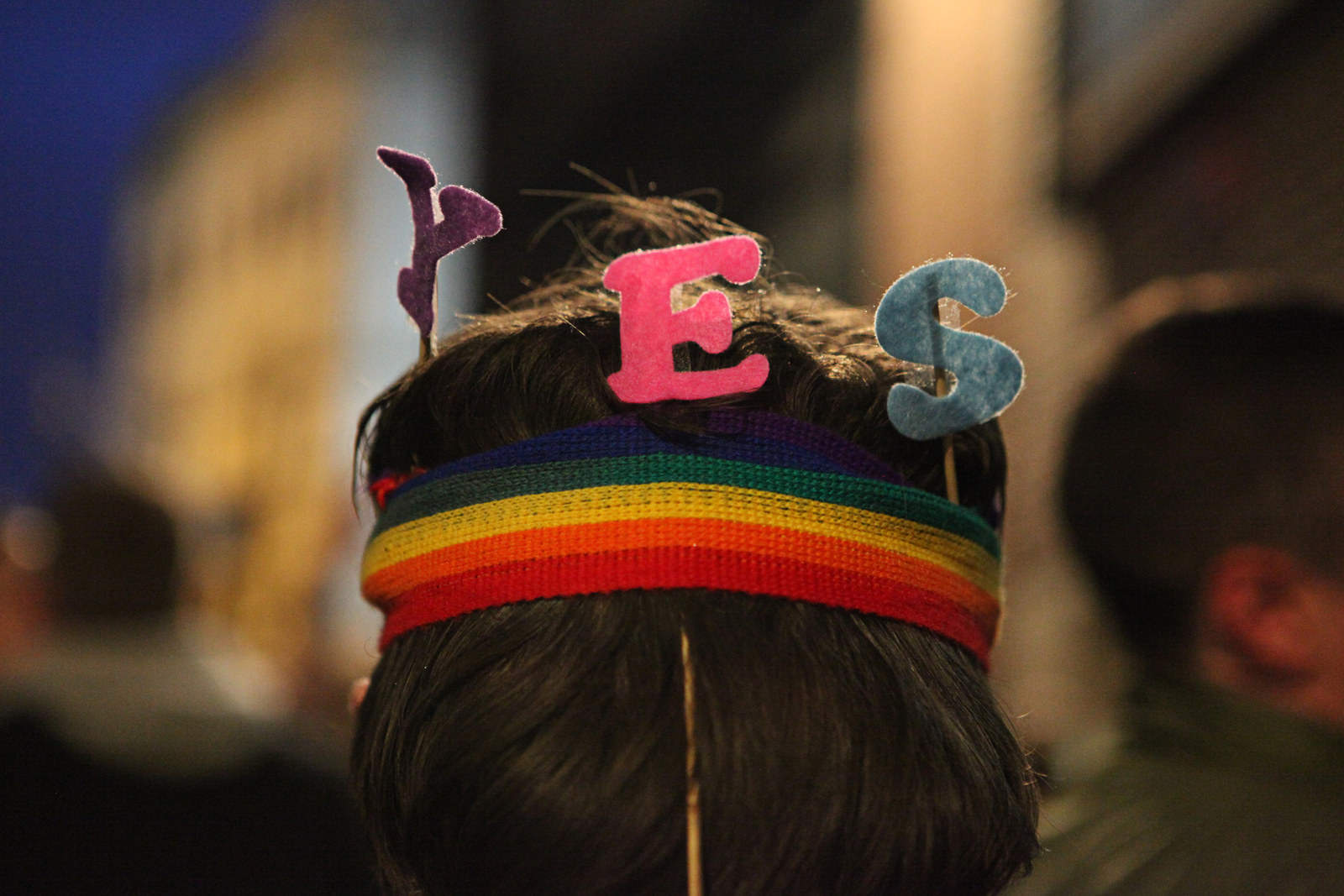 As BuzzFeed News headed towards PantiBar, long a beacon for gay Dublin, it appeared that thousands more had the same idea, with the entire intersection of Capel Street and Strand Street Little bottle-necked.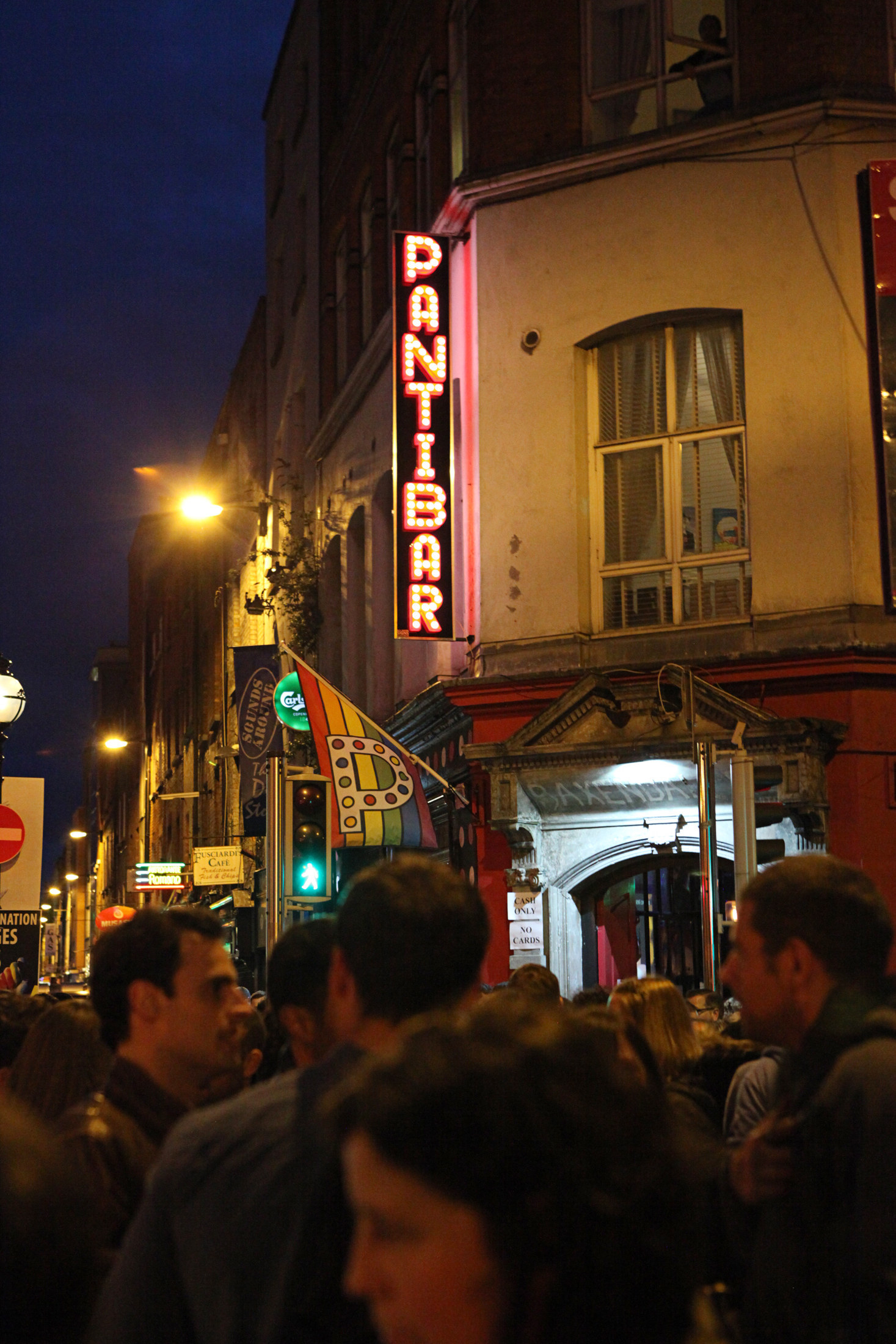 There at the epicentre of LGBT nightlight, two artists called Adrian and Shane we standing outside, gazing at the crowds.
"When we were growing up, being in school where you're bullied, where you got called names, you knew you weren't equal," Shane told BuzzFeed News. "You knew you were different. But now there's a validation sent out to everyone that actually everybody's the same. Ireland has said, 'What you are is what you are and we accept that.'"
"What made it so special was that the people voted so you'll now know that when you're on the street most are on your side," added Adrian.
Shane agreed: "This is bigger than Pride, bigger than St. Patrick's Day; it's massive and historical and really special."
"People are just standing on the street for hours cheering at traffic," said Adrian. "It's bizarre but it's magical. It's like nothing else."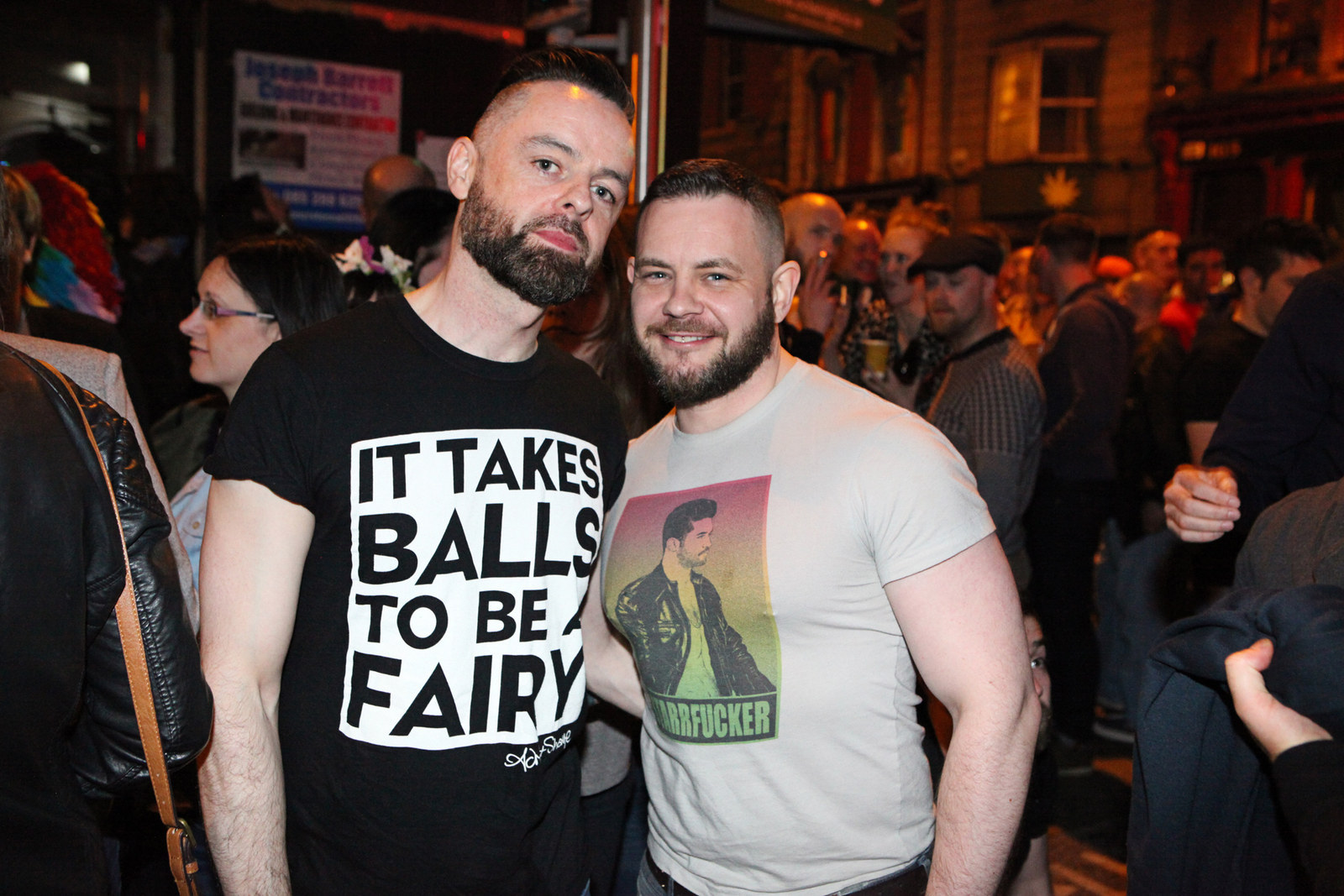 A group of young women from Hong Kong and Taiwan were clutching each other nearby. They didn't want to give their names but one, from Hong Kong said, "We're here for equality, for love."

"I saw a post on Facebook from an ice-cream company," she continued. "It said, 'We vote for love.' They didn't say they vote for No or Yes, they said they vote for love.
"That's why there's a celebration here. I hope there's the same in Hong Kong because everyone deserves equality."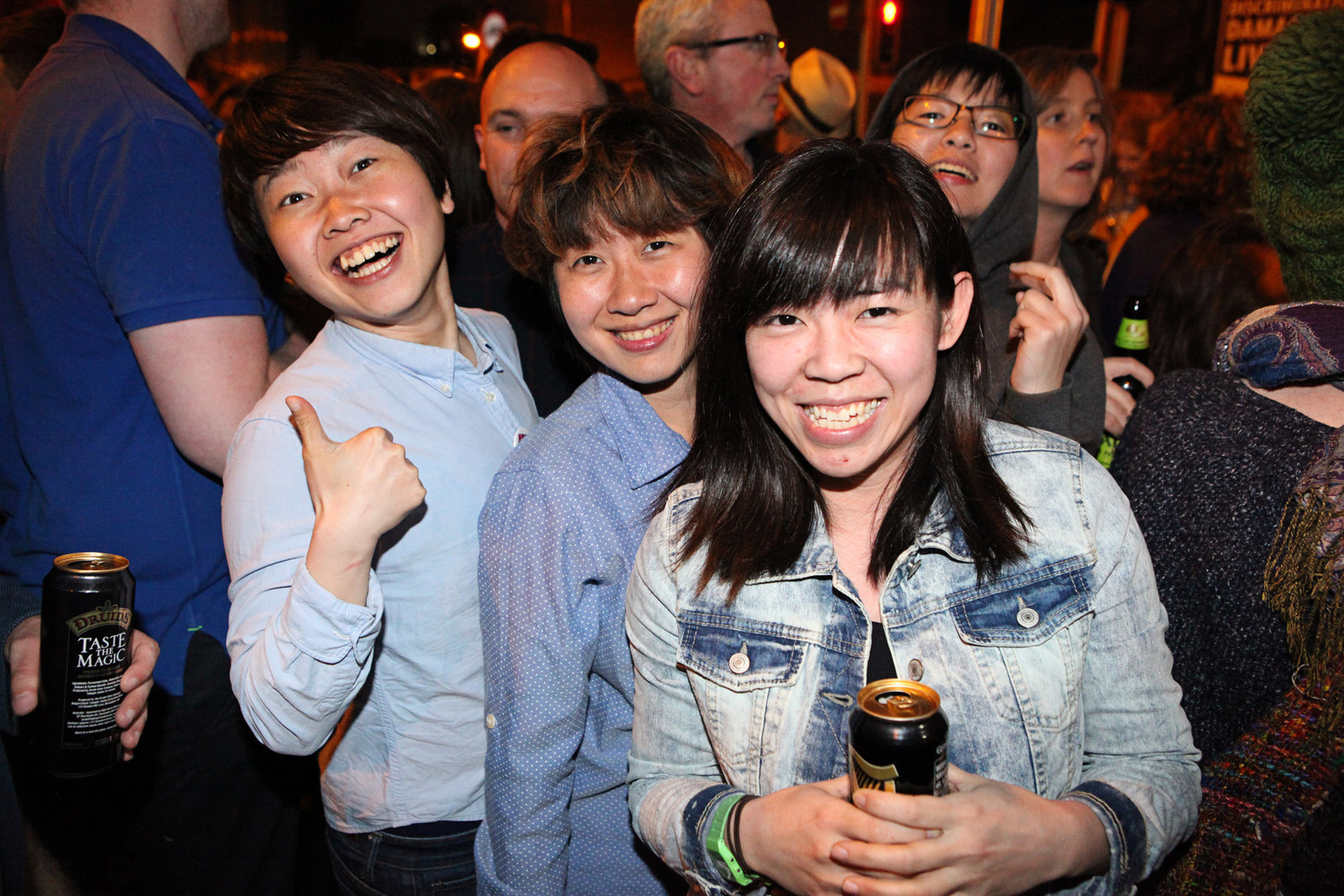 Across the street, a guy called Alan, with his friends Derek and Sundara, had a rainbow flag draped around him. "The idea of a No result would have been so crushing and depressing," he told BuzzFeed News.

"The result is so validating. I've been all over the place the last few weeks, canvassing, and you get very mixed responses. Growing up gay, it was schoolyard taunting, and that was all anyone's idea of gayness was."
Sundara added: "Our parents grew up in an Ireland where it was frowned upon and shameful. To be standing here today and seeing this, it's unbelievably emotional."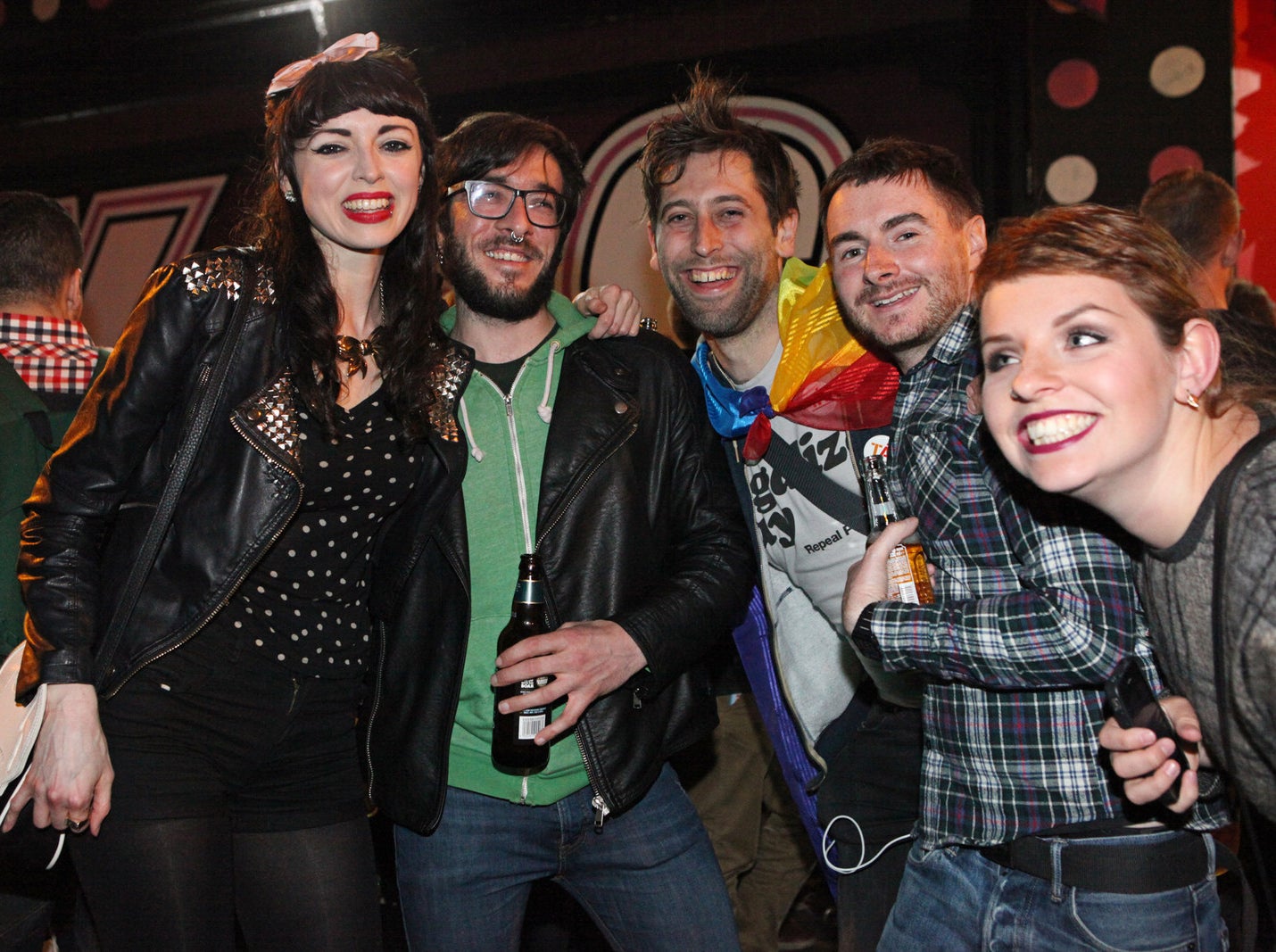 Sundara (left), and Alan, (centre), outside PantiBar
Two brothers, Mark 21, who is straight, and Reece, 20, who's gay, were hugging nearby.
"I'm really happy…" said Mark before Reece took over: "I was gonna live in Iceland because they have gay marriage but now it has come here I think I'm going to stay in Ireland. The fact we have equality, it's like we've finally embraced our citizenship and now more gay people will come to Ireland because they'll know we accept them."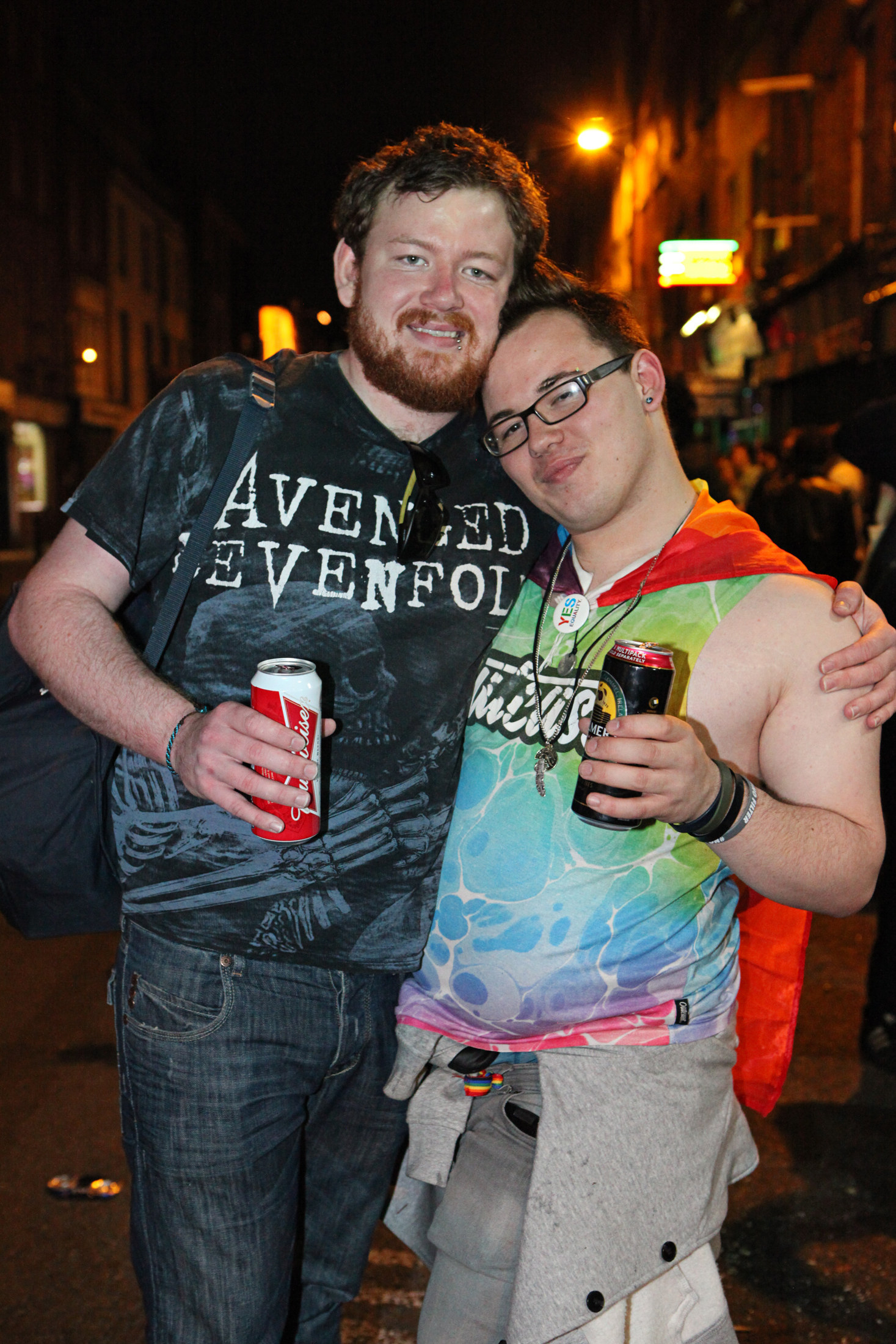 "I should be able to walk down with the person I love, and hold their hand and be accepted in society," said Reece. "Growing up gay was hard but now we have equality it'll be easier because everyone will understand what gay is and accept us more as a community."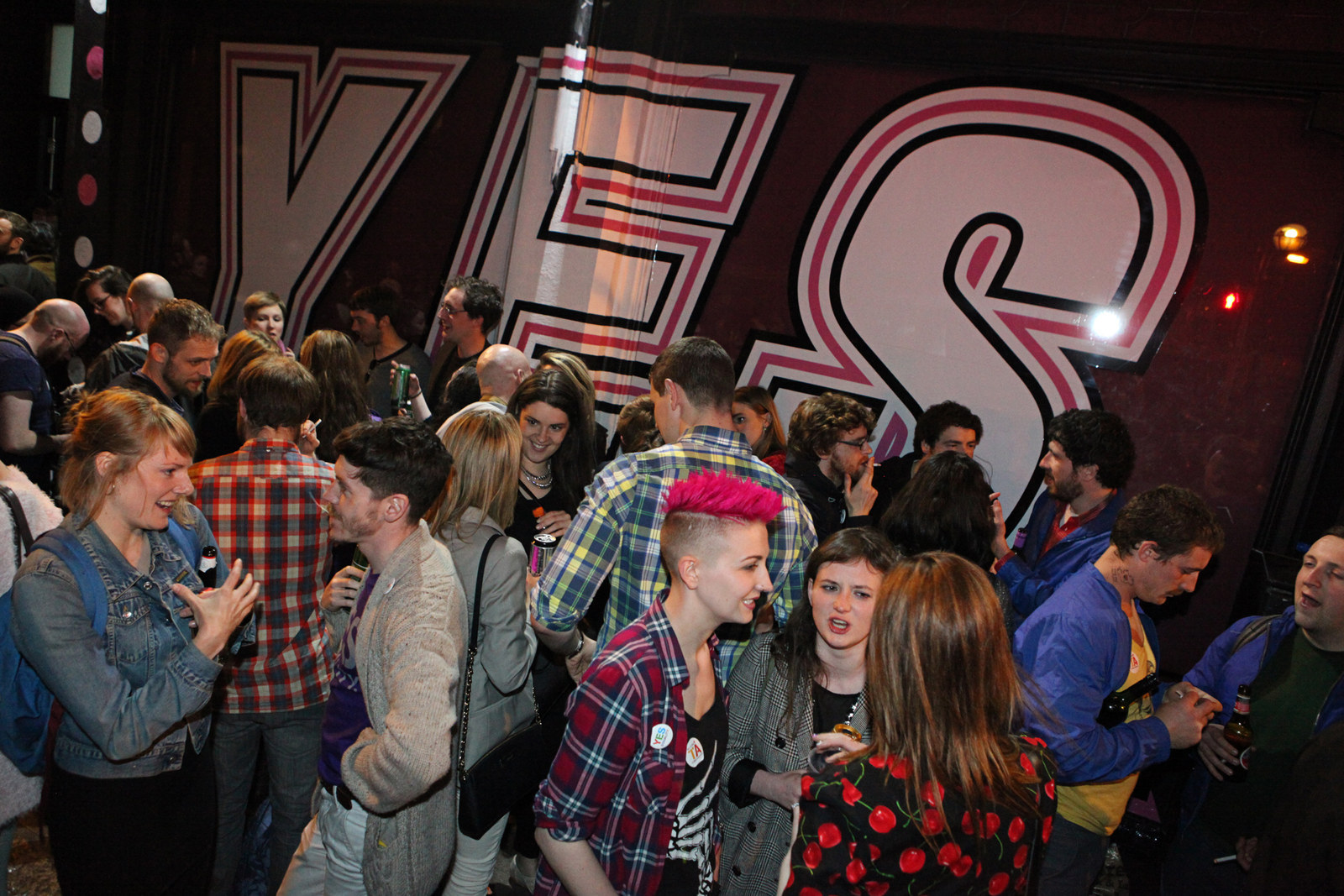 And then, BuzzFeed News spotted a man in a cap standing just outside the entrance of PantiBar, as Eurovision blared out from the TV screens inside. His name was Andy Hinds, he's 64, and, it transpires, he helped kickstart the gay liberation movement in Northern Ireland 40 years ago.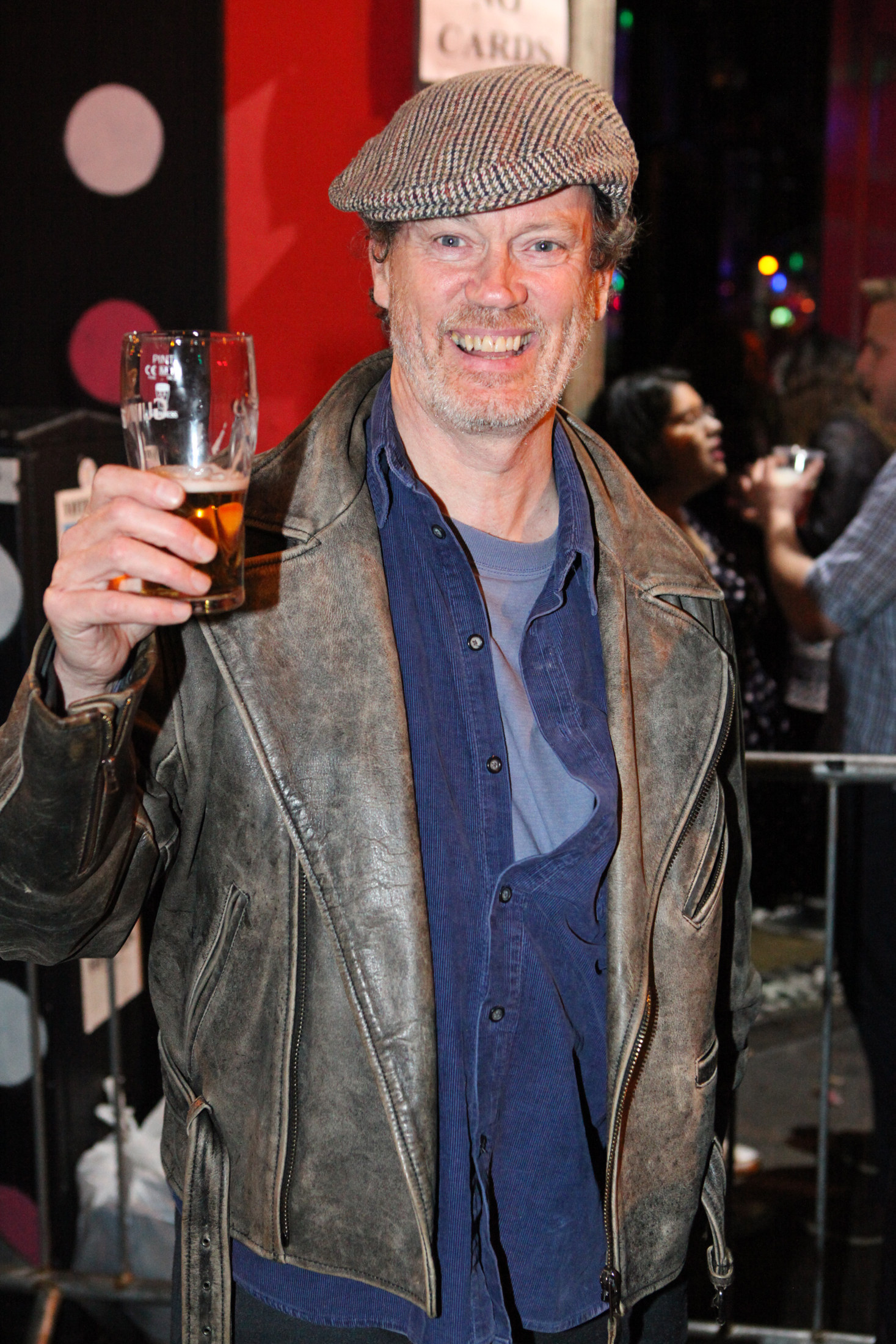 "It's an extraordinary day for the entire country," he said. "When I started gay lib in Ireland, we didn't conceive of the fact that one day we might actually marry. It was the early '70s, the gay liberation movement had started in London and I heard about it and I talked to someone and said, 'What's this gay liberation thing?' And the woman said, 'Well, the main thing they talk about is coming out.' And I said, 'What's that?' She said, 'It means you tell people you're gay.'
"It was like a huge flash of light, I felt the significance and the impact that could have and instantly I came out and I went to London and met all the gay liberation people and set up the same thing in Belfast at Queen's university – the Gay Lib Soc, and that segued into the Northern Ireland Gay Rights Association which took the [decriminalisation of homosexuality] case to Strasbourg and got the law changed in Northern Ireland."
He told BuzzFeed News what life was like for him in Derry in the 1960s.
"At the age of 14 I remember praying to God that I wouldn't be a queer, because I suspected I was. The word gay didn't exist in Derry. I thought what queers did was had quick fumbles up in the darkness of back lanes. I didn't even conceive that gay men could kiss each other."
He continued: "I remember the first time I laid down with a guy, I thought, 'This is extraordinary; I didn't know you could lie down and hold a man,' because I had never seen it or heard about it. I didn't know you could kiss. And then this guy took me out in a car and put the back seats down and got a sleeping bag out and we just laid down and held each other and I thought, 'This is incredible.' A whole new world opened up. I still remember his name: Roy King."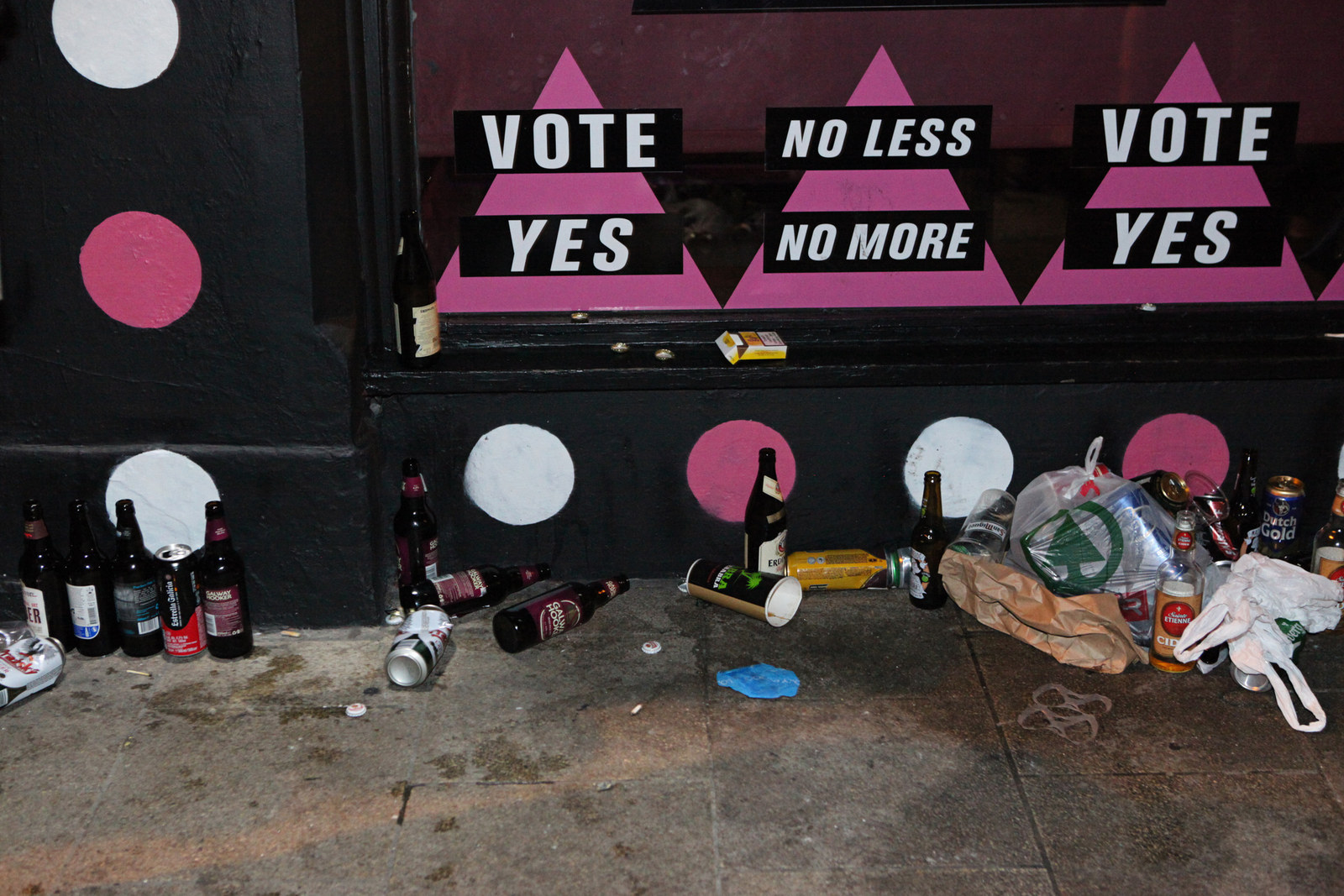 And what did the referendum mean to him? "I think people will now hold hands in the street more regularly, show affection more regularly and just feel more relaxed about who they are," he said. "I realise that I now feel protected, but I didn't realise how unprotected I felt before today, and that that limits my potential for becoming fully myself and contributing fully to the society I'm in. Today is amazing."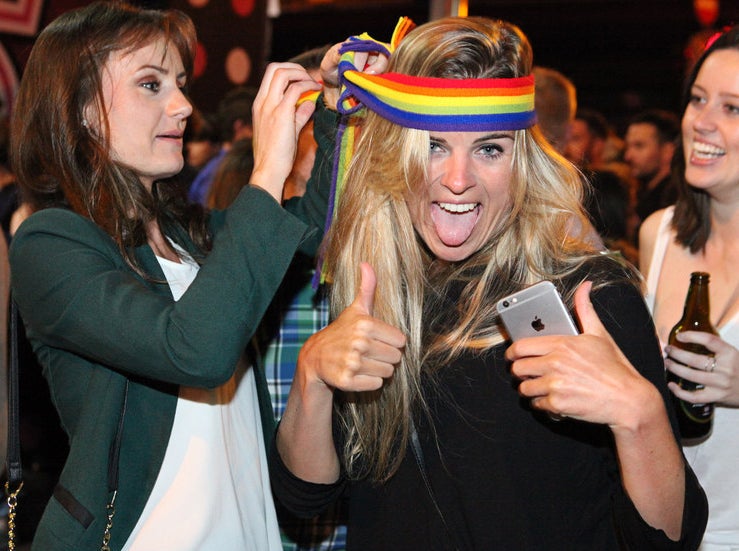 People celebrating outside PantiBar
Revellers inside PantiBar
From PantiBar, the party moved to Mother, at the Tivoli on Francis St. Inside, Oonagh Murphy, one of the architects of the Yes Equality campaign, was still standing – exhausted, but relieved and jubilant.
"I'm feeling like this country is a place I might want to come home to and settle down in now," she told BuzzFeed News. "Which is something that hasn't been on the cards for some time. It's still quite surreal, as if you might wake up and today was a dream."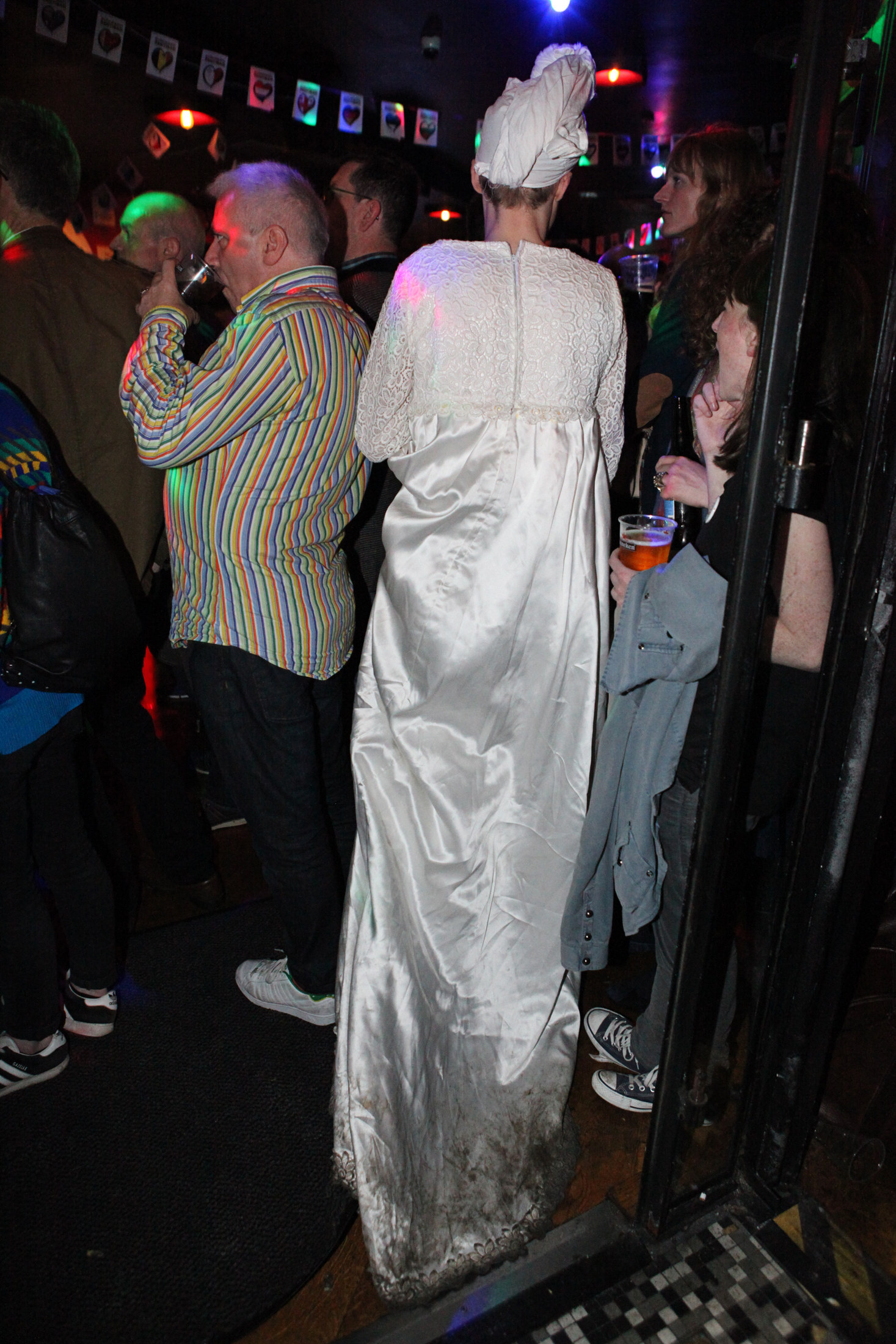 She added: "I thought this day might come in another decade, but I really didn't expect it today. I was totally ready for calling for another referendum. I don't think any of us were ready for a landslide."
In the club's outdoor area, Mick, a 32-year-old lawyer with a ring through his nostril, was beaming amid the partygoers.
"I'm getting married on the 23 December," he told BuzzFeed News. "We planned optimistically that this result would happen. I got a text message from my aunt to say now it's definitely going to be a wedding and not a civil partnership, she's buying herself a fur coat for the day. I'm like, 'I don't want to be responsible for those animals dying because we all voted Yes!'"
He continued: "To be able to get married means we are universally the same, our rights are the same, it changes everything for gay people. For me to be married it means my partner's family becomes my family. I want to be able to say he and I are the closest relations."

Back inside, at 3am, Panti Bliss – drag queen, owner of the PantiBar and the star of the Yes campaign – came on to the stage to address the many hundreds dancing and drinking below:

"Some people say this campaign has been going for four months, but it's been going for 40 years. We started with a tiny number of incredibly brave men and woman who said, 'Actually we have nothing to be ashamed of'. Over those years that tiny group of men and women grew bigger and bigger, bit by bit, incremental advance by incremental advance, until eventually, today, the queer citizens of Ireland have achieved full and equal rights." Her audience cheered wildly.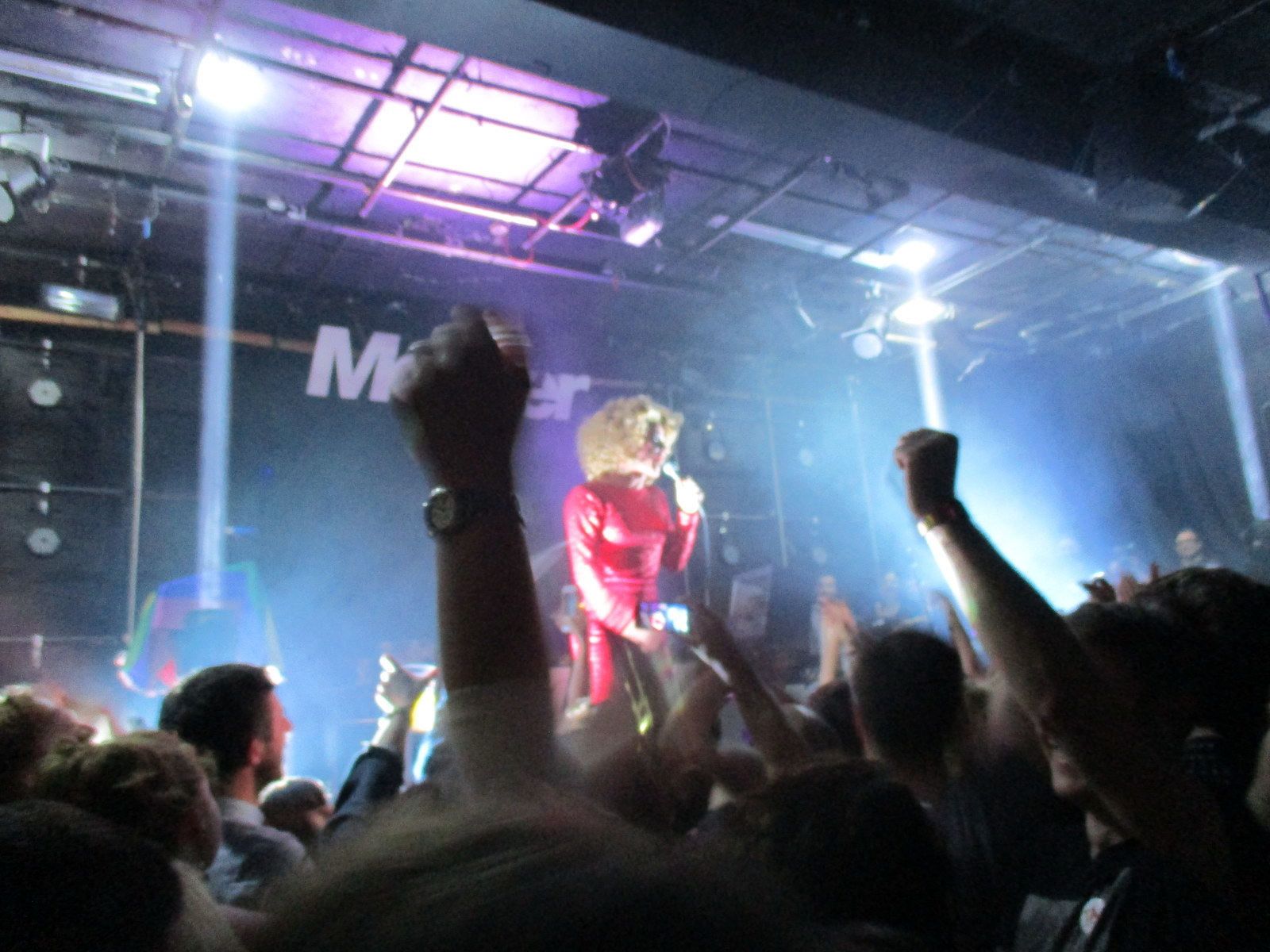 "From now on, young people in this country will grow up and they will be going to the wedding of their gay uncles and they will be having their first glass of beer at the back of a reception in a fucking hotel in Mullingar, and it will be an ordinary, everyday occurrence, and that is what changes hearts and minds."
She continued: "People have been saying that Ireland changed today, but Ireland didn't change today, what Ireland did today was confirm something that we already knew, that Ireland had already changed."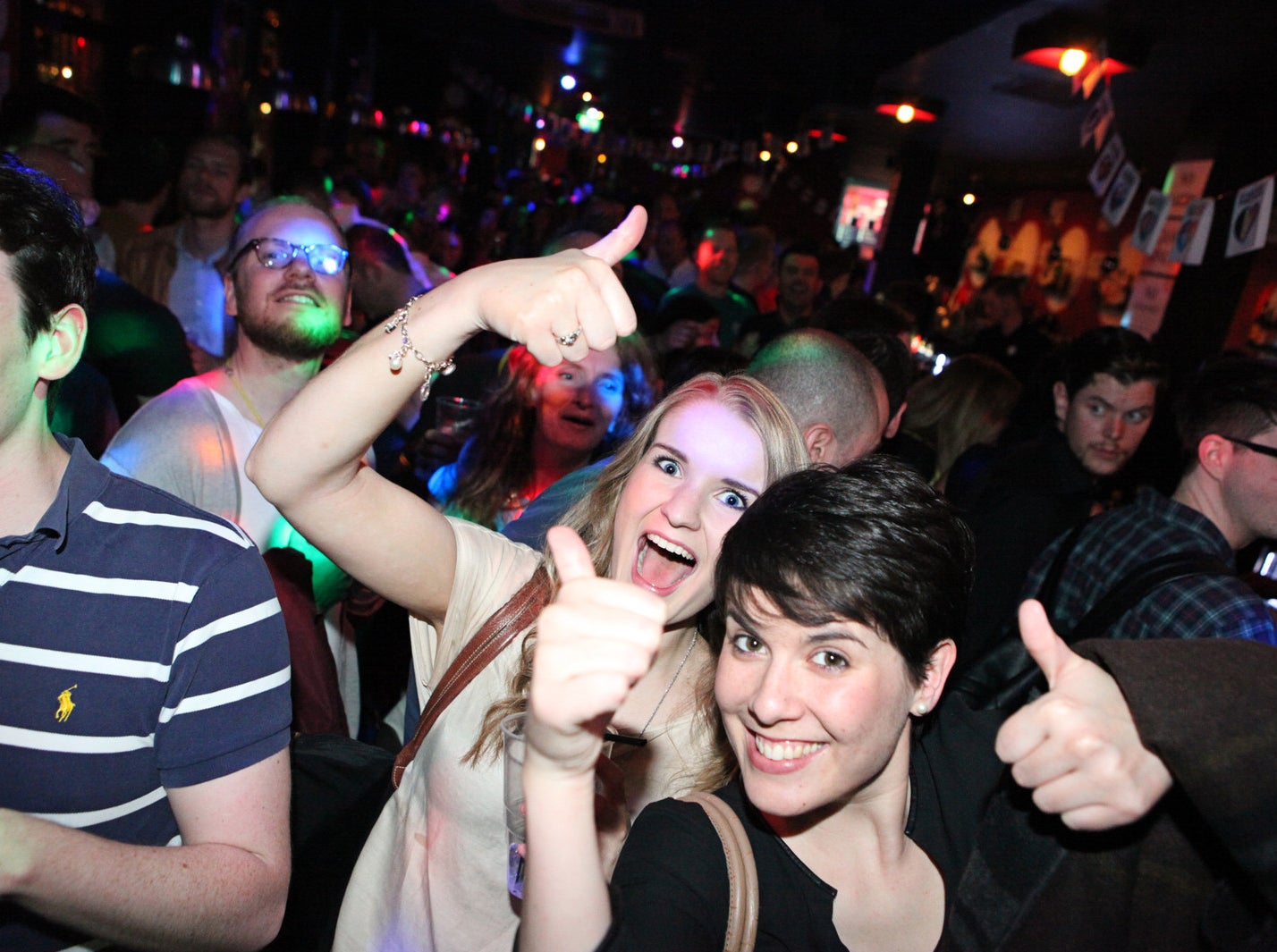 Clubbers celebrating the referendum
As Panti looked out at the crowd in front of her – of teenagers, lesbian couples, guys older enough to remember the times before decriminalisation, of siblings with one gay brother and three straight sisters, of campaigners, of trans kids and straight friends and all who cared so much that equality would become reality – she pulled the microphone to her epically painted lips and cried:
"You're all fucking legends."