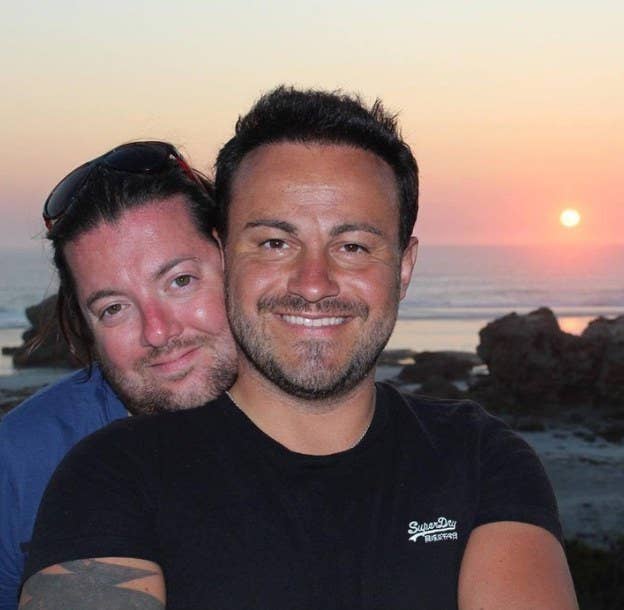 British same-sex married couples travelling abroad will be able to obtain an official letter from the UK government confirming their next-of-kin status in a world-first aimed at preventing LGBT citizens being denied their rights.
The trailblazing new policy – no other country currently offers this – was prompted by the sudden death four months ago of a British gay man on his honeymoon in Australia. His husband had to suffer the indignity of being told by the state authorities that the death certificate would read "never married" as same-sex marriage was not recognised.
The move will mean that anyone in a civil partnership or marriage will be able to present the document to hospital staff, police, funeral directors, donor organisations, or any officials they might encounter in the event of their spouse being taken ill or dying in a foreign country.
All Britons, regardless of sexual orientation, will be able obtain such a letter, although as heterosexual marriages are already legally recognised around the world, it is likely only LGBT couples will take advantage of the policy.
Despite same-sex marriage now being legal in 15 countries, and others recognising overseas same-sex unions, most states still do not, leaving LGBT people with few or no next-of-kin rights in emergencies. The new letters, which UK citizens will be able to obtain from consulates around the world, will inform medical or legal authorities abroad that the British government deems the person in possession of the document to be the next of kin.
The move follows the case of Marco Bulmer-Rizzi, whose husband, David Bulmer-Rizzi, fell down a flight of stairs in Adelaide, South Australia, and died a few hours later, while the couple were on honeymoon in January.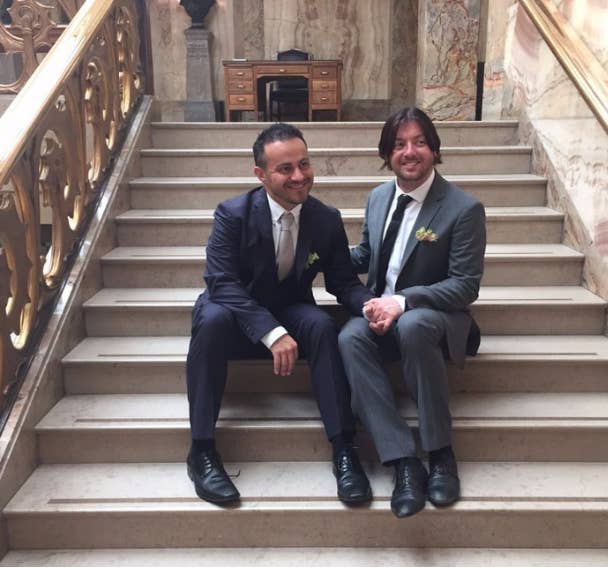 A few days after the accident, when grieving Bulmer-Rizzi told BuzzFeed News that not only would the death certificate read "never married" but that all end-of-life decisions had to be approved by his father-in-law – because Bulmer-Rizzi was not deemed the next of kin – the story went viral, sparking media coverage around the world.
Within 24 hours, the premier of South Australia, Jay Weatherill, telephoned Bulmer-Rizzi to apologise and to promise that he would change the law in the territory by the end of the year so that it would recognise overseas same-sex marriages.
The coverage of the case in Australia was so extensive, it also reignited the same-sex marriage debate in a country that still does not allow such rights for its own citizens, and in most of its territories does not recognise overseas same-sex marriages.
The UK's Foreign Office invited Bulmer-Rizzi to a meeting on 21 April to discuss his concerns about his experience in Australia. At this meeting, Bulmer-Rizzi told BuzzFeed News, he suggested to senior consular staff that Britain should offer next-of-kin letters, so that LGBT people in his situation can prove that their government expects others to respect their legal status.
Earlier this week, Foreign Office minister Hugo Swire sent Bulmer-Rizzi's MP, Bridget Phillipson, a letter confirming what took place at this meeting and its result: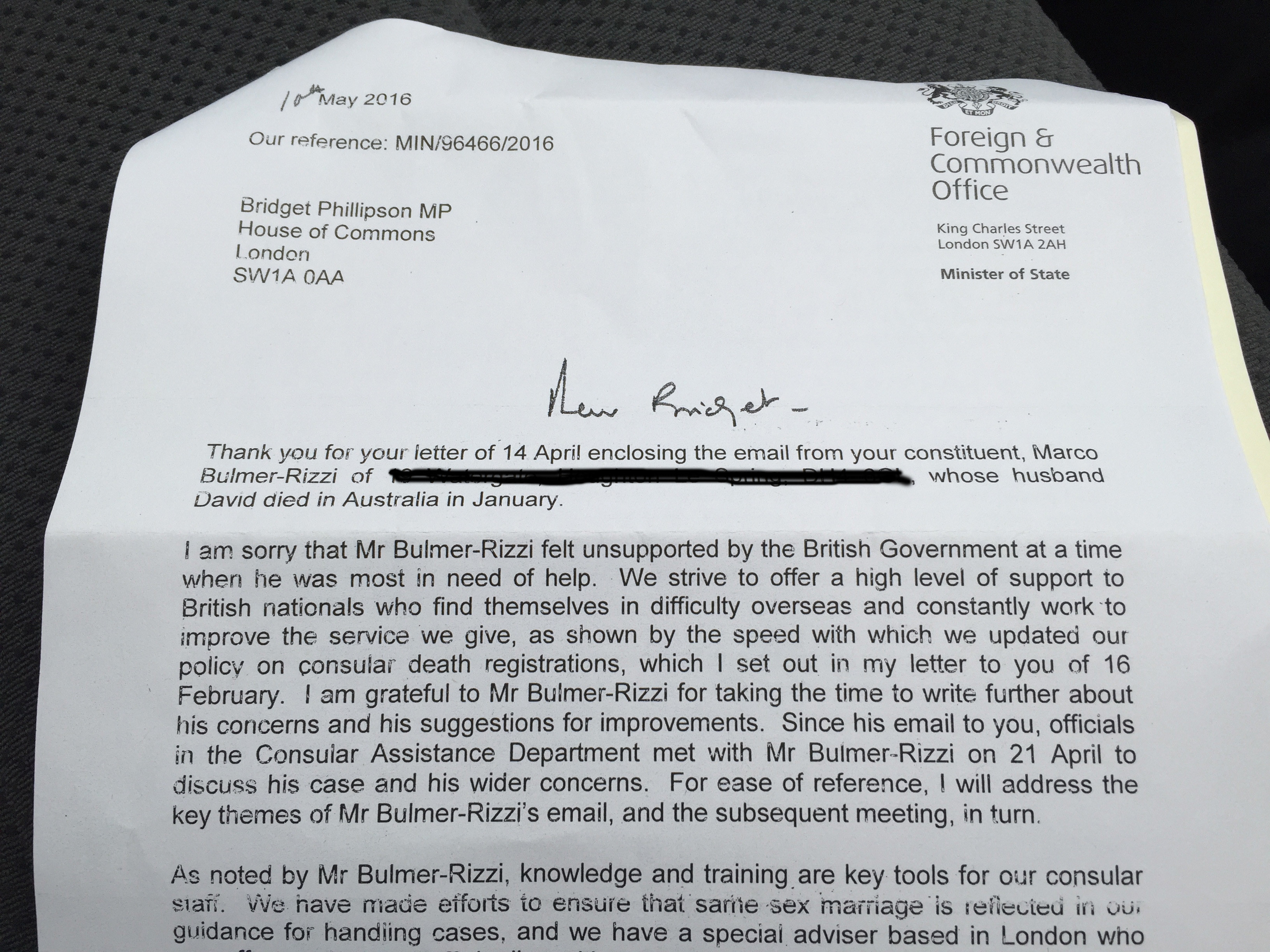 "We have now made available to staff new guidance to enable them to issue an official information note that confirms that the UK authorities, including British consulates, will normally view a spouse or civil partner as next of kin where the relationship is a same-sex one as much as for opposite-sex couples."
The letter continued: "There is no guarantee that a foreign authority will take the same view if it does not recognise same-sex marriage, but we hope it will make clear to those authorities our position and support to a British spouse or civil partner."
Bulmer-Rizzi said he was delighted by the decision to provide such letters. "It's amazing, incredible," he told BuzzFeed News. "It feels like all the heartache and headaches I experienced keeping going [campaigning about the issue] while grieving have just paid off. I had to fight but that means other people won't. It fills me with pride. I think David would be very proud too."
He added: "I just keep thinking that somewhere another couple may not have to go through what I did and won't feel as lonely as I did. And that's the best possible gift given the circumstances."
The minister's letter also set out a number of other responses to Bulmer-Rizzi's request for Foreign Office resources along with embassy staff around the world to better assist UK LGBT citizens. Swire pledged that the department would "identify other organisations which can provide support to LGBT travellers, to ensure that the relevant information is more easily accessible to staff and British nationals", and to "review the resources available on our web page".
Bulmer-Rizzi had complained that prior to travelling he had checked on the Foreign Office website about the legal situation in Australia and nowhere did it say that in South Australia an overseas same-sex marriage would not be recognised.
The minister also promised that the information sent to British nationals when their partner or family member dies – called "bereavement packs" – would be looked at to "explore what more can be done to make those packs more relevant to LGBT travellers".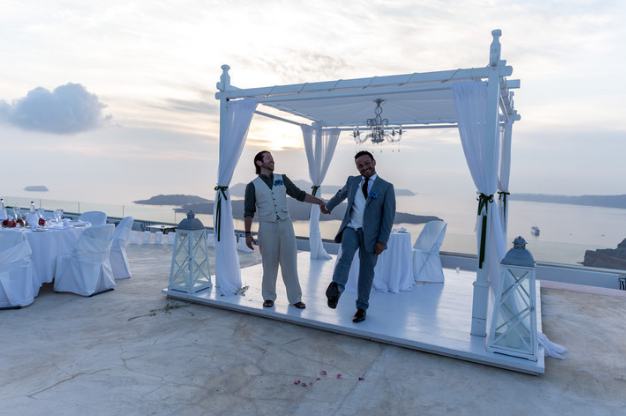 Bulmer-Rizzi is now calling for other countries to follow suit, and also offer its same-sex married couples documentation to support their rights abroad.
"I think the United States needs to do it, France needs to it, Spain, every country that has same-sex marriage, because then there will be a lot of pressure on every other country to at least recognise it," he said.
"That's how you start to end discrimination. Once other countries know that the UK government is issuing these letters it's going to become much more diplomatically difficult for them to not honour them."
He added: "It will make same-sex marriage more acceptable and will help allow two people to love each other regardless of their gender."