19 Ways Refugees And Migrants Were Welcomed In 2015
A look at the reaction people received in countries such as Canada and Germany this year.
In 2015, more than a million people entered Europe attempting to escape regions of war and unrest, with the majority fleeing Syria. As they made their way across the continent, and further afield, they were met with varying reactions.
Below are some heartwarming examples of when people opened their arms, and homes, to those fleeing chaos in their own country.
1.
A Dutch volunteer comforted a woman moments after she arrived on the Greek island of Lesbos.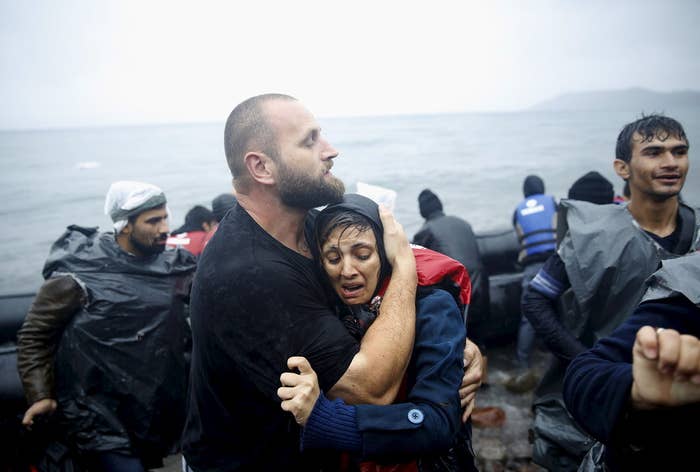 2.
Volunteers also gave water and toys to an exhausted Syrian child soon after he and his family arrived in an overcrowded dinghy.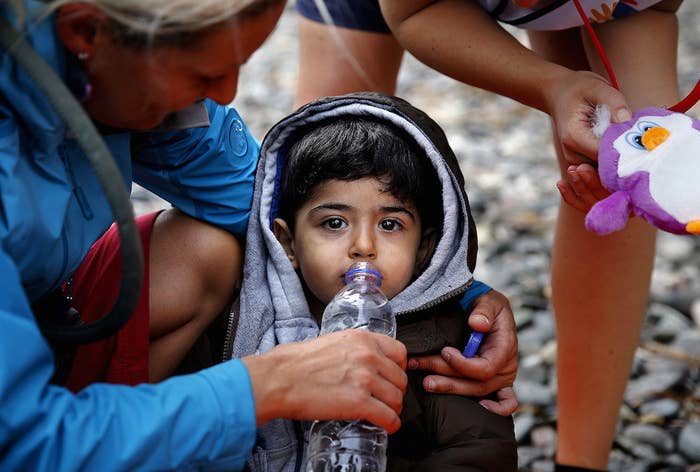 3.
Canadian prime minister Justin Trudeau personally welcomed some of those arriving in his country.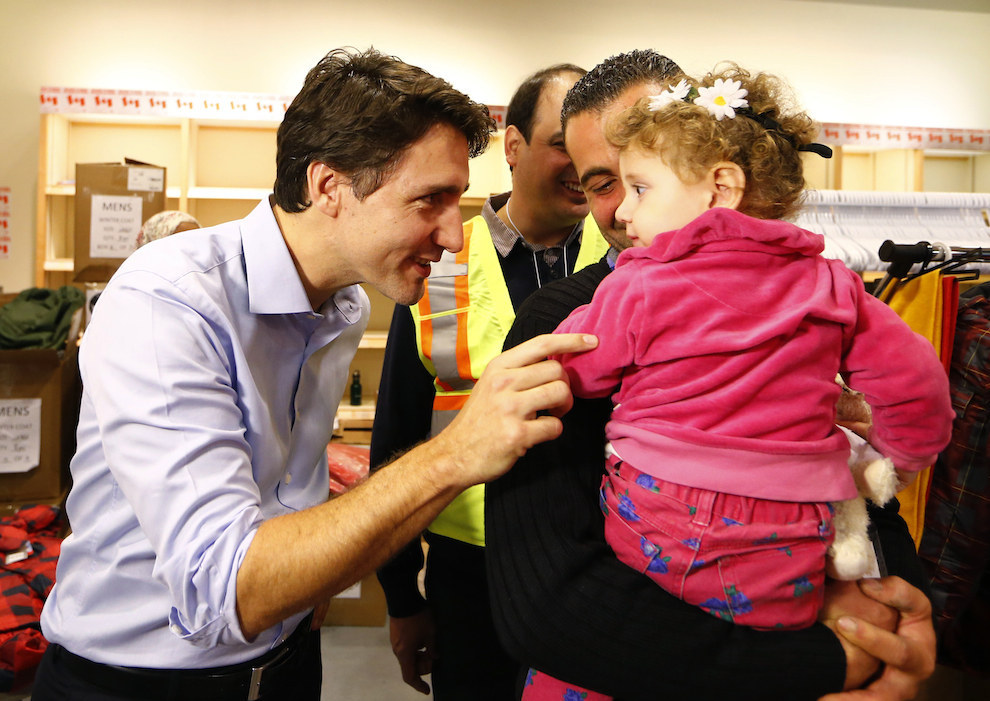 4.
A Syrian boy and his family were greeted by Quebec premier Philippe Couillard at a welcome centre in Montreal in December.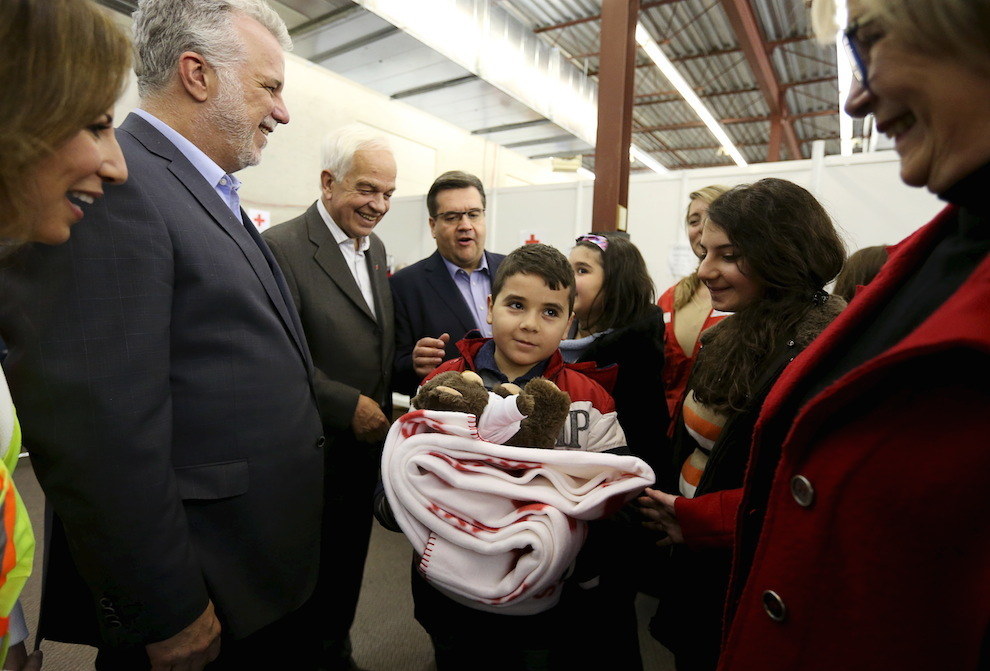 5.
Volunteers handed out welcome packs at Toronto Pearson airport.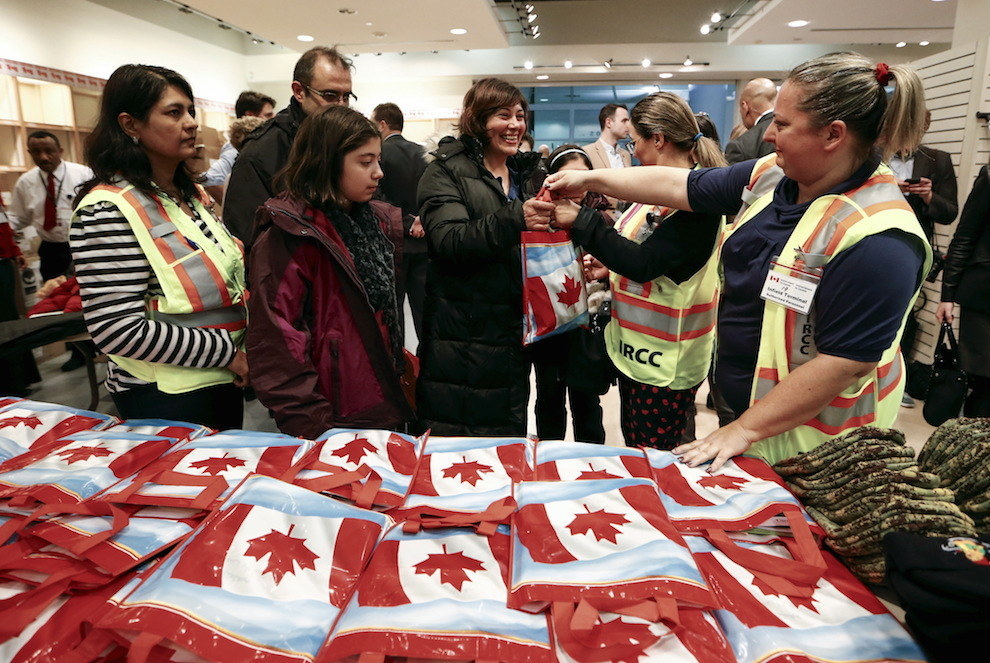 6.
Crowds of people welcomed refugees at the main railway station in Dortmund, Germany, after their long journey through Europe.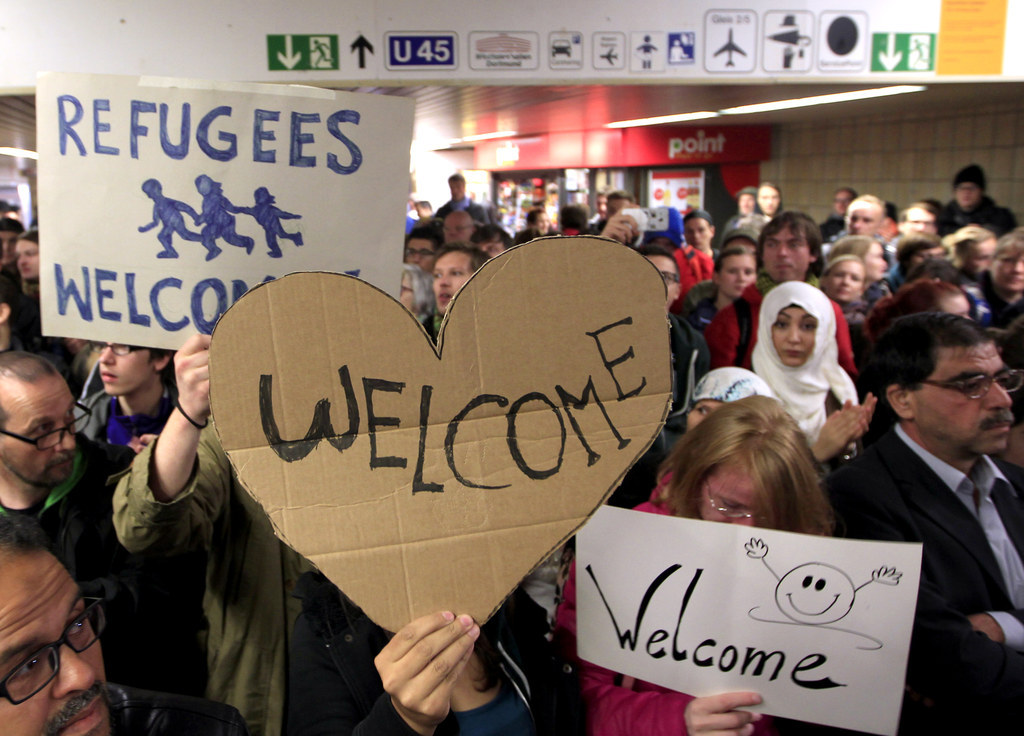 7.
Two Syrian children were given cuddly toys at Frankfurt's railway station after arriving from Budapest in September.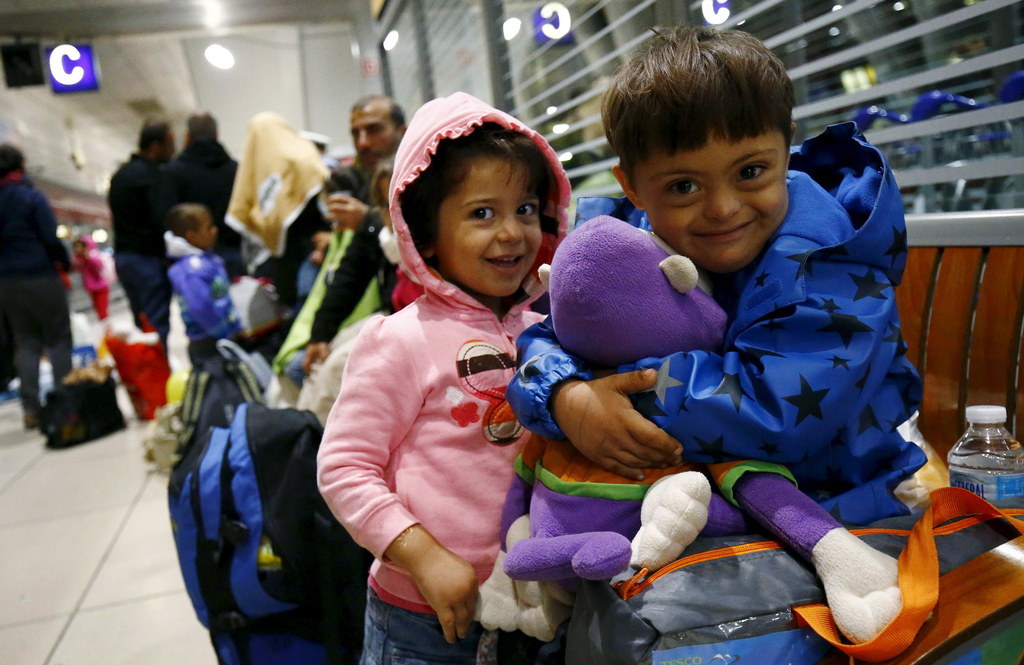 8.
A migrant boy received a kiss from a volunteer after arriving at Munich Hauptbahnhof station.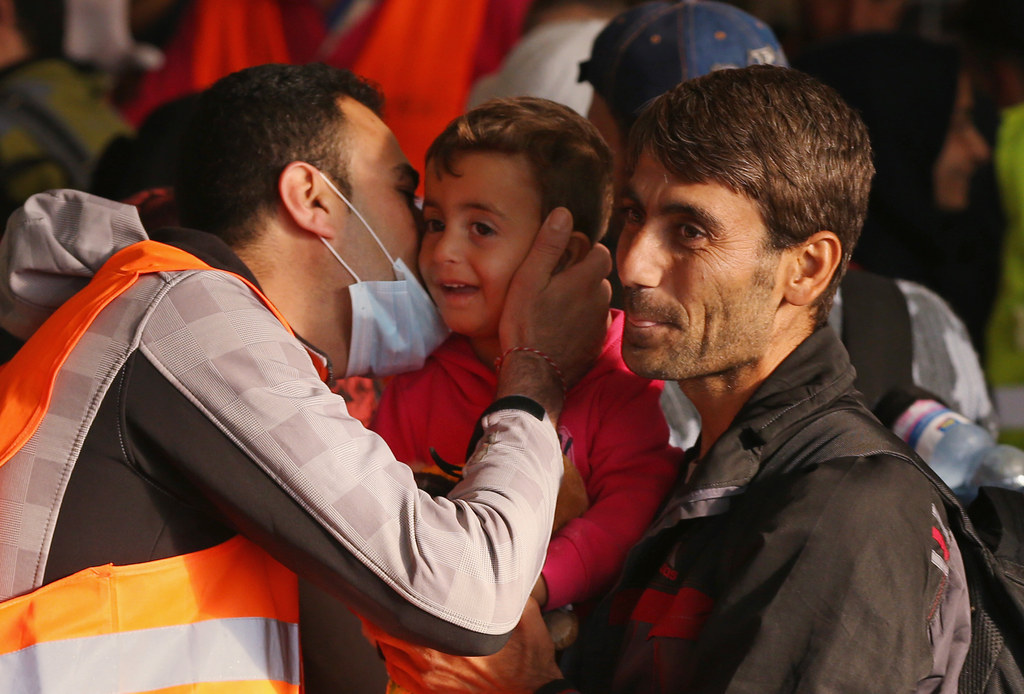 9.
Fans at a football match between 1.FC Köln and Borussia Mönchengladbach unveiled a banner that said: "Colourful fan culture = welcoming culture. Refugees welcome."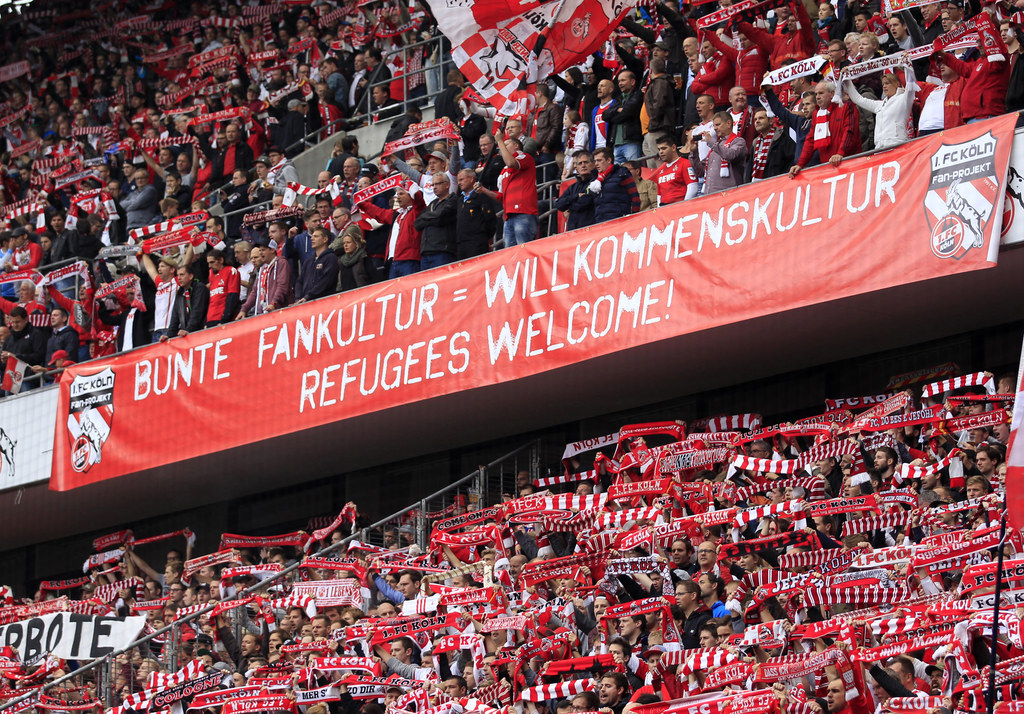 10.
Boys at a refugee shelter in Berlin got to meet Santa Claus.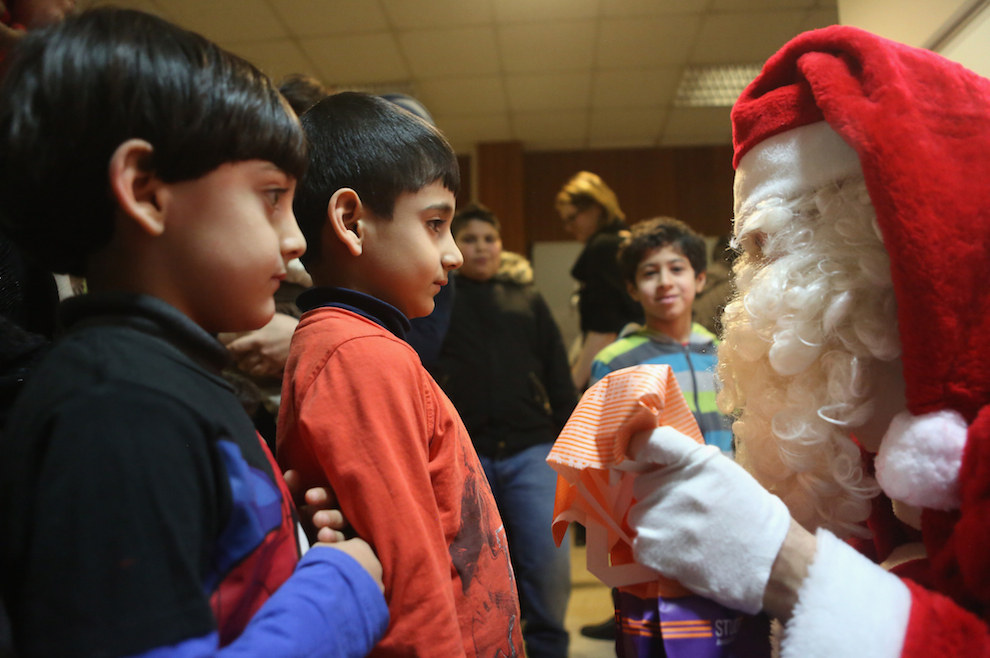 11.
Volunteers sorted through this deluge of donated goods at Hamburg's vast Messe exhibition centre.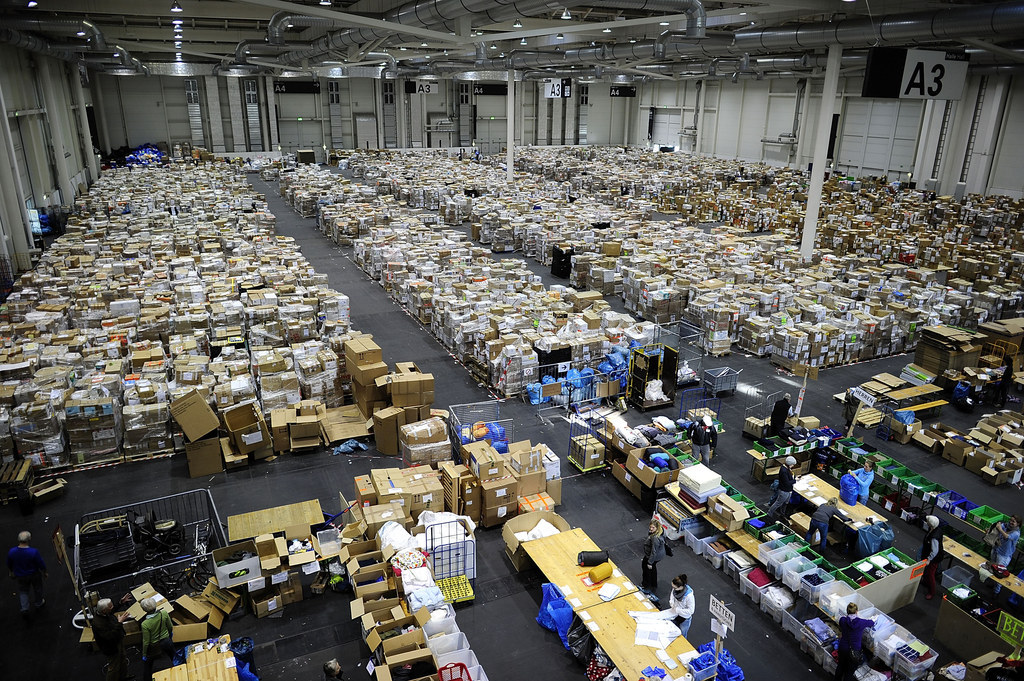 12.
Selina Hales, 32, from Scotland, set up the community group Refuweegee that created "starter packs" for Syrians resettling in Glasgow, containing Tunnock's teacakes and handwritten welcome notes.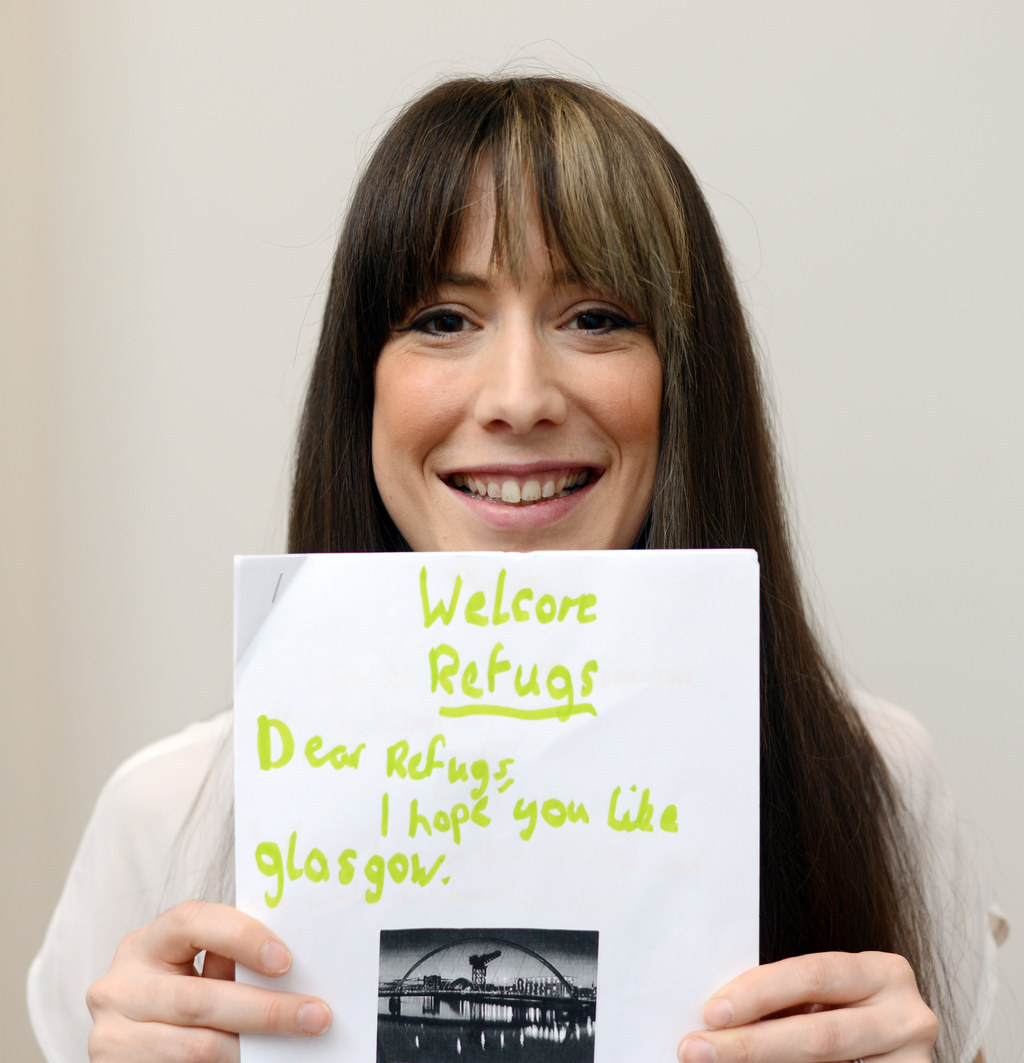 13.
Just over 100 people are expected to arrive in Glasgow by the end of the year and the group said it hoped the kits would make them feel welcome. Some notes apologised for the bad weather.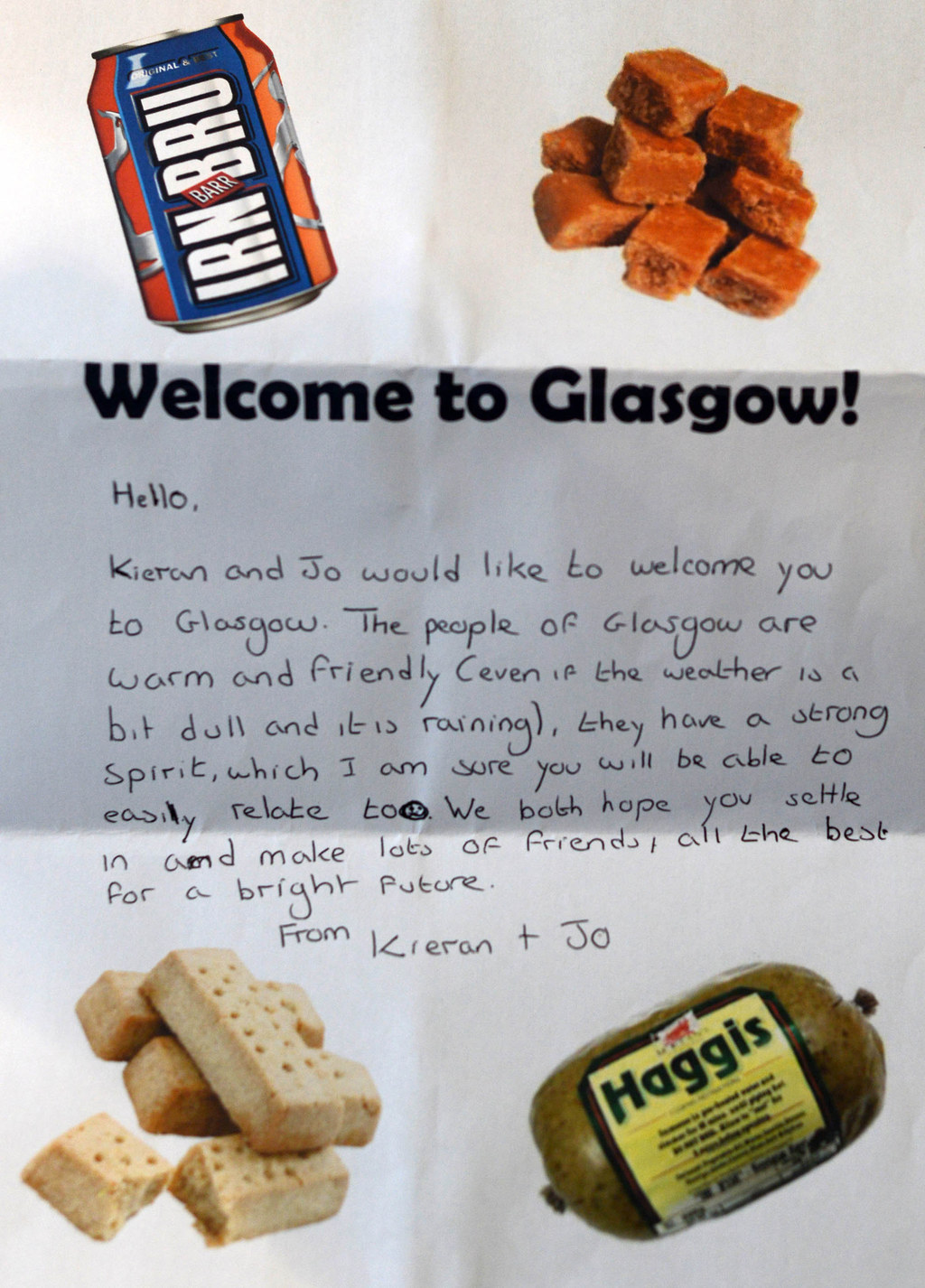 14.
One of the notes said: "It will take a long time to feel at home anywhere that isn't your own home but Glasgow of all places will open her arms to you."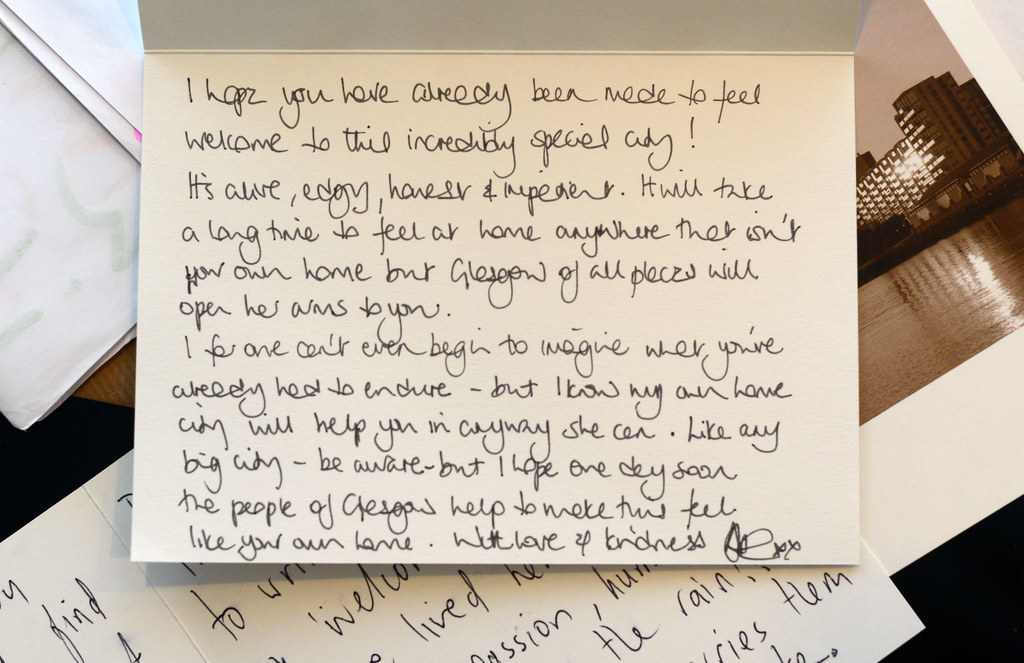 15.
Schoolchildren in Belfast made signs and gifts to welcome 11 Syrian families who will be resettled in Northern Ireland.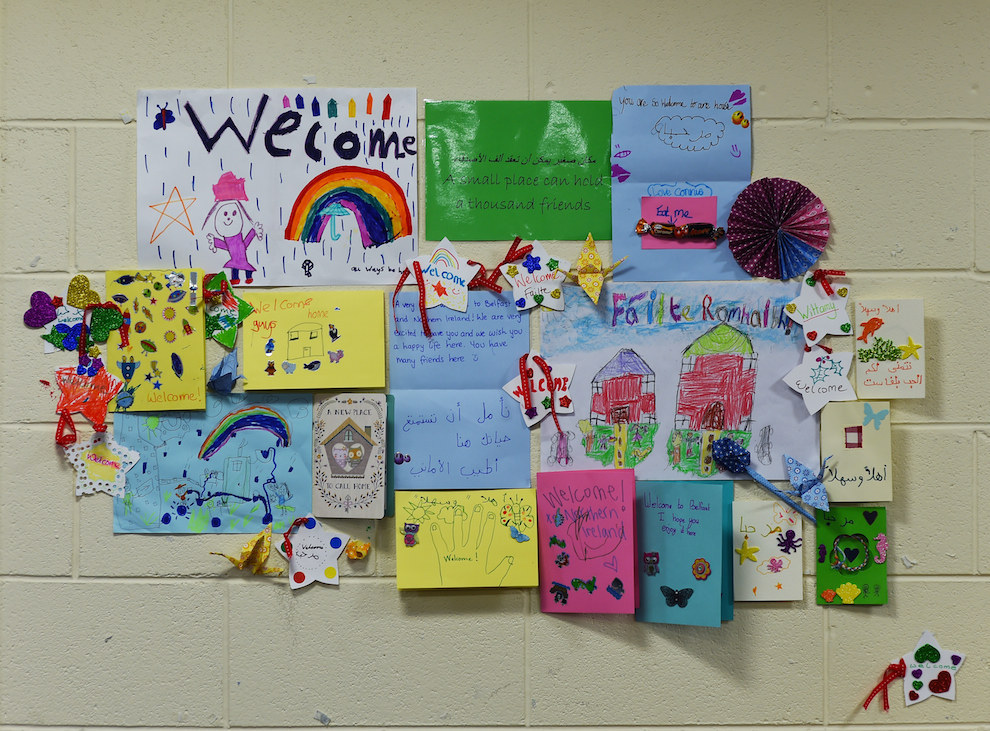 16.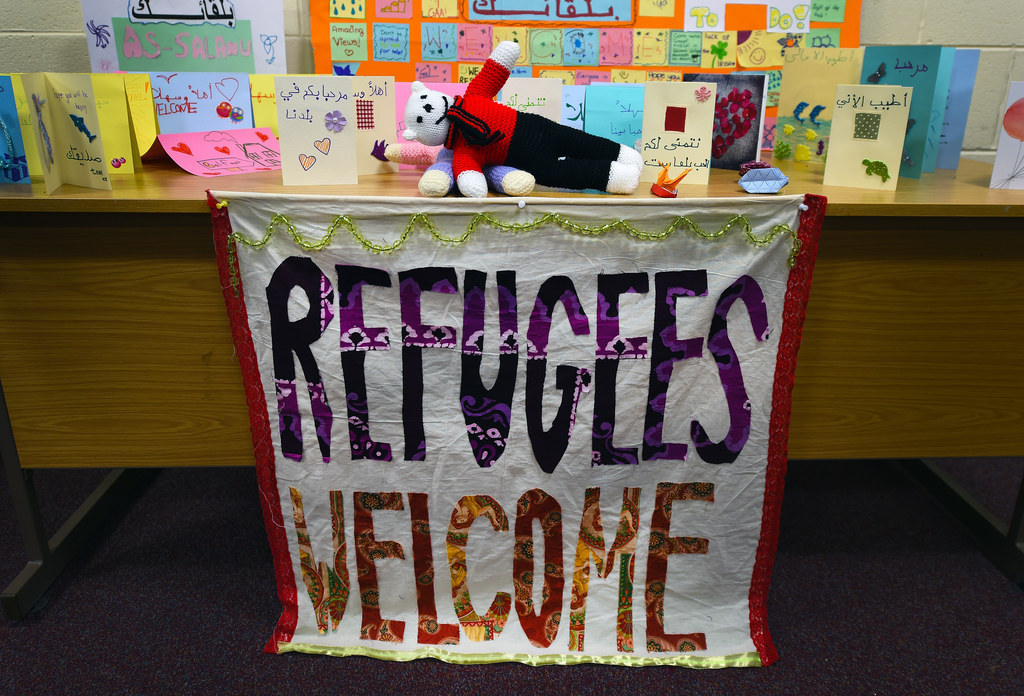 17.
The Northern Irish welcome packs included emergency phrasebooks, toothbrushes, and deodorant.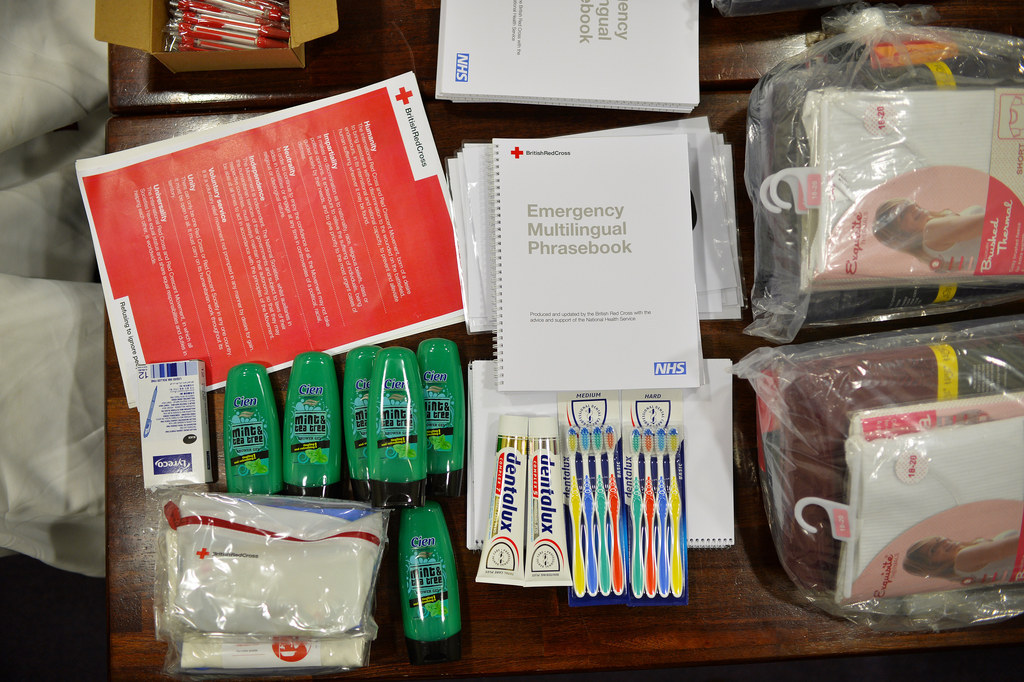 18.
People at a refugee center in Hennala Lahti, Finland, played football with locals at an event called "Let's play ball together" in September designed to welcome people to the country.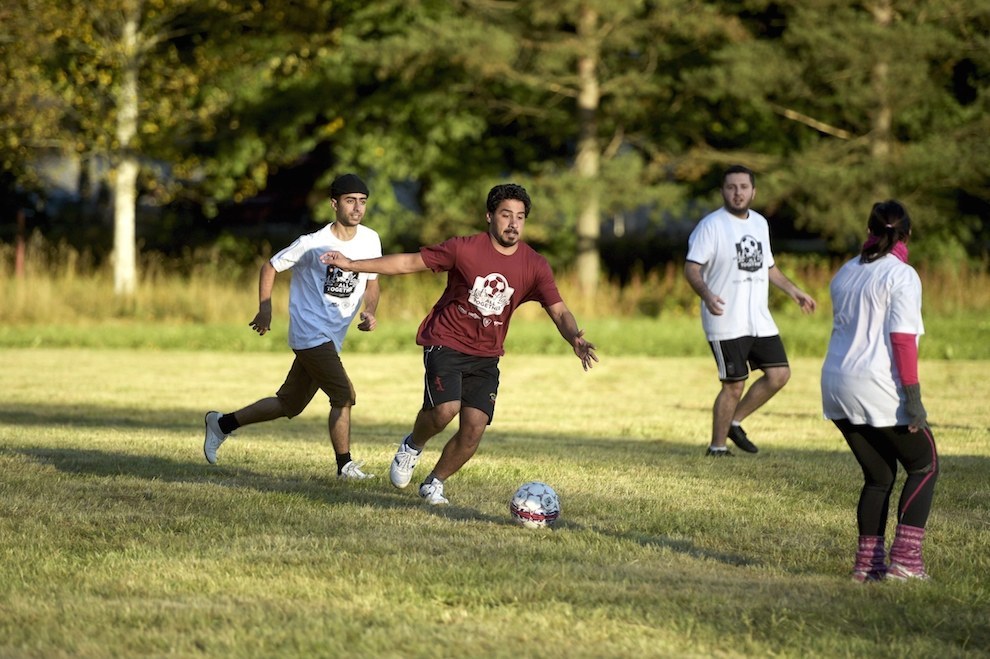 19.
Austrian volunteer Torna played with 3-year-old Diana at Vienna's Westbahnhoff station in September.