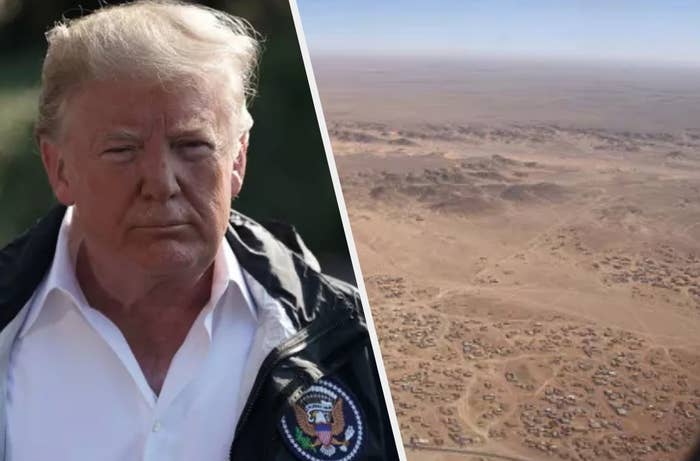 If you thought Donald Trump's proposed wall on the US–Mexico border was ambitious, that's nothing compared to this: The president reportedly suggested to senior Spanish diplomats that Spain should build a wall across the entire Sahara, the largest hot desert in the world, to curb immigration from Africa.
Josep Borrell, Spain's foreign minister, recounted his conversation with Trump at a lunch in Madrid this week, as reported in Spanish media.
Met with a skeptical reaction from Spanish officials, Borrell says, Trump then said, "The border with the Sahara cannot be bigger than ours with Mexico."
The US–Mexico Border is just under 2,000 miles long, while the Sahara is at least 3,000 miles across.
Plus, Spain has only two tiny pieces of territory in northern Africa, Ceuta and Melilla. These are separated from Morocco with fences, controversially, but any attempt to build a wall across the Sahara would have to cross the land of several sovereign nations.
Trump's remarks are likely to have been made during the visit of King Felipe VI and Queen Letizia to Washington, DC, in June, when Borrell, a former president of the European Parliament, was among the dignitaries present.
Regardless of Trump's comments, Spain, like other European countries, is grappling with immigration via the Mediterranean, with more than 30,000 people arriving this year alone.
According to Spanish newspaper El País, Borrell said that while that number of people was small for a country with 40 million citizens, "European societies aren't structured to absorb more than a certain percentage of migrants, especially if they are Muslims."
Spain was keen not to draw any more attention to Trump's suggestion. A spokesperson for the country's Foreign Ministry said: "We can confirm that's what the minister said, but we won't be making any further comment on the minister's remarks."