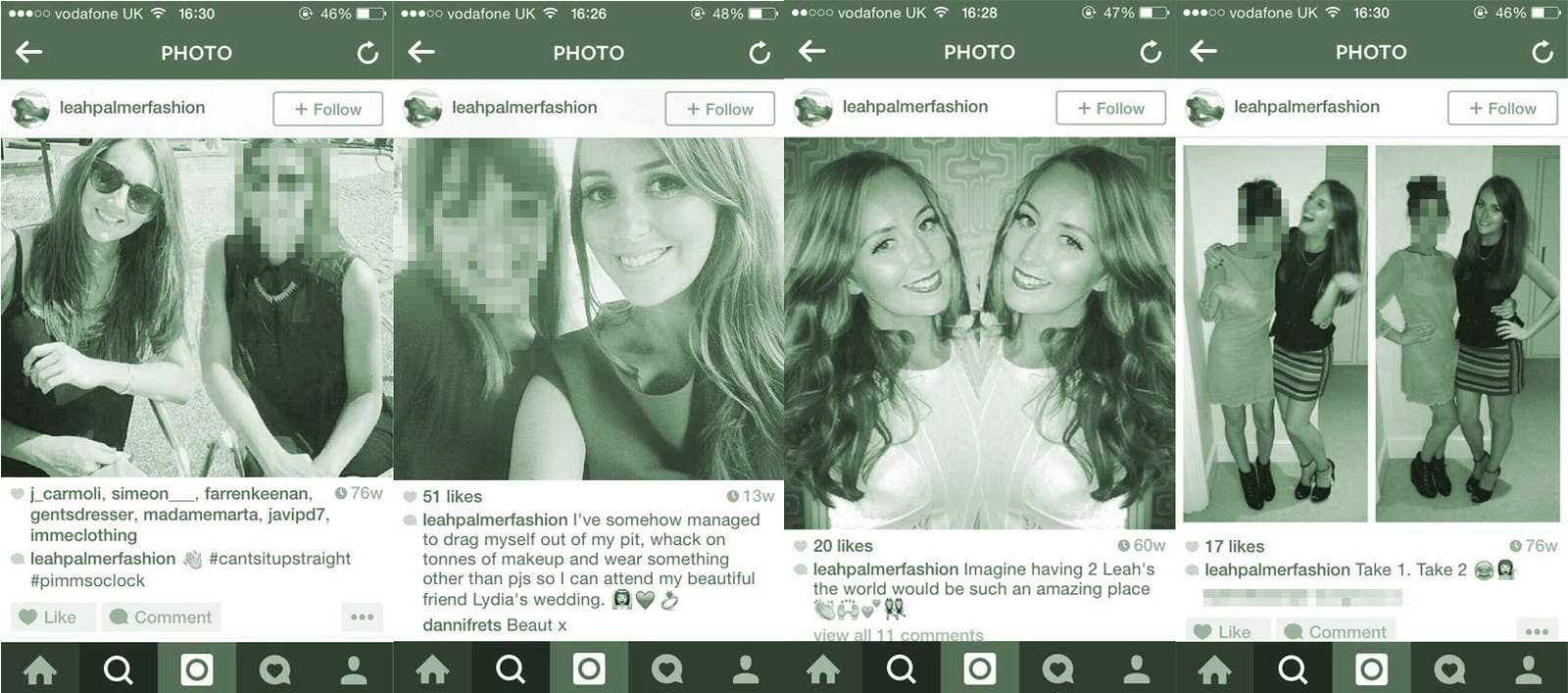 Leah Palmer was a hard girl to pin down. She worked in fashion and had a jet-setting lifestyle that took her around the world. She would often enthusiastically arrange to meet her friends and male admirers, only to pull out at the last minute. She'd get ill at the worst moments, or have family crises.

"Whenever we had arranged to meet, there was always an excuse," says Justin, a semiprofessional athlete who developed a friendship – and then a relationship – with Leah. (Justin is not his real name; he spoke to BuzzFeed News under condition of anonymity.)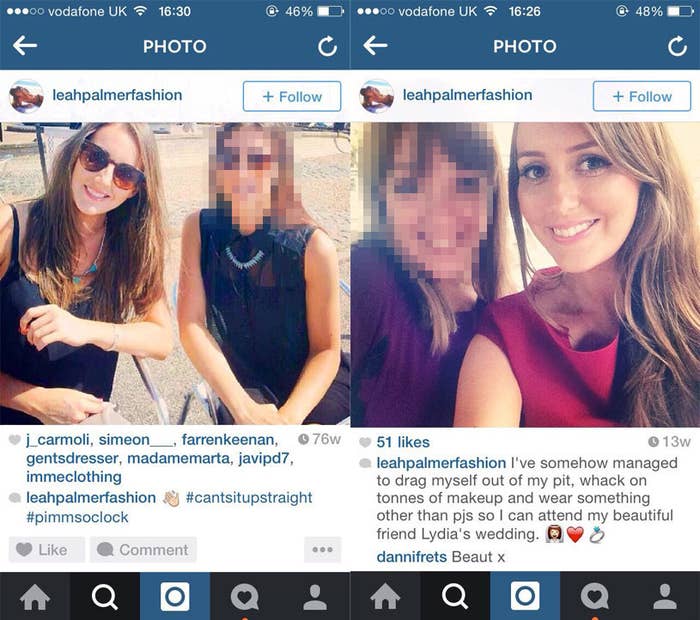 "Given her apparent career in fashion, she was supposedly away a lot with work," he says. "She pulled at the heartstrings a little, claiming the death of her brother, and various other family tragedies, throughout the time we were in contact. So I often gave her the benefit of the doubt when it came to meeting up."
The pair started flirting in July 2012 and tweeted each other several times a day. They spoke regularly on the phone and would use Skype – but never via a video call, because Leah's camera was invariably broken. Leah would occasionally put her mother Scarlett on the phone to speak to Justin.
He knew, he tells BuzzFeed News, that something didn't add up. "She always seemed to have answers and was able to cover her tracks rather well – speaking to friends, having an international dial tone when away, being very knowledgeable about her industry, posting things on social media. But obviously the fact that you could never tie her down to a time and place to meet would sound alarm bells."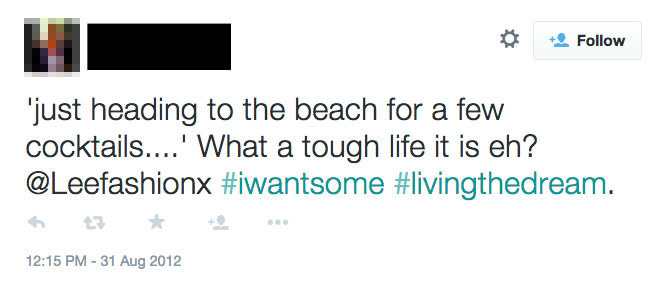 But they obviously didn't ring loudly enough. Sonja, a 24-year-old law graduate, began dating Justin in autumn 2012. It lasted for a few months, but it wasn't particularly serious.
While they were together, she noticed the same person – Leah Palmer – kept popping up on his Twitter timeline.
"He and I were exchanging Twitter messages – Twitter was very big that year, we were social media crazy – and I had seen that she had replied to him as well and been on his feed and I thought, OK this is interesting, he's obviously seeing someone else," she tells BuzzFeed News.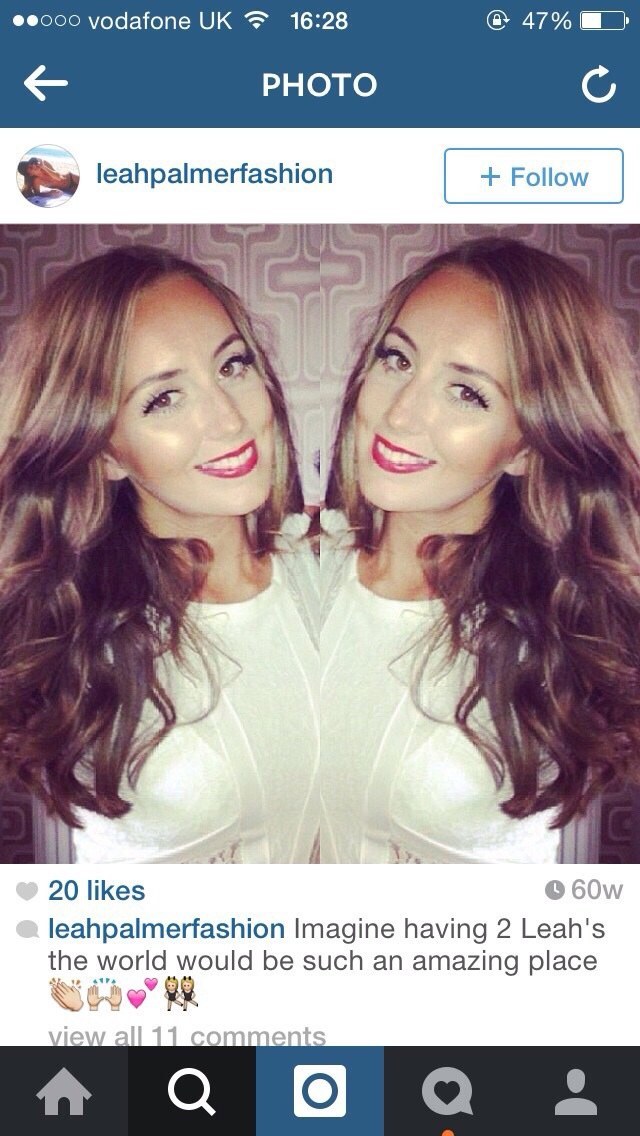 As Sonja looked through Leah's tweets, she noticed that she kept being mentioned – as the "bitch" or "slut" who was stealing Leah's man.
"She was calling me a slut and saying that I was a bitch for stealing her boyfriend, just making fun of me," she says. "These things when you read them, especially for someone you don't know, feels very creepy to me. I had chills running down my spine when I read it because I thought, You don't even know me. Why are you so obsessed?"
"In the end it got so vitriolic I went to the police to ask if there's anything they could do about it. They said, 'No it's online, it's not really harassment, there's no legislation.'"
Sonja confronted Leah on Twitter – and Leah claimed that Justin was her boyfriend. "This was odd," she says, "because he never told me he was in a relationship with anyone or that he was even seeing anyone else."
Then, in December, came the moment when Justin left Sonja for a woman he'd never met.
"I remember saying to him at the time, 'Have you actually ever met this girl?' And he said 'Yeah, yeah I have.' I didn't believe him at the time. But I think that's the thing when you get into this kind of relationship online. He didn't want it to seem like it was just one of these casual things," says Sonja.
"I said to him, 'Are you sure she exists? Are you sure there's not something suspicious about her?' He said the same thing – that he met her in a bar, that they'd hung out; he had this whole story."
Justin and Leah remained in contact for months. Their respective Twitter accounts show them sending affectionate messages back and forth, although the frequency gradually dips over the course of 2013. He told her he loved her, sent her a Valentine's Day message saying how much he looked forward to seeing her in a few days' time.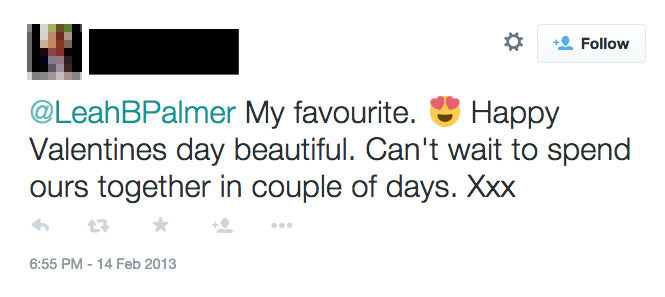 But the meetings never came. Leah's behaviour was erratic; she would "disappear for a few days at a time", Justin says, at which point Scarlett would get in touch to ask if he had heard anything of her whereabouts.

Justin says Leah claimed to have depression and to be seeking therapy. "As you can imagine, if someone tells you that, your natural instinct is to try and be supportive and helpful if you can."
By the start of 2014, the relationship had seemingly petered out. But it was not until a year later, in January 2015, that Justin received a message via Instagram from a woman called Ruth Palmer. As Palmer recalls, it said: "I don't know who you've been speaking to, but I think you need to give me a ring." It was accompanied by Leah's picture – or rather, Ruth's.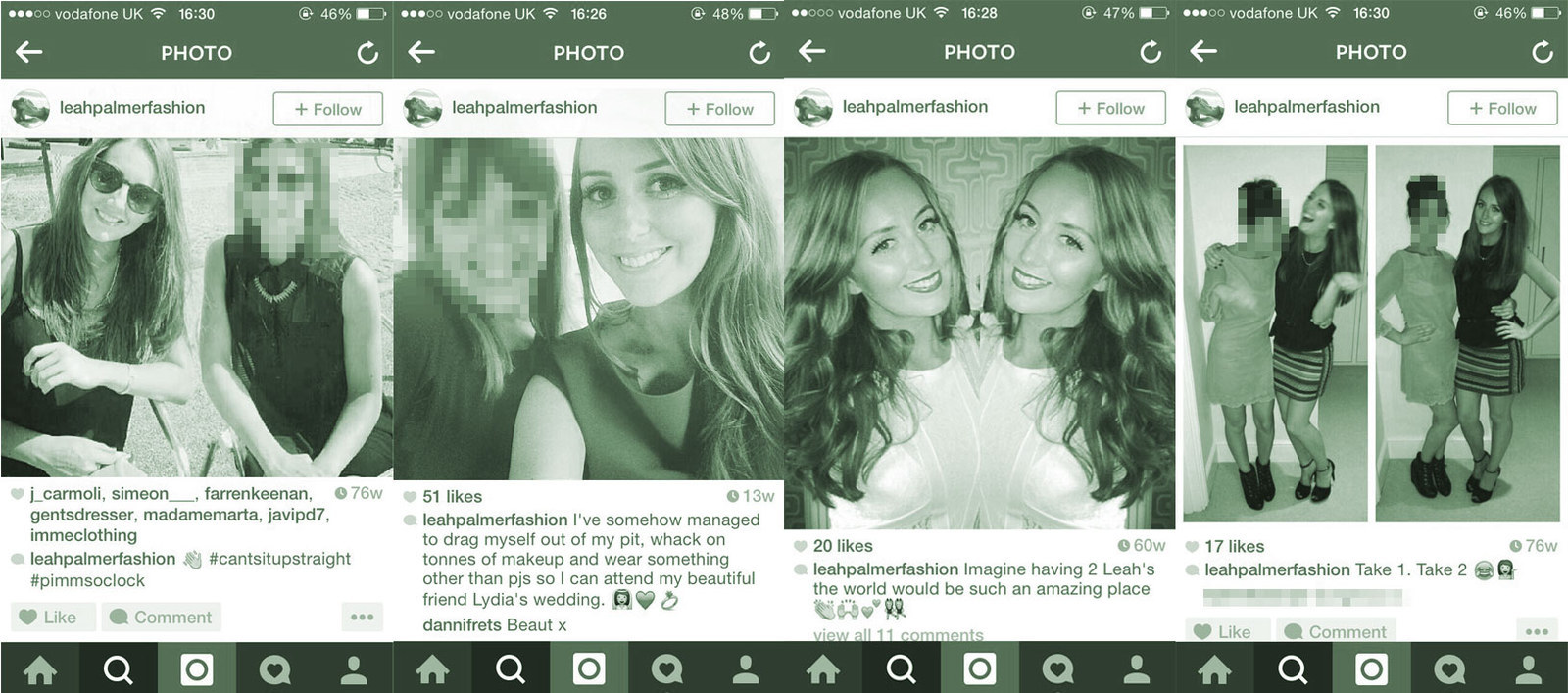 Ruth Palmer, whose married name is Graves, is a 25-year-old account manager for a multinational firm. Originally from Brighton, she now lives in Dubai with her husband. She's pretty, happy, and has a tight-knit group of friends. She has the sort of life many people would want for themselves. As it turns out, someone did.
Between the start of 2012 and January 2015, "Leah Palmer" stole more than 900 pictures from Ruth's private Instagram account, and uploaded them as if they were her own. Leah had a Facebook page, several Twitter accounts, and even a Tinder account – all in Leah's name, all using Ruth's pictures. She would switch from one Twitter account to another without warning; the accounts would switch from public to private, apparently at random.
Ruth knew nothing until a university friend told her one night in January: "Have you seen this picture of you on Instagram? The picture belongs to you but this is a person called Leah."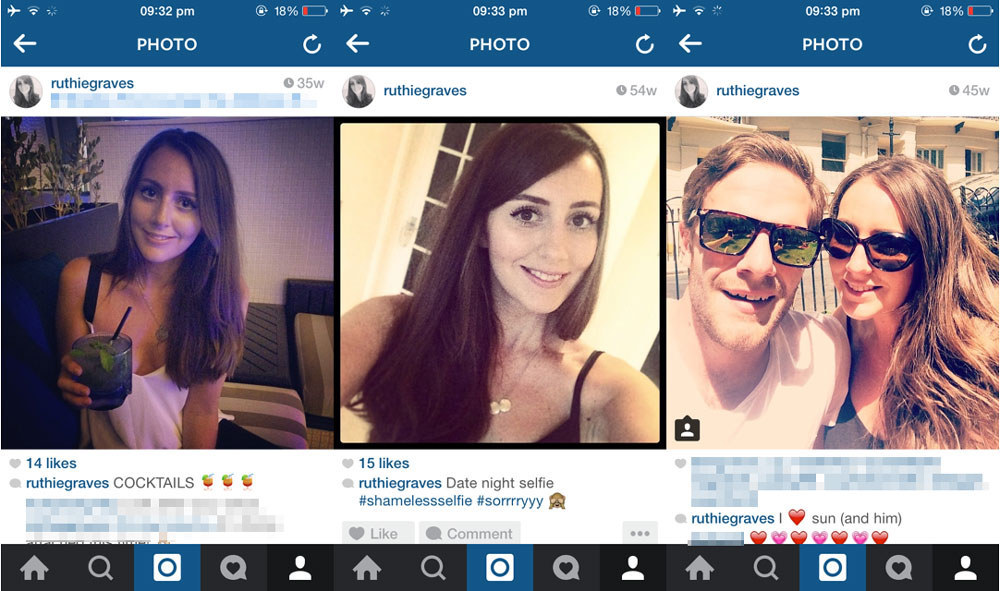 At first she thought nothing of it – it's the kind of weird thing that happens on the internet, she thought. But then the friend insisted Ruth take a look for herself. She realised it wasn't about someone taking a few pictures. Someone was stealing parts of her life.
Ruth's real-life friends would become part of Leah's world and appear in her posts. Ruth's memories, her fun holiday snaps and selfies, her tender pictures with her husband – they all became part of Leah's fantasy. One of Ruth's close friends became a single mother; Leah would post pictures of the child, stolen from yet another unknown Instagram account. Ruth's husband was explained away as an "ex".
On one occasion, Ruth posted an Instagram picture from a bar in Dubai. A few days later, Leah posted about her own trip to the same venue.
"That's when I knew that whoever this person was or who these people were, they were scanning across my entire social network, trying to get any information that they could," Ruth tells BuzzFeed News, speaking by phone from Dubai.
"It wouldn't have been so weird if she hadn't have used my friends' real names and hadn't known where I'd been and what I'd been doing, and things about my family.
"That was kind of the weirdest part to me. You kind of know when you put stuff on social media that it doesn't then actually belong to you; it's in the public domain. I've known people who've had this happen to them and it's been a couple of pictures, but never to this extent."
Ruth asked Instagram to shut down Leah's account, submitting her passport as proof of identity.
"When it was shut down a few weeks later, I was like, 'Phew! OK, I can get on with things again,'" says Ruth. "And then my friends were like, 'Have you seen that she's done it again?'"
Another account had popped up, again using Ruth's pictures.
Now Ruth started to worry: This was obsessive, stalker-like behaviour. She tried to investigate who the culprit was, and even obtained the mobile phone number Leah gave out to people – a couple of times someone answered and said "Hi", before quickly hanging up. They would never answer again; the mobile numbers Leah used are both now out of service.

Ruth went to the police, but they couldn't help because taking someone's online pictures – aside from being a possible breach of copyright laws – isn't illegal. She also spoke to her old local newspaper, the Brighton Argus, to warn others of the dangers of online identity theft. And she got in touch with Justin, via Instagram and then Skype, to tell him the truth.
"I Skyped him and it was awful. This poor guy saw that I was with my husband and it's just a weird situation to be in. He very quickly had to come off the Skype call and said, 'This is a bit weird for me'."
Looking back on the experience, Ruth says: "It was properly intense. This was someone who had more than enough time to sit and live this life online. There is reels and reels of this stuff. I was probably just scratching the surface of stuff that she'd done."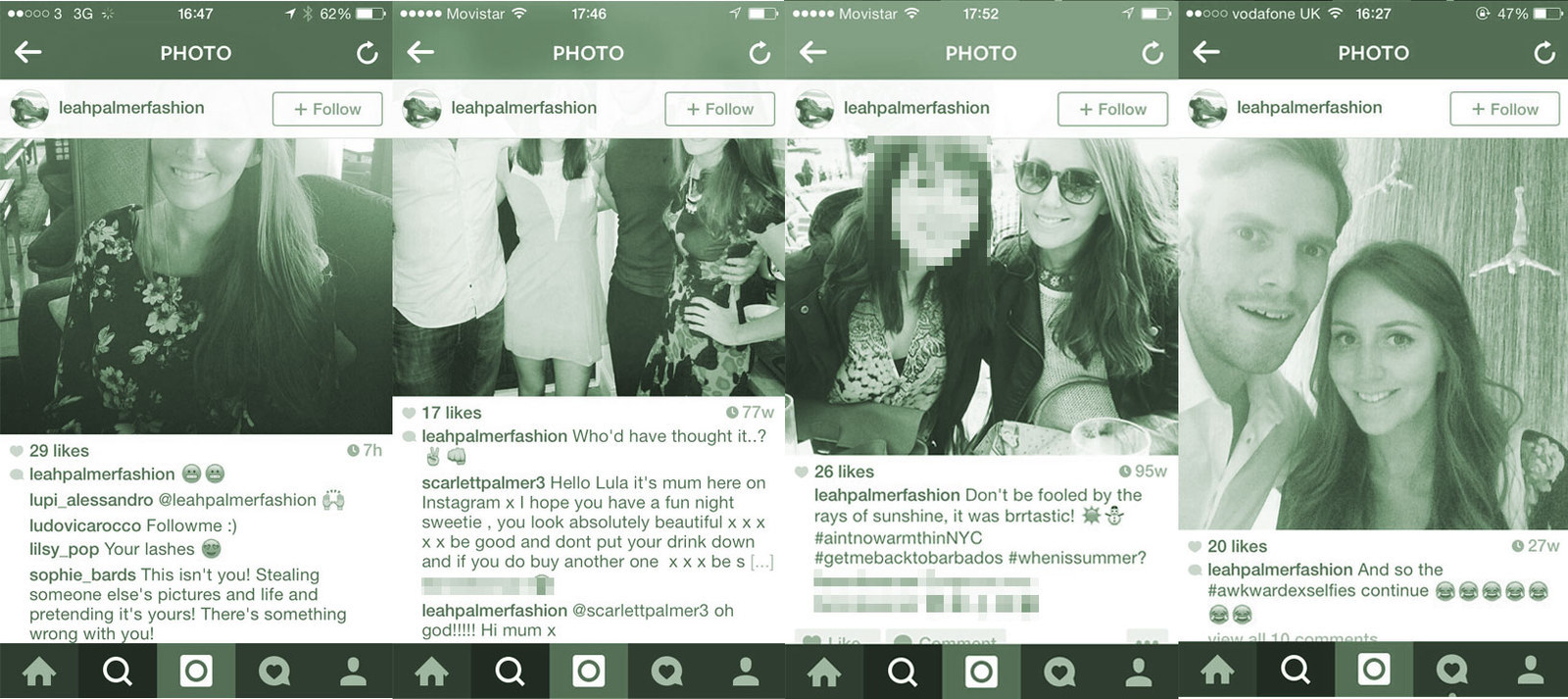 Everyone knows that on the internet, it's possible to pretend to be someone you're not. For many people, that's part of the appeal. There's a whole TV series, MTV's Catfish, based on people using false personas to lure others into handing over their cash, or their heart.
But the case of Leah Palmer is extreme – and bizarre – by any standards. For three years, someone lived out a fantasy double life using pictures they had stolen. They built up thousands of social media followers, and developed real friendships and at least one romantic relationship.
It wasn't just Justin: Several more men had varying degrees of contact with Leah, including a non-league footballer, a DJ who plays around the world, and a former Big Brother contestant, all of whom exchanged direct messages, texts, and phone calls with her. "I know of one other guy who had also arranged to meet with her and she was a no-show, and came up with an excuse as she did with me several times," says Justin.
To sustain the illusion, the person behind the Leah accounts didn't just create one fake life, but several. There were Twitter accounts for Leah's fictional mum, @ScarlettPalmer3, and a fictional best friend, @KateHarvey89, the "single mother" who is based on one of Ruth's friends. All three accounts would share, like, and comment on one another's Twitter posts and Instagram pictures.
Scarlett described herself as a mother of three who joined Twitter "to pass the time".

Scarlett would comment on Leah's Instagram pictures with encouraging messages, such as "It's your mum here – you are beautiful inside and out" and "I am so blessed with you."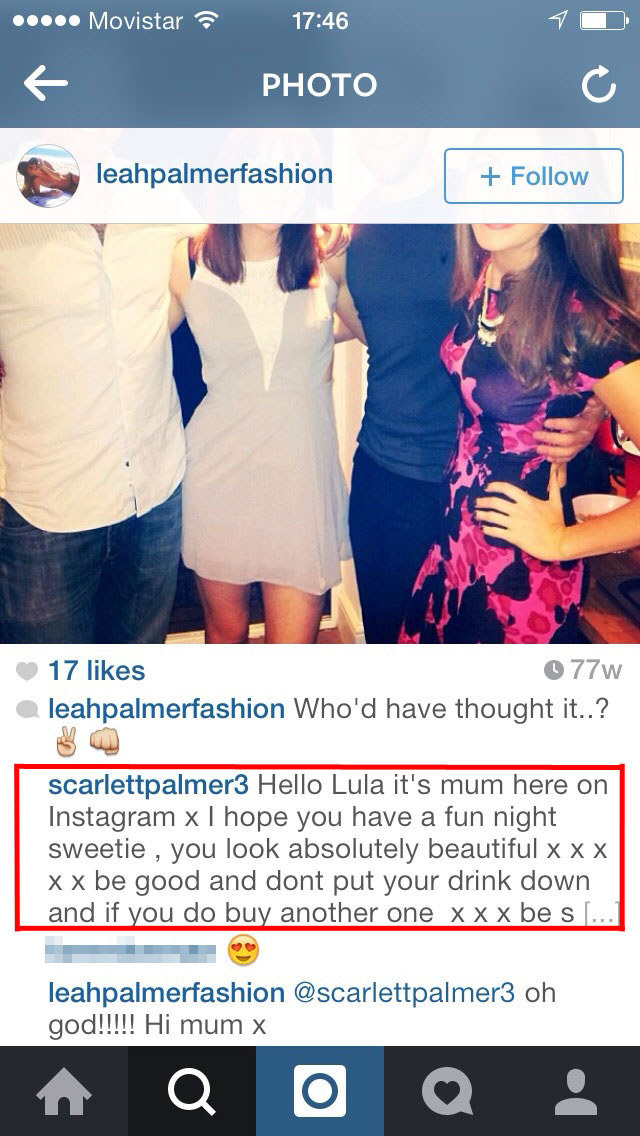 Leah's cover story involved working in fashion: She variously told people she worked at Harvey Nichols, as a PA to Marc Jacobs, and as Cheryl Cole's personal stylist. Combing through the thousands of tweets sent by and to Leah's accounts, it becomes clear that women wanted to be like her and men wanted to be with her.

Leah exchanged tweets daily with one friend, Tara Kelly (BuzzFeed News repeatedly approached Tara for comment for this article, but was unable to reach her). The pair sent each other written letters and spoke about meeting one day.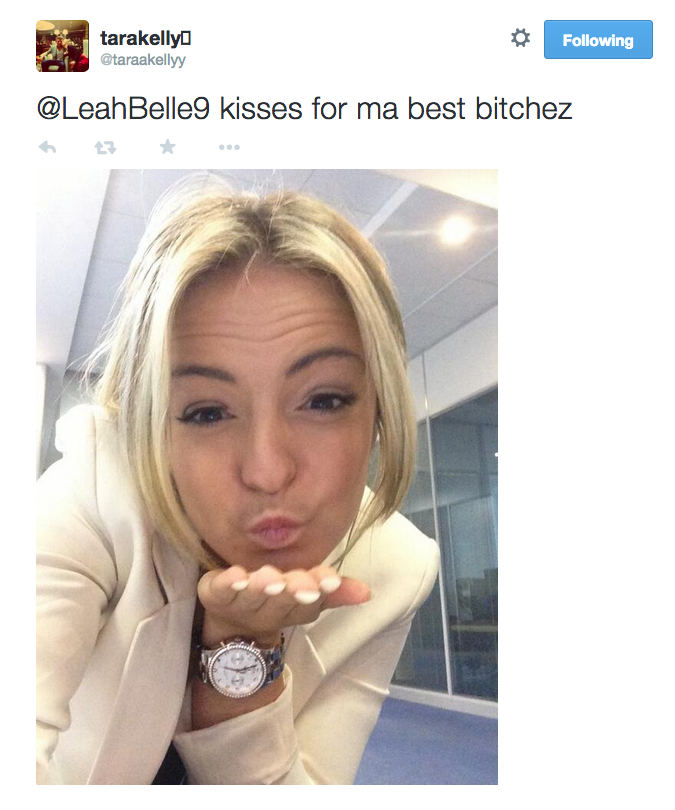 Leah contacted a prominent fashion blogger based in London to ask for advice and exchanged messages with TV presenter Dawn O'Porter.


Not everyone was taken in. Fenton Gee, a British DJ, also began talking to Leah online, in early 2013. The pair spoke on the phone occasionally, but he sensed something was wrong.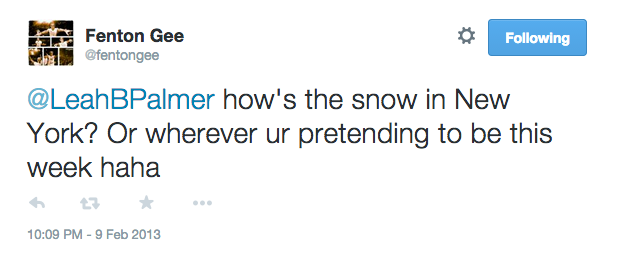 He tells BuzzFeed News: "I first came across her in 2012, after the O2 Wireless Festival, and I'd just become single. Apparently she lived near me [in London] but she never wanted to meet up – she was always travelling, working in fashion.
"There was once some bullshit story about being in hospital in Brighton. I got someone to check and there was no person with that name who'd been hospitalised."
Some of those who became suspicious set out to find out who Leah really was. One of them was Sonja Polimac – the woman dumped by Justin for Leah – who enlisted the help of her friend, Charlotte Fletcher. They quickly found the inconsistencies on her Instagram pictures: Some images, shot from the neck down, showed someone with tattoos that Ruth doesn't have. Then there were selfies taken in the bath where the length of Leah's toes changed from shot to shot.
"Things like hands and nails and body types and hair and all this different stuff would change in every single photo. It was just crazy to me that people didn't see that," says Sonja. "But I suppose that if you're emotionally involved, and you think that this person is your best friend or your girlfriend, then you don't want to see what's right in front of you."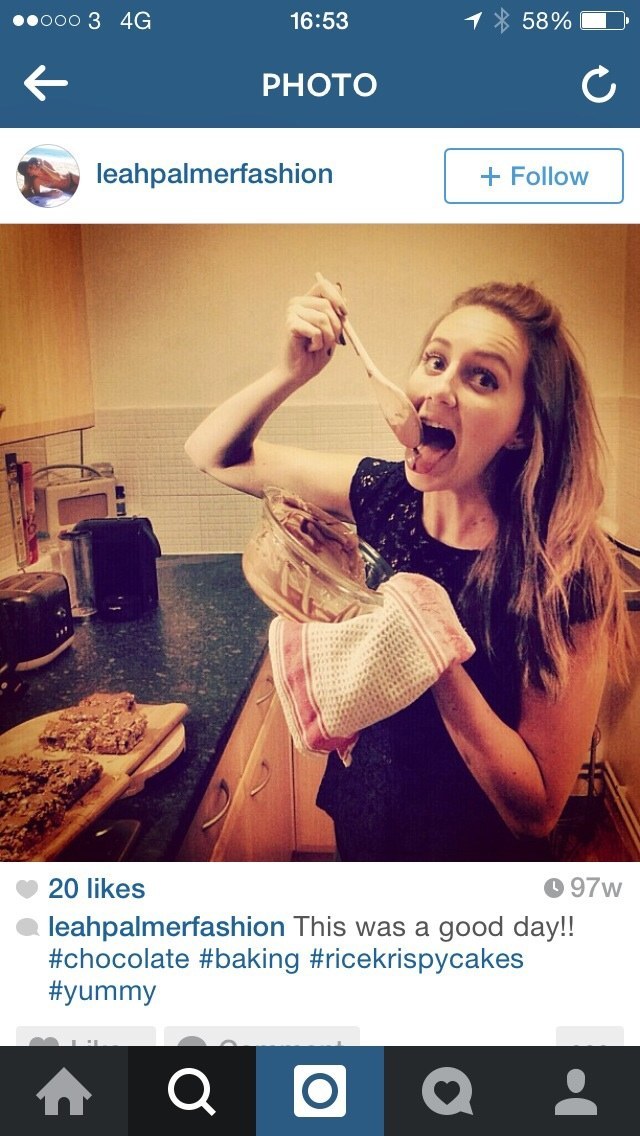 But the question remains: Who was Leah Palmer?
Most of those involved in the story speculate that it is a young woman, perhaps someone who might "hero-worship" Ruth and want be like her. The irony is not lost on Ruth that the person impersonating her, and who so badly wanted to be like her, had many more online followers than she does: "I know, she had more friends than I did! She had a couple thousand on Twitter and I don't really know how to use it. If you don't laugh about it then it would really drag you down."
What everyone agrees on is that the person behind the fake accounts is a troubled individual. Leah would tell friends and followers online that she'd been in hospital, and also claimed to Justin that her brother had died.
At one point in 2013, Leah texted a notable fashion blogger about her depression, after originally getting in touch to ask for advice for her fashion career.
The blogger, who asked to remain anonymous, says: "She started texting me and then saying, 'I'm so depressed because my boyfriend is away.' Why would you start talking to a random stranger about your depressive problems and how you're driving around for hours and hours, crying?"
The obvious conclusion is that the culprit is a friend of Ruth's, or least in her circle of acquaintances. Her social media accounts are private and almost always have been, apart from when she first joined Facebook aged 18. But Ruth is adamant that she can't imagine any of her friends doing that to her. "People say it must be someone you know," she says. "But I don't know anyone who has that amount of time."
Then there is the mystery of Scarlett, Leah's mother. Apparently, their voices were clearly distinct: So did Leah have an accomplice?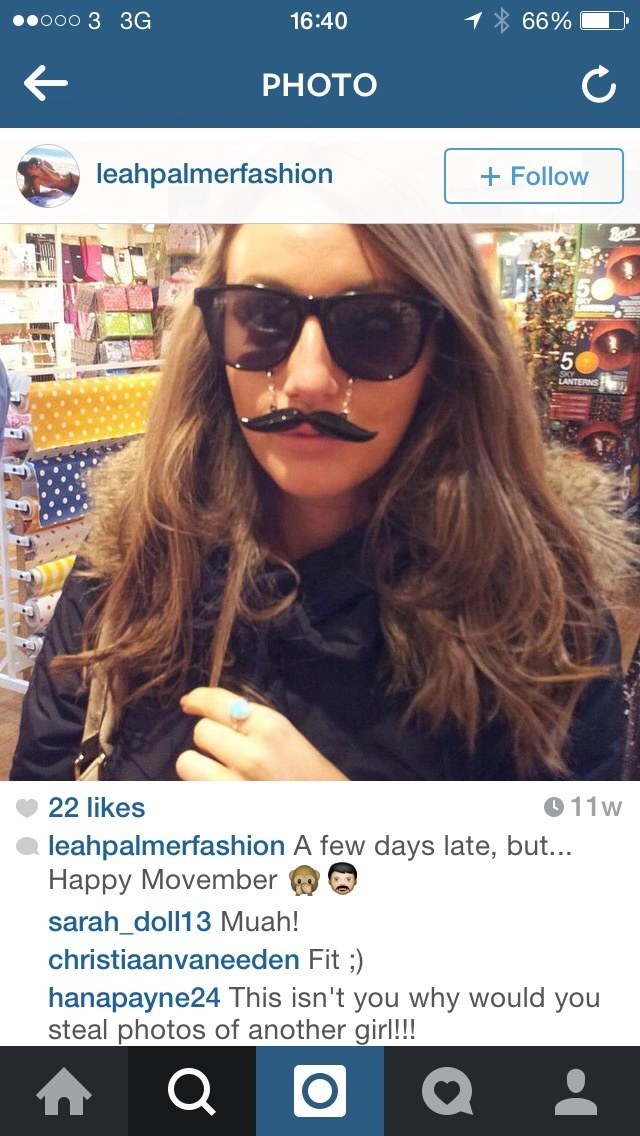 Leah's accounts have all either been suspended, closed, or remain private. BuzzFeed News has had to reconstruct much of her online presence from traces and fragments. But her true identity remains unknown: Even when Sonja and Charlotte enlisted the help of a hacker with links to the hacktivist collective Anonymous, they were unable to track down the culprit.
The story may not be over. Ruth says she would "put money" on there still being fake accounts out there still using her images. And in any event, this particular case of catfishing is only an extreme of a practice that is much more widespread than people realise. Several people BuzzFeed News spoke to who have tried to track down Leah Palmer themselves admitted to having created a fake social media account at some point, using pictures of someone else, whether it was due to teenage boredom, curiosity, or vanity.
DJ Fenton Gee has a world-weary take on people pretending to be what they're not online: "I think it comes with the job or whatever, but I believe everyone is fake until I meet them. This isn't the first time it's happened to me – she's probably the third or fourth who's done this."
But that still leaves the question unanswered of what happens to the victims – both those fooled by the fakers and those whose identities are stolen.
"People have said it's my fault because I put those pictures out there," says Ruth. "And maybe it is. But aren't those social media sites there so you can do that [post pictures]? Shouldn't they make it so you can do that securely?
"I get that if you put things on a public domain, they're not yours; I get that completely. But why should it be the case that you put them on there and you have to be fearful that that they might get taken and used for this, that, and the other?"
Perhaps the real lesson is the simplest. Like Justin, we all have a tendency to see what we want to see and believe what we want to believe. Especially when it's accompanied by a beautiful face.