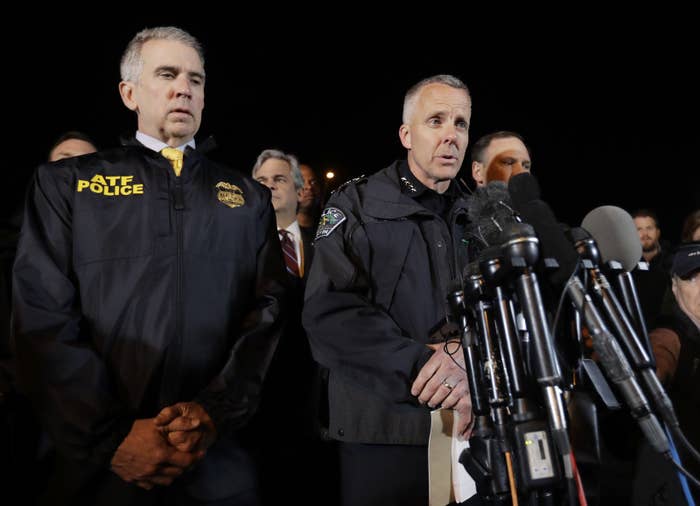 The man authorities believe was responsible for a string of lethal package bombs in Austin died after a pursuit with police early Wednesday that ended with him killing himself with an explosive device.

Police said the man, 23-year-old Mark Anthony Conditt of Pflugerville, Texas, killed himself by detonating an explosive while still in his car as SWAT team officers approached on foot after a chase along Interstate 35 in the Round Rock district in North Austin.
One officer fired on the suspect and another officer was injured by the blast.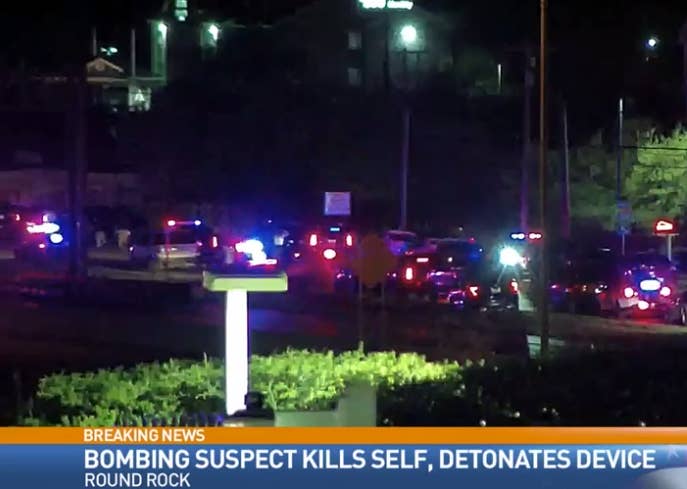 Interim Austin Police Chief Brian Manley confirmed that Conditt was behind five bombings that terrorized the region in the last few weeks, killing two people. He also urged residents of Austin and surrounding towns to remain vigilant since there could be more undiscovered package bombs.
"We don't know where he has been in the last 24 hours and we need your communities to remain vigilant," Manley said. "If you see something out off place, if you see something that causes concern, then call 911 because we have had far too many tragedies in the last few weeks."
Federal authorities had charged Conditt with one count of unlawful possession and transfer of a destructive device. However, the complaint is under seal because the investigation remains ongoing.

"Hundreds of federal, state, and local law enforcement officers worked together to identify and locate Conditt. I was awed by their professionalism, collaborative spirit, and indefatigable commitment to protecting the public," US Attorney John Bash said in a statement.

Conditt had two roommates. Both were questioned and released as of Thursday afternoon, police said. Neither was identified.

Several blocks in downtown Pflugerville around Conditt's home were also evacuated as federal authorities worked to recover homemade explosives and other evidence from the home.

Fred Milanowski, the special agent in charge of Houston Field Division for the Bureau of Alcohol, Tobacco, Firearms and Explosives (ATF), told reporters a "considerable amount" of homemade explosive material was found primarily in one room of the house.

Milanowski said the material was "similar in nature" to the devices in the Austin package bombings.
"I know to the public they may look different but when you look at the internal components they're very similar to us," he said. "We know it's the same person who manufactured these."
Milanowski added that authorities had "a reasonable level of certainty that there are no other devices in the public," but cautioned that people should continue to report any suspicious activity to police.
In the last 24 to 36 hours, Manley said police had identified Conditt as the key suspect and tracked him down to a hotel in the Round Rock area. Officers were waiting for a tactical ballistics team to arrive before engaging him. But before the team could get there, Conditt drove off, prompting a chase.

"While we were waiting for those vehicles to get here to arrive, much time passed and the vehicle started to drive away," Manley said. "We began following the vehicle again, waiting to get the tactical vehicles here so we could attempt to make a stop.
"However, the vehicle ended up stopping in the ditch at the side of the road behind us. As members of the Austin police department SWAT team approached the vehicle, the suspect detonated a bomb inside the vehicle, knocking one of our SWAT officers back, and one of our SWAT officers fired at the suspect as well."
A driver captured the scene on I-35 shortly after Conditt was chased down and described seeing some 50 police cars.

President Trump tweeted the news Wednesday morning: "AUSTIN BOMBING SUSPECT IS DEAD. Great job by law enforcement and all concerned!"

The motive of the bomber has yet to be determined. And an internal police department investigation will also take place to establish whether the officer who fired at Conditt was following correct protocols.
"The one thing we don't have right now is a motive," Manley said. "We don't understand what motivated him to do what he did.
"We don't know whether he was on his way to deliver another bomb. It's obvious he had another bomb with him, which he detonated when we approached."
News 4 San Antonio reported that it had obtained photos of an individual whom investigators believed was a "person of interest," dropping off two packages at a South Austin FedEx Office store on Sunday evening.
The photos — showing a man wearing gloves and a cap — are reportedly from a surveillance video from a FedEx store on Brodie Lane. One of the two packages believed to have been shipped from the store exploded at a FedEx facility in Schertz, while the other was discovered undetonated at a FedEx facility near the Austin airport.
The explosion on Tuesday in Schertz, 20 miles northwest of San Antonio, injured one employee hours before one of two artillery simulator devices exploded at a Goodwill store in Austin, leaving an employee there also injured. Austin police stressed that the Goodwill device was not connected to the recent string of bombings in Austin.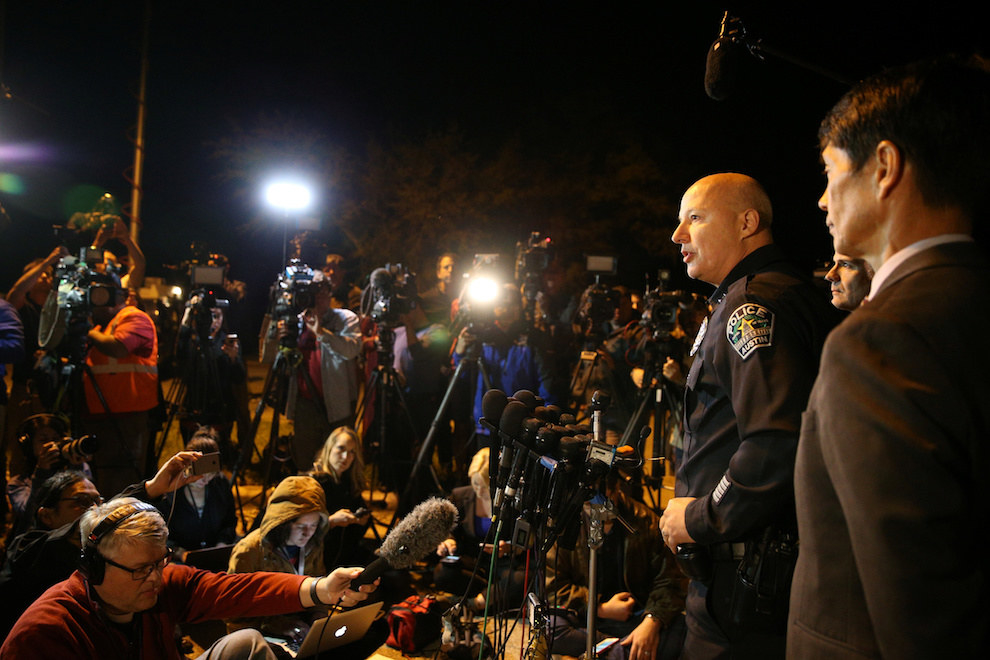 Three earlier explosions killed 39-year-old Anthony House and 17-year-old Draylen Mason and severely injured a 75-year-old woman, who remains in critical condition.

In total, Austin police responded to more than 1,000 calls from the public since the first bomb incident on March 2.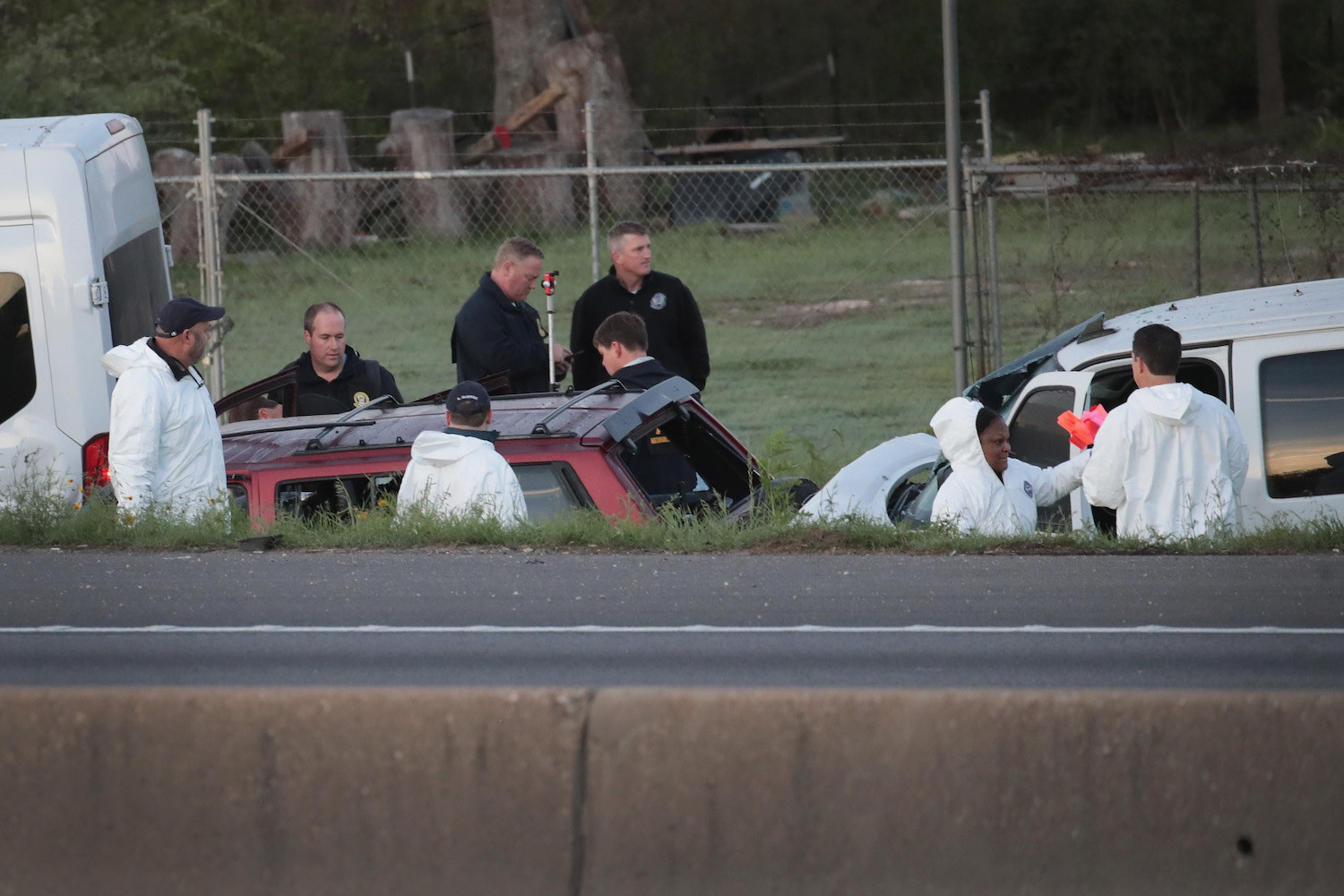 This is a developing story — check this post for updates and check @BuzzFeedNews on Twitter.