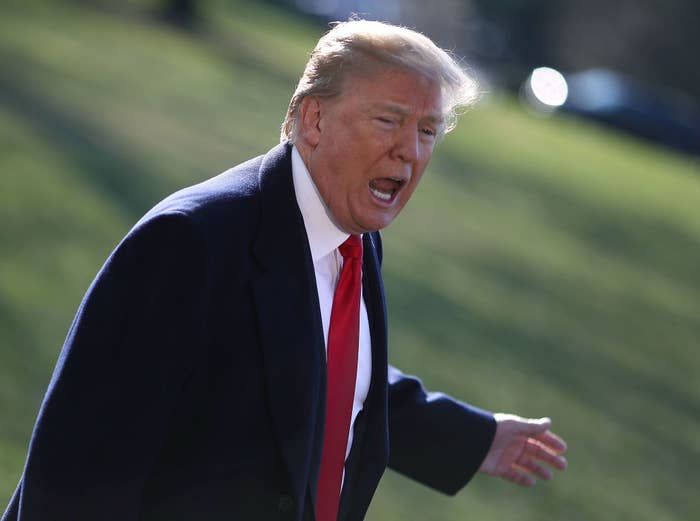 Facing pressure to back the UK's forceful response to Russia over a poisoning attack on British soil, the White House on Wednesday explicitly blamed the Russian government for the use of a nerve agent on a former spy and his daughter.
"The United States shares the United Kingdom's assessment that Russia is responsible for the reckless nerve agent attack on a British citizen and his daughter, and we support the United Kingdom's decision to expel Russian diplomats as a just response," White House press secretary Sarah Sanders said in the statement. "This latest action by Russia fits into a pattern of behavior in which Russia disregards the international rules-based order, undermines the sovereignty and security of countries worldwide, and attempts to subvert and discredit Western democratic institutions and processes."

The comments are the strongest yet from the White House regarding Russia's alleged role in the attack on Sergei Skripal, a British citizen, and his daughter Yulia, who were found on a park bench in the English city of Salisbury after having been exposed to a rare nerve agent developed in the Soviet Union.
British Prime Minister Theresa May told the House of Commons on Monday that it was "highly likely" Russia was behind the attack. On Wednesday, the UK announced it was expelling 23 Russian diplomats after Russia declined to meet a Tuesday deadline for explaining the presence of the nerve agent in the UK.

Speaking with May by phone on Tuesday, Trump agreed on the need for "consequences for those who use these heinous weapons," but stopped short of attributing the attack to Russia.
"President Trump agreed with Prime Minister May that the government of the Russian Federation must provide unambiguous answers regarding how this chemical weapon, developed in Russia, came to be used in the United Kingdom," a read-out of the call released by the White House states. "The two leaders agreed on the need for consequences for those who use these heinous weapons in flagrant violation of international norms."
Speaking outside the White House before the call with May, Trump was also circumspect, telling reporters: "It sounds to me like it would be Russia based on all of the evidence they have."
He added that as soon as the facts are confirmed, "we will condemn Russia or whoever it may be."

Trump's remarks came shortly after he announced the firing of Secretary of State Rex Tillerson, who had placed himself at odds with the White House Monday after saying that the UK chemical attack "clearly came from Russia" and would "certainly trigger a response."
Earlier on Monday, Sanders would not say if Russia was behind the attack, which she called "reckless, indiscriminate, and irresponsible."
Since then, the White House had come under increasing pressure to more forcefully support the UK's response. In a statement following Tillerson's departure, MP Tom Tugendhat, chair of the House of Commons Foreign Affairs Select Committee, noted that the shakeup "must not be allowed to disrupt the important progress the US has made in recognising Russian aggression in the UK."