An Explosion Has Killed At Least 19 People At A Crimean College, Authorities Said
The attacker, who is reported to have killed himself, was a student at the college.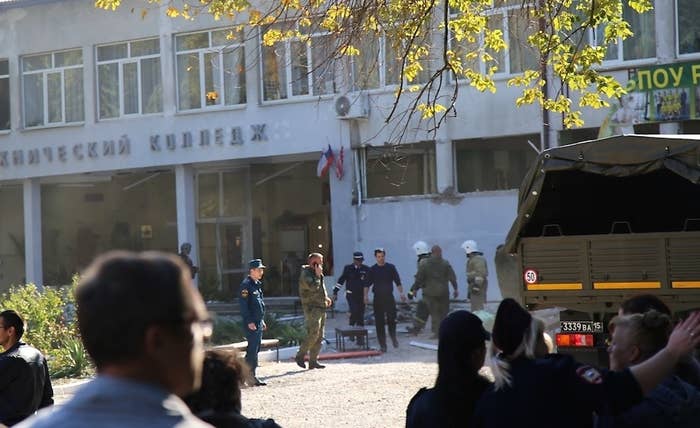 At least 19 people have been killed after an unidentified explosive device detonated at a college in the Crimean city of Kerch on Wednesday, with at least 40 others injured, according to Russian authorities.
Sergei Aksyonov, the Kremlin-appointed leader of the Crimean region, confirmed the number of deaths so far on state TV and also said the attacker, who killed himself, was a student at the college.
"The suspected attacker shot himself. He was a fourth-year student of that college. His body was found in the library on the second floor," he said.
Igor Mikhailichenko, Crimea's deputy prime minister, told Tass, the Russian news agency: "The shooting erupted after the explosion. The shooter opened fire a hunting rifle. The motives are still unknown and investigators keep working at the scene of the tragedy."
Earlier, Russia's National Anti-Terrorism Committee told reporters: "Today at around noon an explosion occurred in the building of a polytechnic college in the city of Kerch, in the Crimean Republic."
Russia's Emergencies Ministry is sending helicopters and a transport plane with rescuers and psychologists to the scene.
A Kremlin spokesperson said President Vladimir Putin extended his "deep condolences" to the friends and family of the victims.
Speaking in a video captured by local station Kerch FM, the school's director Olga Grebennikova — who wasn't at the college at the time of the attack — compared the incident to the 2014 Beslan attack, in which 330 people were killed. "There are a lot of bodies, a lot of bodies of children," she said.
Tass quoted a National Guard official, Sergei Melikov, who said the explosion was triggered by an improvised explosive device (IED).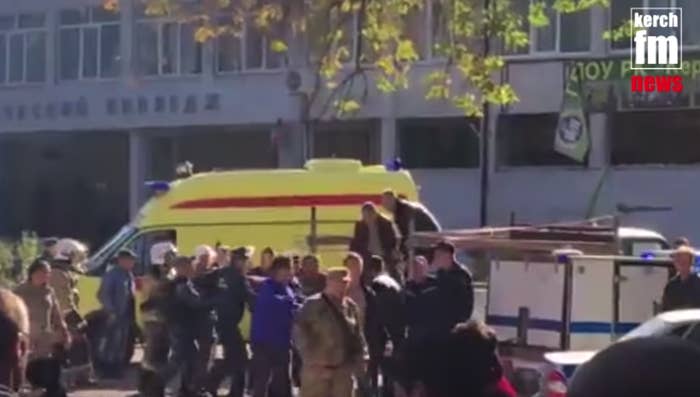 The BBC reported that most of the victims were students at the vocational college for teenagers. The city's ambulance service said some 20 people had been taken to the hospital.
Footage shot by Kerch FM show victims hurriedly being taken out into waiting ambulances. A Kerch FM reporter quoted an eyewitness who said the incident was a terrorist act and that the perpetrator also shot students.

Russian Federal Security Service investigators are now trying to establish a version of events and whether the cause was terrorism. The initial cause of the blast was said to be a gas explosion.
Another video shows armored personnel carriers and soldiers armed with machine guns arriving at the scene.
Crimea, formerly part of Ukraine, was annexed by the Russian Federation in 2014, which coincided with a Russian military campaign there. Kerch will be the site of a new 19-km bridge that links the peninsula to mainland Russia.
This is a developing story. Check back for updates and follow BuzzFeed News on Twitter.‏