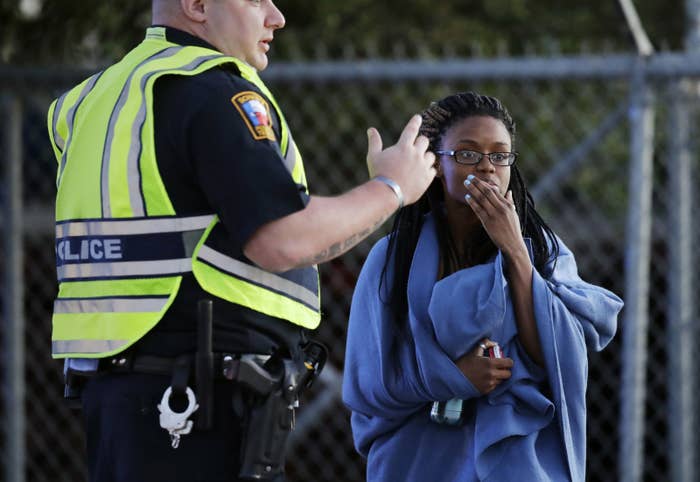 Hours after a package bomb exploded at a FedEx facility near San Antonio, an "incendiary device" detonated at a Goodwill store in Austin, injuring an employee and rattling a tense city still in the throes of a series of deadly blasts.
Around 7 p.m. Tuesday, an employee at the donation center in southwest Austin opened a box and noticed that it contained "items that he didn't think the Goodwill wanted to have," said Ely Reyes, an assistant Austin police chief. The box contained two small artillery simulators, one of which initiated when it was handled and caused injuries to the worker, Reyes said.
The employee was transported to a hospital, where he was treated for his injuries and is recovering. Reyes stressed that the incident was not connected to the string of package bombs that have detonated around the city this month.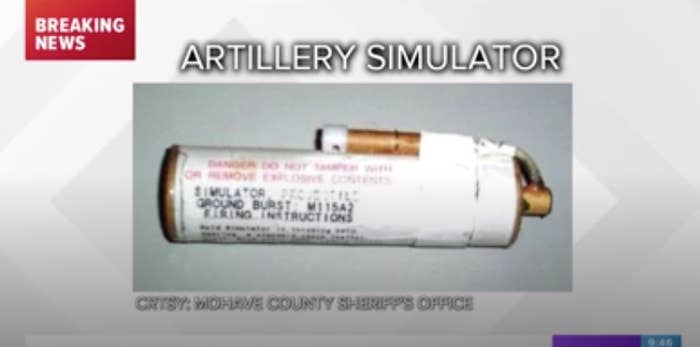 Earlier in the day, a bomb exploded at a FedEx facility outside San Antonio, injuring a worker. Hours later officials intercepted another package that did not explode at a facility near the Austin airport. Authorities confirmed that those two package bombs were related to four other package bombs in recent weeks in which two people — Anthony Stephan House and Draylen William Mason — died. The explosions also left a 75-year-old woman in a critical condition.

The first bomb detonated at a FedEx shipping depot outside San Antonio around 12:25 a.m. while traveling on an automated conveyor belt. One employee who was standing near the explosion complained of ringing in the ears and was treated and released.

The explosion reported at a Goodwill store in south Austin at around 7 p.m. sent an employee, a man in his thirties, to the hospital, officials said. He was being treated for "non-life threatening injuries," Austin Goodwill tweeted after the event.
In an interview with KVUE, Jerry Davis, CEO of Goodwill Central Texas, said the employee saw something strange that looked like a pipe in a donation box. When he went to take it out, it dropped and went off.

Witnesses said they smelled "smoke in the air" as police evacuated shaken people from businesses near the latest explosion.
"I heard a boom that I thought was a trash can. I didn't think it was a bomb," 15-year-old Jonny Galan, who was riding his bike in the area, told BuzzFeed News.
Federal officials stressed on social media that it was not a bomb and did not appear to be related to the series of deadly explosions.
The initial round of explosions were caused by packages left on the doorsteps of their homes. However, on Sunday, the method changed when two men were injured after triggering a trip wire that detonated the bomb, police said.

The FBI confirmed all six package bombs were related. And Rep. Michael McCaul also told the Associated Press that officials were hopeful the FedEx facility packages would yield more evidence to track the perpetrators.
FedEx said it turned over "extensive evidence" related to the Schertz explosion.

Texas Attorney General Ken Paxton told Fox News Tuesday that the package that denoted in the FedEx facility in Schertz was "meant for Austin" about 65 miles away.
Schertz Police Chief Michael Hansen confirmed that the FedEx facility was not the target. He also told a local ABC affiliate that the package was a medium-size box, and that some 75 FedEx workers were present when the device exploded.
OHelen Lafitte, a spokesperson for the police department, told BuzzFeed News the package contained shrapnel consisting of nails and pieces of metal.
The package is believed to have arrived from a FedEx facility in Sunset Valley, local police told KVUE.com.

The task force of agencies investigating the serial bombings again pleaded with the public to report suspicious packages or anything that appears to be out of the ordinary.

Austin police said officers have responded to 420 suspicious package calls from 8 a.m. Monday to 8 a.m. Tuesday, bringing the total number of calls to 1,257 since March 12.

Department of Justice spokeswoman Sarah Isgur Flores said in a statement that there are more than 350 federal law enforcement officers working with local and state police.
White House press secretary Sarah Huckabee Sanders, meanwhile, said the president was monitoring the situation, adding, "There is no apparent nexus to terrorism at this time."

Speaking to reporters Tuesday, Trump said the Austin bombings were the work of "obviously a very sick individual, or maybe individuals," adding that federal authorities were "looking, but it's not easy to find."

A reward of $100,000 has been offered for information leading to the arrest and conviction of those responsible.
Reporter Blake Montgomery contributed reporting from Austin.