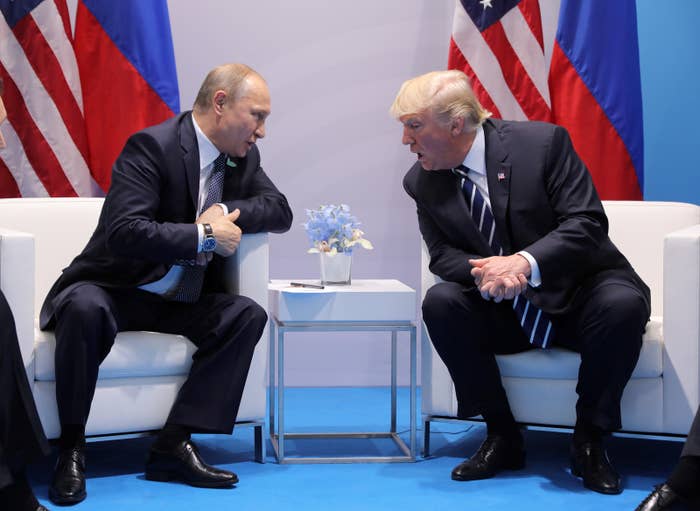 I was not watching the news conference in Helsinki on Monday, when Vladimir Putin mendaciously sought to smear George Soros, the founder of the philanthropic organization I direct, by comparing his many decades of human rights work to the dirty election meddling of Russia's spy networks.
Instead, I was in South Africa, where I once served as US ambassador, taking part in events marking the 100th anniversary of the birth of Nelson Mandela. The experience was in itself a powerful repudiation of Putin's decades-long abuse of power — and for me, as president of Soros's Open Society Foundations, a reaffirmation of all that we stand for.
In Johannesburg, we celebrated the achievements of young people who continue to struggle for Mandela's ideals of social and economic justice. We heard former president Obama (in whose administration I served) deliver a clarion call to defend the values that Mandela fought for — an independent judiciary, the right to protest, and making sure every citizen is accountable to the law.
Those are the values that we fight for at the Open Society Foundations — which is precisely the reason why Putin vilifies us.
Obama's speech was a reminder that until not so long ago, the Open Society Foundations frequently found itself aligned with what might be called the best ideas of American foreign policy: supporting democratic movements and institutions that provide the best defense against tyranny and corruption.
In South Africa, Soros was an early ally of President Mandela's, opening a local foundation as the country prepared for its first democratic elections in 1994. The following year the foundation launched a 20-year financing partnership with the government that supported the construction of more than 250,000 housing units for poor South African families. As time went on, the Open Society Foundations helped fund a new generation of South African civil society groups, including independent media — just as we did in the 1990s across Eastern and Central Europe, and for a while in Russia too.
In South Africa, these activist groups gave a voice to the aspirations of the black majority and pushed the government to promote the rights of people living with HIV/AIDS and seeking equal access to health care, housing, and education. More recently, South Africa's civil society groups have helped push back against efforts by kleptocrats to consolidate economic and political power through the capture of state resources.
This kind of tension between civil society groups and governments strengthens the muscles of democracy. We saw it in the United States, where our partners criticized the Obama administration over immigration and drone warfare while working with it on efforts to extend legal aid.
This tension no longer exists in Russia, where civil society is under siege and independent journalists are frequently harassed, beaten, or sometimes even killed. In 2016 Putin's government declared the Open Society Foundations undesirable, together with other international groups including the International Republican Institute and the National Democratic Institute. In Hungary, Prime Minister Viktor Orbán is following the same approach, and Poland is moving dangerously along this path.
Moscow continues to do what it can to attack us, with every tool it can employ — sadly without a word in our defense from the White House. At the same time, it is worth remembering that in 2016, the DCLeaks website now at the center of the FBI indictment of 12 Russian intelligence agents also published documents hacked from our intranet. RT and Sputnik now happily regurgitate right-wing media pieces attacking Soros, as do pro-Russian websites across the Western Balkans, Eastern Europe, and even in Italy.
Some of this now touches the US, where lobbyists with links to unsavory political interests in Europe have sought to stir up right-wing hacks against our work around the world.
Why? Because of what Obama called the crossroads between two very different visions of humanity's future. We know on which road we will continue to travel. Acceptance of minorities. A government in which people have a say in the decisions that affect them. Where transparency checks corruption. Where reason and facts fuel real debate about the challenges of globalization and environmental degradation.
I did not watch Putin, but history is watching. I'll wager that Soros will come out on top over time, under the gaze of justice.
Thank you, South Africa, for reminding me that to be free means living in a way that enhances and promotes the freedom of others.
Patrick Gaspard is president of the Open Society Foundations. He served as the US ambassador to South Africa from 2013 to 2016.