White House Put On Lockdown After Yet Another Person Jumps Fence
A suspect identified as 23-year-old Dominic Adesanya was arrested Wednesday night after scaling the fence at the White House.
Update — Oct. 23, 8:18 a.m. ET: The jumper was charged with felony assault; making threats, also a felony; and unlawful entry, a misdemeanor. The Secret Service dogs he attacked, Hurricane and Jordan, were treated and have been cleared for duty.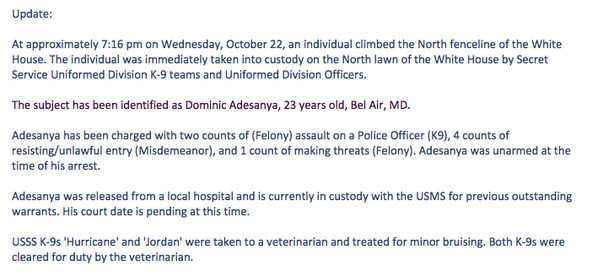 The White House was briefly placed on lockdown Wednesday evening after a man scaled a perimeter fence and was captured by agents on the North Lawn while President Obama sat just yards away inside the residence.
The Secret Service said 23-year-old Dominic Adesanya of Bel Air, Maryland, was taken into custody after being stopped by guard dogs and agents on the White House lawn around 7:16 p.m. ET. Video from the scene appeared to show the man kicking and punching a dog during the confrontation.
Adesanya, who was unarmed, was later transported to a hospital with dog bite injuries. Charges against him were pending, Secret Service spokesman Brian Leary said.
The two Secret Service dogs involved in the incident were also taken to a veterinarian for their injuries.
The cause of the incident was not immediately known, and comes in the wake of an incident last month where 42-year-old Omar Gonzalez scaled the fence and made it inside the White House before being apprehended. The security breach ultimately resulted in the resignation of Secret Service Director Julia Pearson.
A photo of Adesanya was posted on his Instagram account.
On Tuesday, the day before he was arrested for scaling the White House fence, he posted this image with the comment "Voted for this B #ImpeachObama"
Nearby Lafayette Park was temporarily closed after the White House intrusion.