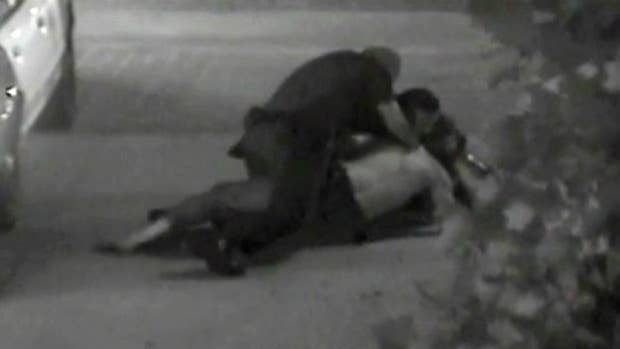 A jury found former Fullerton, Calif., police officers Manuel Ramos and Jay Cicinelli not guilty Monday on all counts in the 2011 beating death of homeless man Kelly Thomas.
The two officers had been charged with striking Thomas with a baton and stun gun in a violent July 5, 2011, altercation that left the homeless man comatose. He was taken off life support five days later.
A security camera captured the struggle on video after Ramos responded to a call about a man grabbing car door handles in a Fullerton transit center parking lot. The video played a key role in the trial as both sides used the footage to try and prove their arguments.
Prosecutors said the video showed officers beating a homeless man to death as he cried out for help. The defense countered that it showed Thomas was to blame for disobeying police orders while officers tried to restrain him.
The coroner listed the cause of death as brain death caused by asphyxiation from the officers piling on his chest, the Associated Press reported. Thomas' father said Kelly had suffered from schizophrenia.
Ramos was acquitted of second-degree murder and involuntary manslaughter. Cicinelli was acquitted of involuntary manslaughter and excessive use of force. A third officer who was awaiting trial will no longer have the charges pursued, and three others were not charged.
"I don't intend to proceed with another trial when the two officers here were acquitted," Orange County District Attorney Tony Rackauckas told reporters.
The eight-woman, four-man Orange County jury returned the verdict Monday after beginning deliberations on Thursday.
"Just horrified," Kelly's mother, Cathy Thomas, said after the verdict. "He got away with murdering my son. It's just not fair. So I guess it's legal to go out and kill now. He was so innocent. It just isn't fair at all."
Fullerton's Chief of Police Dan Hughes said, "We respect the jury's verdict, and appreciate the consideration the jury gave to the evidence."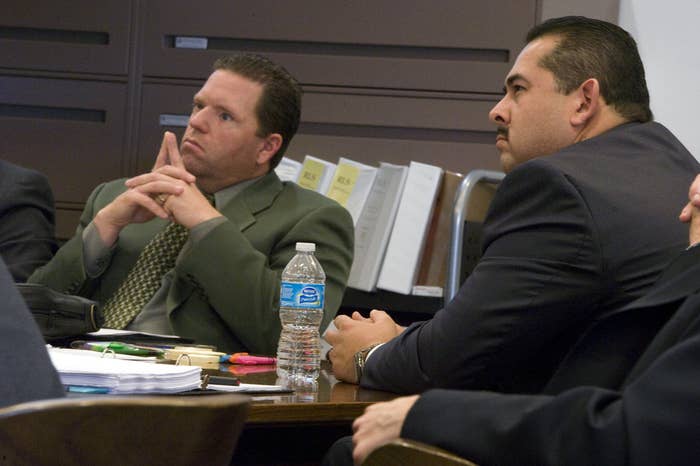 Kelly Thomas's parents, Ron and Cathy, spoke out after the verdict.