State Of Emergency Declared In Ferguson After Shooting At Protest
Plainclothes officers returned fire on a man who shot at their vehicle after heavy gunfire rang out in Ferguson, Missouri, police said. Multiple gunshots were fired Sunday night on the one-year anniversary of the shooting of an unarmed black teenager in the city.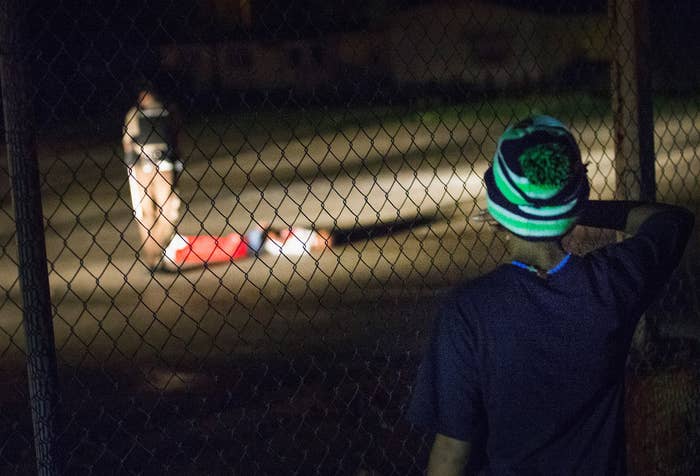 An 18-year-old man was shot by police officers after gunfire broke out in Ferguson, Missouri, Sunday night, where demonstrators had gathered on the one-year anniversary of the death of Michael Brown.
The shooting occurred around 11:15 p.m. when police told the crowd to clear the area near Ferguson and West Florissant Avenues after traffic was blocked and businesses were damaged.
Hundreds had gathered in the city to mark one year since Brown, an unarmed black teenager, was killed by a white police officer — a death that prompted angry protests, as well as reflection on policing in the black community.
Speaking at a news conference early Monday morning, St. Louis County Police Chief Jon Belmar said that four plainclothes officers in an unmarked SUV shot and wounded Tyrone Harris Jr. after he shot at the vehicle from close range multiple times.
Belmar said that the suspect was in a "critical, unstable condition, in surgery."
The officers involved in the shooting — who have between 6 and 12 years of service each — have been placed on administrative leave.
Belmar said that while the incident was "a tragedy," "there are a small group of people out there who are intent on making sure we don't have peace that prevails."
A St. Louis County police spokesperson said Monday that Harris Jr. was charged on four counts of assault on law enforcement in the first degree, five counts of armed criminal action, and one count of discharging or shooting a firearm at a motor vehicle. He is being held on $250,000 cash bond.
St. Louis County Executive Steve Stenger on Monday declared a state of emergency in the county "in light of last night's violence and unrest."
The decision means Belmar will assume temporarily control of the Ferguson police department and has been empowered to direct emergency and disaster management.
Sunday's shooting occurred after two groups of people exchanged a "remarkable account of gunfire" on the west side of West Florissant Avenue, Belmar said. He added that those involved in that exchange were "criminals" and "not protesters."
The shooting was captured on video by media covering the demonstrations.
The aftermath of the shooting was filmed by Twitter user @Search4Swag, who was detained following an argument with an officer on the scene. Belmar later confirmed the video to be of the incident.
Tyrone Harris Sr. told the St. Louis Post-Dispatch that his son had to undergo surgery at around 3 a.m. CT. He said Harris Jr. had graduated from Normandy High School, and was "real close" with Michael Brown Jr.
"We think there's a lot more to this than what's being said," he told the Post-Dispatch.
He told KMOV that witnesses had said his son was "running away from the situation, and police ended up shooting him." Harris Sr. told the station that his son was unarmed and was "in the wrong place at the wrong time."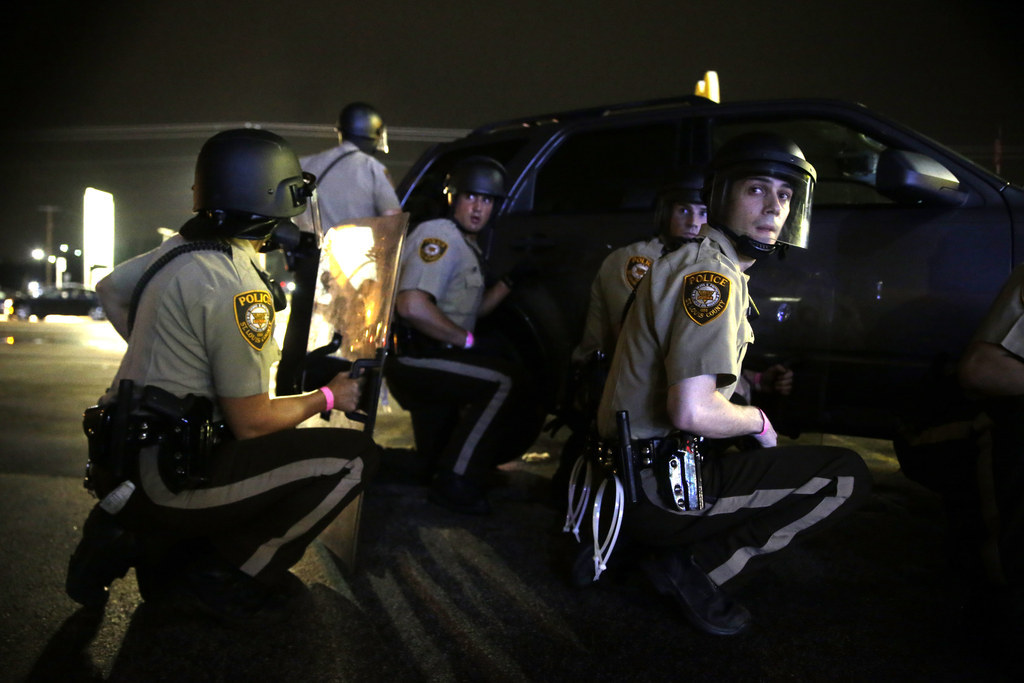 Attorney General Loretta Lynch condemned the violence in a series of tweets on Monday:
Images of the chaos unfolding in Ferguson were posted by journalists, protesters, activists, and residents in the city throughout the course of Sunday night.
The sounds of gunfire sent journalists, police, and the crowd diving for cover. At least one reporter was also said to have been robbed, and multiple businesses were damaged in the melee.
The gunfire came just hours after a 17-year-old opened fire in the protest crowd, leaving one person injured. The teen, identified as Trevion Hopson, was arrested and charged with unlawful use of a weapon and resisting arrest. He was held on $100,000 bail.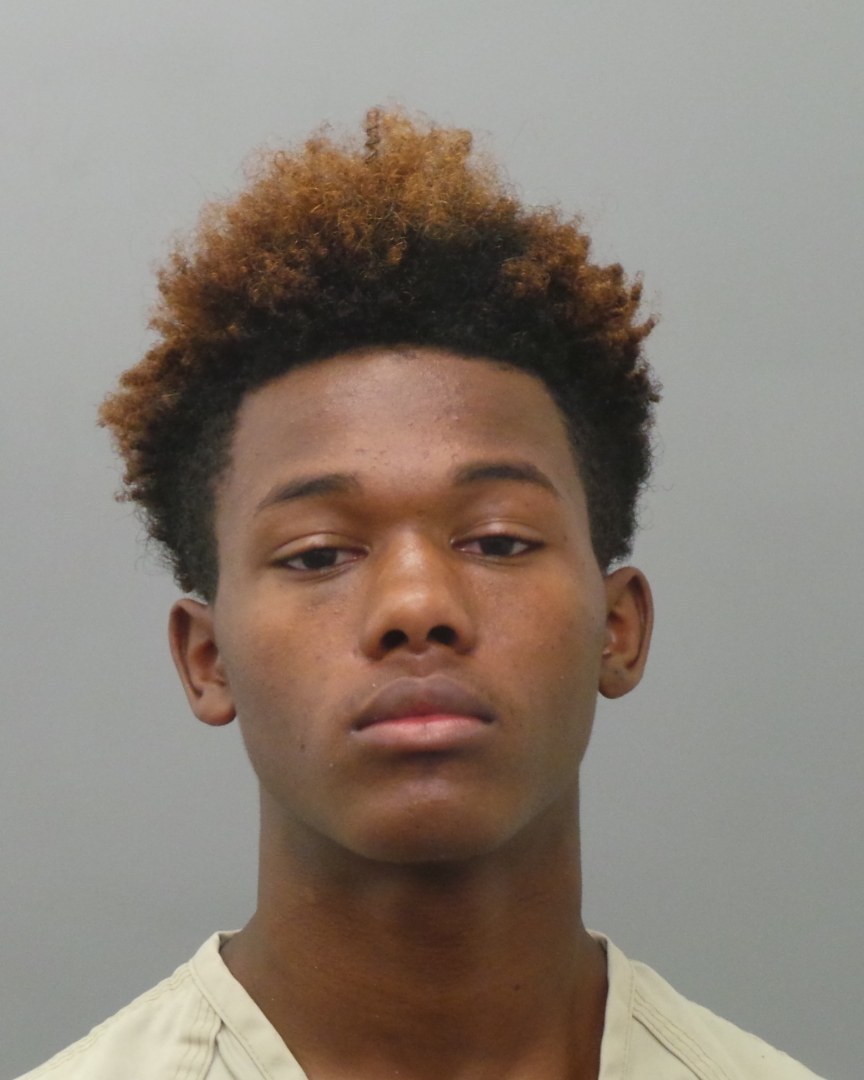 The incident was initially reported as another shooting. However, police later released a statement saying it was a separate incident.
In a separate statement, the St. Louis County Police Department said that five people, including Hopson, had been arrested overnight. Three unmarked police vehicles had been damaged — two by gunfire — and three officers had been injured — two were pepper-sprayed by protesters and one received a laceration from a rock thrown. The latter officer had been transported to hospital.
The police released details of another shooting that happened in Ferguson early Monday in which two teens were injured. Here is the statement:
At approximately 2:15 a.m. on August 10, 2015, officers from the Ferguson Police Department responded to the Canfield Apartments for a report of a shooting. The Ferguson Police Department requested the assistance of St. Louis County Police Department Crimes Against Persons Unit to investigate. The two male victims, 17 and 19 years of age, stated they were walking on the sidewalk near the Michael Brown memorial in the Canfield Apartments when an unknown black male wearing a red hooded sweatshirt started shooting at them from the rear passenger side of an unknown vehicle. The 17 year old victim was shot once in the chest/shoulder, and the 19 year old victim was shot once in the chest. Both victims were transported to a local hospital and suffered non-life threatening injuries. Please contact the St. Louis County Police Department or CrimeStoppers if you have any information regarding this case.