An airline employee stole a plane from Seattle-Tacoma International Airport Friday night, attempted to perform stunts in the air, then crashed after being chased by two fighter jets, killing himself.
The man, identified by officials as a 29-year-old "suicidal male" from Pierce County, Washington, took off with the plane around 8 p.m., telling air traffic controllers he was "just a broken guy" with a "few screws loose" as he attempted to carry out stunts in the sky.
Officials on Saturday declined to name the man, but colleagues and others identified him as Richard "Beebo" Russell, a ground services agent who towed aircraft and handled baggage.
Alaska Airlines said there were no other passengers or crew aboard the aircraft, a Horizon Air Q400 turboprop. It confirmed in a statement shortly before midnight that the man was a ground service agent, an employee responsible for directing planes for takeoff and other maneuvers, despite earlier reports that he was an airline mechanic.
"An airline employee conducted an unauthorized takeoff without passengers at Sea-Tac," the airport said. "Aircraft has crashed in south Puget Sound. Normal operations at Sea-Tac Airport have resumed."
The rogue pilot, who was named Rich in audio recorded during the incident, flew for about an hour before crashing in a wooded area on Ketron Island in Pierce County, Alaska Air's statement added.
"This individual who took the aircraft, who has not yet been positively identified until remains are examined, is believed to have been the only person on the plane when the plane was taken from a maintenance position at Sea-Tac," it said.
Coast Guard officials received reports of the stolen plane just after 9 p.m., Petty Officer Ali Flockerzi told BuzzFeed News. About 20 minutes later there were reports of a large plume of smoke from Ketron Island, between Tacoma and Olympia, she said.
The plane went down after the pilot appeared to be "doing stunts," the sheriff's department said.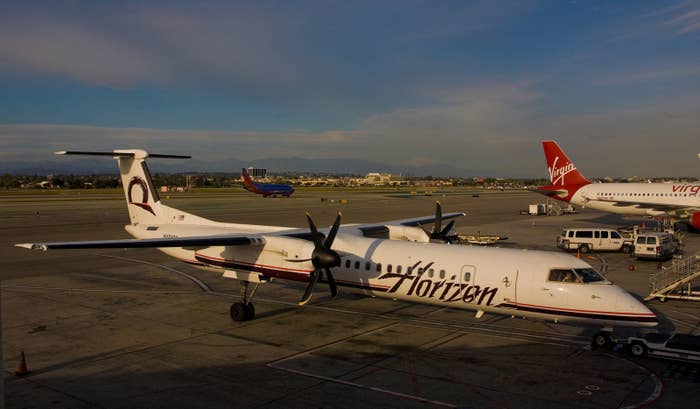 It added that the incident was not related to terrorism, which was confirmed by the FBI in Seattle in a tweet shortly before midnight.
"Although response efforts to tonight's aircraft incident and the investigation are still ongoing, information gathered thus far does NOT suggest a terrorist threat or additional, pending criminal activity," the tweet said.
Pictures from multiple witnesses showed F-15 fighter jets scrambling to intercept the rogue plane.
The sheriff's department tweeted that "F15s made it within a few minutes of theft of plane." They were dispatched from Portland and caused a sonic boom en route to the incident.
The North American Aerospace Defense Command said it launched two F-15C jets after the Federal Aviation Administration requested support from the Defense Department. The two jets worked to redirect the plane out to the Pacific Ocean when it crashed. They did not fire on the aircraft, NORAD said.
Washington Gov. Jay Inslee wrote on Twitter that while there are "still a lot of unknowns" about the incident, the fighter pilots "were ready to do whatever was needed to protect us."
Flights at Sea-Tac airport were temporarily grounded during the incident but later resumed around 9:30 p.m.
US military and Sea-Tac airport officials did not immediately respond to BuzzFeed News' requests for comment Friday evening.
In the recording, the pilot said that he had "a lot of people that care about me and it's gonna disappoint them to hear that I did this."
"I would like to apologize to each and every one of them," he continued. "I'm just a broken guy. I've got a few screws loose I guess, I never really knew it until now."
Later he asks, "can this thing do a backflip you think?"
At another point, the man mentioned doing a barrel roll, then said, "if that goes good, I'll just go nose down and call it a night." He also spoke of being lightheaded and dizzy, and of having "this moment of serenity."
The pilot reported to air traffic controllers that the plane's fuel was going "down quick" and asked if the incident would land him in jail for life.
"Hey, do you think if I land this successfully Alaska will give me a job as a pilot?" he asked. "Nah, I'm a white guy."
At one point he seemed to consider turning the plane around on instruction from an airline captain.
"All right, Rich, this is Captain Philip. Congratulations, you did that [maneuver], now let's turn around that airplane safely and not hurt anybody on the ground."
"All right, all right. Oh damn it, I don't know man, I don't know!" the man replies. "I don't want to, I was kind of hoping that was going to be it, you know?"
Toward the end of the recording, he told air traffic controllers that "one of my engines is going out."
Inslee praised the air traffic controllers for keeping calm "under intense stress and pressure."
The incident shocked witnesses on the ground, who shared videos of the plane passing low over neighborhoods and photos of smoke rising from the ground after the plane crashed.
President Trump has been briefed on the incident, White House press secretary Sarah Huckabee Sanders said.
"The President ... is monitoring the situation as information becomes available," she said.
"Federal authorities are assisting with the ongoing investigation, which is being led by local authorities. We commend the interagency response effort for their swift action and protection of public safety."
Debra Eckrote with the National Transportation Safety Board told reporters Saturday that the plane's wreckage was "highly fragmented," with its wings off and its fuselage upside down.
She said investigators would begin searching the crash site for the plane's flight data recorder and cockpit voice recorder, which will be taken to Washington, DC, for examination. "He might have been talking to himself in the cockpit," she said.
Eckrote said the FBI would also be interviewing the man's family and friends to determine his motive.
"Very unusual," she said of the incident. "Not like we get this every day."
The National Suicide Prevention Lifeline is 1-800-273-8255. Other international suicide helplines can be found at befrienders.org.