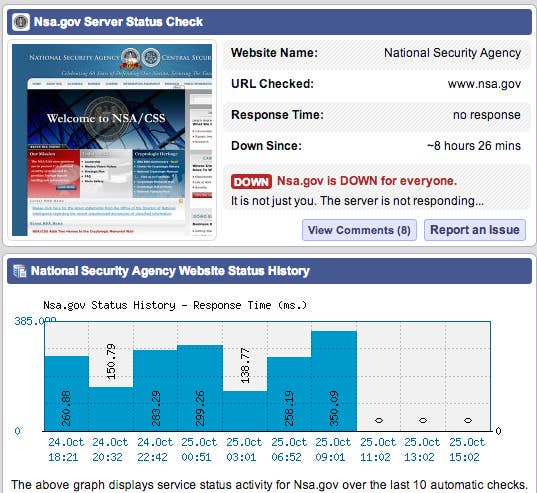 The National Security Agency website, NSA.gov, was suddenly forced offline for several hours Friday after an error occurred during site maintenance, the agency said.
Unconfirmed reports on Twitter claimed the spy agency's site was attacked by members of the Anonymous hacker group, but the NSA dismissed the claims.
"NSA.gov was not accessible for several hours tonight because of an internal error that occurred during a scheduled update. The issue will be resolved this evening," an agency official told BuzzFeed. "Claims that the outage was caused by a distributed denial of service attack are not true."
Isitdownrightnow.com, a downtime-tracking service, reported that the site has been unavailable since about 2 p.m. ET.
The outage came a day after former NSA Director Michael Hayden was overheard speaking in an off-the-record conversation with a journalist, allegedly "bashing" the Obama administration over recent revelations that the NSA had monitored the phone calls of at least 35 world leaders.