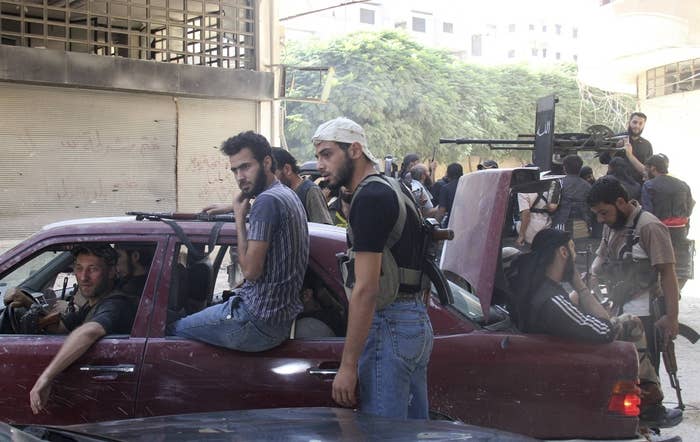 Hundreds of people were killed on Wednesday when rockets armed with chemical agents struck near Syria's capital Damascus, opposition activists said, accusing President Bashar Assad's forces of launching the attacks.
Bayan Baker, a nurse at Douma Emergency Collection facility, told Reuters that a total of 213 people were killed in the attack — by far the deadliest reported use of chemical weapons thus far in the bloody civil war. Other death toll reports vary dramatically, from 100 to 500 to 755 to 1,300. A rebel spokesman said at least 10 towns and villages were affected.
The Syrian Observatory for Human Rights said the shelling was intense and hit the capital's eastern suburbs of Zamalka, Arbeen and Ein Tarma, the Associated Press reported.
"The attack took place at around 3 a.m. (8 p.m. EDT Tuesday). Most of those killed were in their homes," Khaled Omar of the opposition local council told Reuters. He claimed to have seen some 80 bodies at a makeshift clinic at a nearby school.
The Syrian government swiftly denied using chemical weapons, saying there was "no truth whatsoever" to the accounts, state TV reported.
Numerous photos and videos were posted on social media purporting to show the aftermath of the attacks. It was impossible for BuzzFeed to immediately verify the accounts.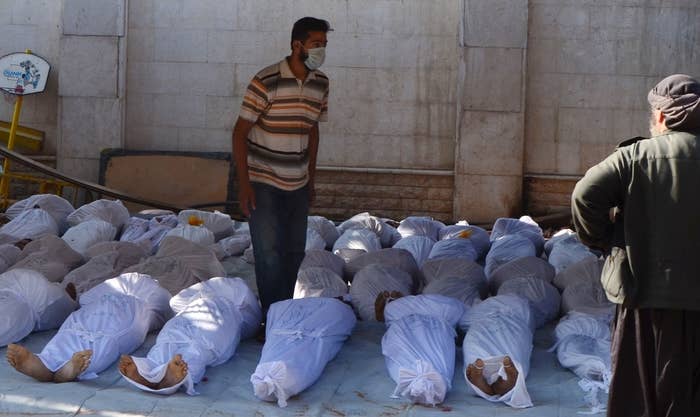 A 20-member team of United Nations chemical weapons inspectors began visiting the country on Monday to determine if chemical weapons had been used during the civil war there, which has been going on for two years. A Syrian government official said claims of an attack on Wednesday were "an attempt by to divert the U.N. commission on chemical weapons from carrying out its mission."
The alleged assault came one year to the day after President Barack Obama warned use of chemical weapons in Syria would be a "red line," prompting United States intervention in the civil war.
U.S. officials in June conceded they had determined that Assad's forces had used chemical weapons "on a small scale" against opposition forces several times in the last year and would take steps to arm the rebels.
The Obama administration is opposed to even limited U.S. military intervention in Syria because it believes rebels fighting the Assad regime wouldn't support American interests if they were to seize power, Gen. Martin Dempsey, chairman of the Joint Chiefs of Staff, said in a letter obtained by The AP.
A map provided by CNN displayed the location of the alleged attacks.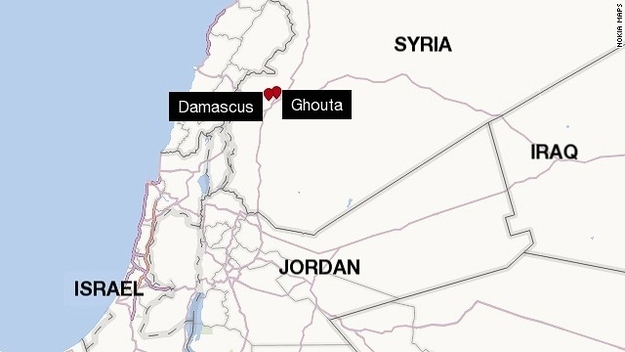 Update — Aug. 21, 9:30 a.m., EDT
Turkey, which has called Syria's chemical attacks "unacceptable savagery and crimes against humanity" if true, has called for a United Nations Security Council meeting to discuss reports of the "very serious massacre." Saudi Arabia has also requested the meeting. France has asked for a U.N. investigation to begin "immediately." The European Union has called for an "immediate and thorough" investigation.
Update — Aug. 21, 12:20 p.m., EDT: The White House has released this statement, saying they "strongly condemn any and all use of chemical weapons" and are gathering additional information:
Statement by Principal Deputy Press Secretary Josh Earnest on Allegations of Chemical Weapons Use in Syria



The United States is deeply concerned by reports that hundreds of Syrian civilians have been killed in an attack by Syrian government forces, including by the use of chemical weapons, near Damascus earlier today. We are working urgently to gather additional information.

The United States strongly condemns any and all use of chemical weapons. Those responsible for the use of chemical weapons must be held accountable. Today, we are formally requesting that the United Nations urgently investigate this new allegation. The UN investigative team, which is currently in Syria, is prepared to do so, and that is consistent with its purpose and mandate. For the UN's efforts to be credible, they must have immediate access to witnesses and affected individuals, and have the ability to examine and collect physical evidence without any interference or manipulation from the Syrian government. If the Syrian government has nothing to hide and is truly committed to an impartial and credible investigation of chemical weapons use in Syria, it will facilitate the UN team's immediate and unfettered access to this site. We have also called for urgent consultations in the UN Security Council to discuss these allegations and to call for the Syrian government to provide immediate access to the UN investigative team. The United States urges all Syrian parties including the government and opposition, to provide immediate access to any and all sites of importance to the investigation and to ensure security for the UN investigative team.