Third Body Found After Hot Air Balloon Crash In Virginia
Witnesses reported seeing the balloon in flames rise high into the sky before crashing down. A University of Richmond women's basketball assistant coach, a team staff member, and a 65-year-old Army veteran pilot were on the balloon.
Updated — May 11, 4:28 p.m. ET:
A hot air balloon collided with a power line, erupted in flames, then shot up in the sky before crashing to the ground Friday near Doswell, Va., leaving three dead, Virginia State Police spokeswoman Corrine Geller said during a news conference on Saturday.
The University of Richmond confirmed that two of the deaths were Women's Basketball Associate Head Coach Ginny Doyle, 44, and director of operations Natalie Lewis, 24. A pilot, retired Lt. Col. Daniel Kirk, was also inside the balloon's gondola when it tangled with power lines during an attempted landing Friday evening, the Associated Press reports.
Doyle had played on the Richmond team and was a member of the coaching staff for 16 seasons. Lewis was in her third year of director of basketball operations after graduating from the school in 2011.
"Words cannot begin to express our sorrow," Keith Gill, the school's athletic director, said in a statement Saturday. "We are all stunned by the tragic news."
Though the bodies were originally missing, as of Sunday they had all been found, ABC News reports. Authorities are still searching for the crash site.
The third body has been identified by family members as a 65-year-old Army veteran, retired Lt. Col. Daniel Kirk. His father Donald told the Los Angeles Times that he loved flying and traveling. Kirk began flying balloons commercially in Delaware about a decade ago, and nicknamed his balloon "Starship" and himself "Captain [Kirk]."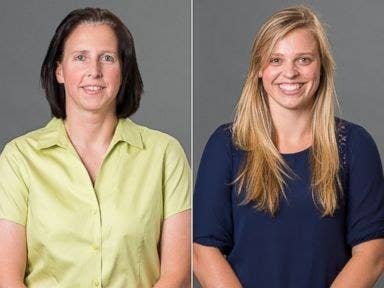 Witnesses reported seeing the balloon in flames rise high into the sky before crashing down.
"All of a sudden, we could see a balloon rise up that was obviously on fire," photographer Dawn Howeth told WRIC-TV. "We watched something large fall from it, assuming it was the basket. There were three people in it when it took off."
A ground search involving the Virginia State Police, Federal Aviation Administration, and local law enforcement was launched after poor weather grounded an aerial search.
A woman who said she saw the balloon in flames told a TV station she heard people yelling for help.
"They were just screaming for anybody to help them," Carrie Hager-Bradley told WWBT-TV. "'Help me, help me, sweet Jesus, help. I'm going to die. Oh my God, I'm going to die,'" Hager-Bradley said she heard one person screaming.
The incident took place at Meadow Event Park in Caroline County, ahead of the Mid-Atlantic Balloon Festival. The festival was scheduled to begin on Saturday, but organizers kicked off the event Friday evening with a "Friday Flights Happy Hour." A balloon festival spokesman said the remainder of the event had been cancelled following the accident.
"As soon as we looked up, the thing blew up right there," Debra Ferguson, a nearby resident, told The Free Lance-Star. "All I heard was, 'Oh my God, Oh my God,' and all you saw was the top of the balloon still flying, but all of the basket was gone. All of the flames just disappeared."
The Caroline County Sheriff's Office earlier said that some passengers were seen jumping from the balloon after it caught fire and they remained unaccounted for.
"The Mid-Atlantic Balloon Festival regrets that there was a safety incident involving one of the balloons participating on the evening of May 9," the group said in a statement on its website.
Several pictures were posted on social media showing the balloon in flames.