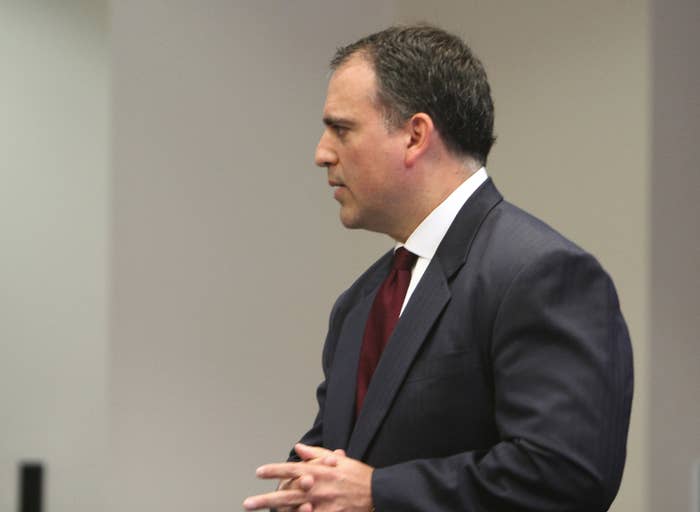 A Florida assistant state attorney was fired Thursday after he was found to have violated the state attorney's social media policy in railing against the city of Orlando on Facebook, calling it a "melting pot of 3rd world miscreants and ghetto thugs."

The comments came after 49 people were killed, and more than 50 others injured Sunday morning when a gunman opened fire at a gay nightclub in Orlando — the deadliest terror attack on U.S. soil since 9/11.
"Downtown Orlando has no bottom. The entire city should be leveled," Florida Assistant State Attorney Kenneth Lewis said in a Facebook post hours after the shooting. "It is void of a single redeeming quality. It is a melting pot of 3rd world miscreants and ghetto thugs. It is void of culture. If you live down there you do it at your own risk and at your own peril. If you go down there after dark there is seriously something wrong with you. Disney does everything in its power to shield visitors of Disney from its northern blight. That doesn't change reality. Disney may be the happiest place on Earth but Orlando is a national embarrassment. If this is an act of a domestic terrorist it is so very important that we don't publish the religion, name, or motive of the terrorist as not to offend anyone."
In a second post, Lewis wrote, "All Orlando nightclubs should be permanently closed. With our without random gunmen they are zoos, utter cesspools of debauchery," the Orlando Sentinel reported.

Lewis for violating the office's social media policy in showing prejudice or bias, according to the state attorney's termination letter obtained by BuzzFeed News. The social media policy was implemented in February 2015.

Friday's suspension was not the first time Lewis has landed in hot water over a Facebook post. In 2014, he posted a Mother's Day comment that prompted the state attorney's office to temporarily reassign him.
"Happy Mothers day to all the crack hoes out there," he wrote. "It's never too late to turn it around, tie your tubes, clean up your life and make difference to someone out there that deserves a better mother."
He later apologized for the post, saying "it was misinterpreted by some."
"I used a poor choice of words in using the term crack hoe, instead of drug addict but my message is the same and I regret that it was misinterpreted by some to those I unintentionally offended, I offer you my deepest apologies," Lewis said.