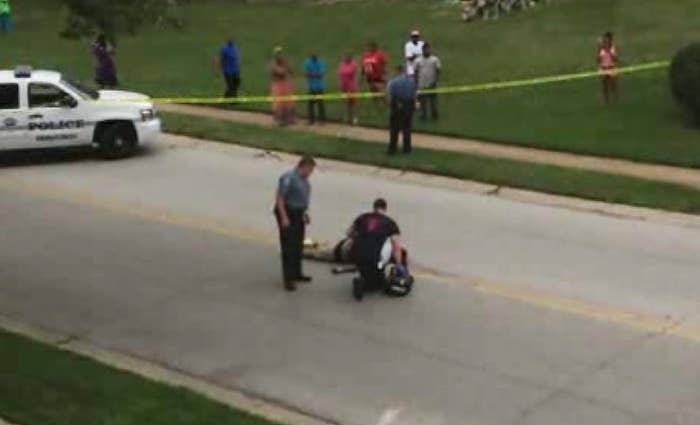 The Ferguson, Missouri, police officer who shot and killed 18-year-old Michael Brown in August, sparking anger and at-times violent protests across the country, reportedly told investigators he feared for his life during the confrontation with the unarmed teen.
According to a New York Times report published Friday, Officer Darren Wilson told authorities he was trying to exit his SUV when Brown pushed him back inside and he became pinned. A struggle then ensued between Brown and the officer through the driver's-side window — and the teen reached for his gun.
Forensics tests performed by the Federal Bureau of Investigation showed Wilson's weapon fired twice inside the car, the first bullet striking Brown in the arm, and the second missing both men. Blood was later found on Wilson's gun, uniform, and the inside door panel. According to Wilson, Brown "punched and scratched him repeatedly, leaving swelling on his face and cuts on his neck," the Times said.
The report, which cited unnamed government officials, did not shed light on why Wilson later emerged from the vehicle and fired multiple rounds at Brown, but said the evidence did not support civil rights charges against the officer.
Wilson, a six-year veteran with the Ferguson police force, confronted Brown and a friend on Aug. 9 as they were walking home from a convenience store. Police have said the pair were walking in the middle of the road when Wilson ordered them to use the sidewalk, leading to the deadly encounter. An autopsy later showed Brown was shot six times, including once in the head.
Wilson has not been formally charged or arrested for the shooting. A state grand jury was convened in September to determine if charges should be brought. According to the Times report, Wilson appeared before the jury last month and delivered four hours of testimony. The jury has until Jan. 7 to decide.
Brown family attorney, Anthony Gray, told the St. Louis Post-Dispatch he doesn't dispute there may have been a confrontation near the vehicle, but said the officer's story doesn't explain why Wilson later shot and killed Brown in the street.
"His actions contradict the presence of fear," Gray said. "You're fearful, a guy's running, but you're going to get out and chase him? How many people do you know chase something that you're fearful of?"