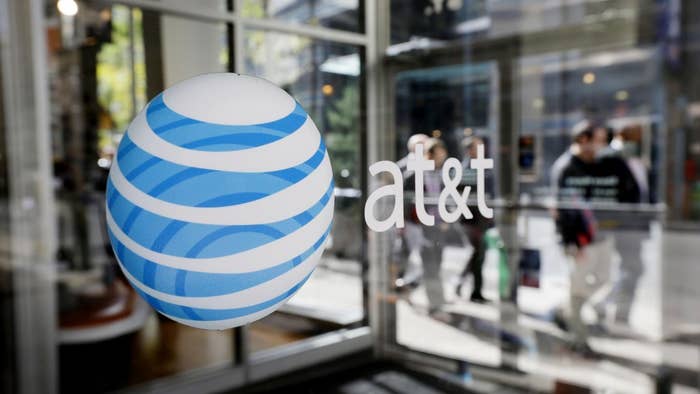 AT&T, the second largest wireless phone carrier in the country, is about to become the second largest pay-TV operator as well.
The telecommunications giant announced on Sunday night that it inked a deal to acquire satellite TV operator DirecTV for $95 a share, or about $67.1 billion, including debt, confirming a BuzzFeed report on Saturday that the deal was done. The boards of the two companies, which had circled each other on and off for roughly a decade, met Sunday afternoon to approve the deal.
Though both companies had been reluctant to pull the trigger on a deal in the past, Comcast's impending $45.2 billion acquisition of Time Warner Cable, announced in February, gave new urgency to a combination. AT&T Chief Executive Randall Stephenson has said publicly that he felt the Comcast–Time Warner Cable deal was "industry redefining," prompting him to proactively approach DirecTV about a deal in late April. The two sides moved quickly during the latest round of negotiations, with the signing of the deal coming about a month after talks first began. (Comcast sealed its deal for Time Warner Cable during an intense 11-day negotiation during the Winter Olympics in Sochi.)
Already, consumer advocacy groups are coming out against the deal, much in the same way they did against Comcast–Time Warner Cable.
"AT&T's takeover of DirecTV is just the latest attempt at consolidation in a marketplace where consumers are already saddled with lousy service and price hikes," said Delara Derakhshani, policy counsel for Consumers Union, the advocacy arm of Consumer Reports. "The rush is on for some of the biggest industry players to get even bigger, with consumers left on the losing end. You can't justify AT&T buying DirecTV by pointing at Comcast's grab for Time Warner, because neither one is a good deal for consumers."
Terms call for AT&T to pay $95 per share, comprised of $28.50 per share in cash and $66.50 per share in AT&T stock. Investors have run up DirecTV's shares in recent weeks in anticipation of the deal. The purchase price values DirecTV's equity at $48.5 billion and includes the assumption of its $18.6 billion in net debt. AT&T said it plans to finance the deal with a combination of cash, stock, and debt. The company expects the combination to result in cash savings of approximately $1.6 billion annually after the third year together.
AT&T shares closed trading Friday at $36.74, up 22 cents. After the deal's close, DirecTV shareholders will own between 14.5% and 15.8% of AT&T shares on a fully diluted basis.
"This is a unique opportunity that will redefine the video entertainment industry and create a company able to offer new bundles and deliver content to consumers across multiple screens — mobile devices, TVs, laptops, cars and even airplanes. At the same time, it creates immediate and long-term value for our shareholders," AT&T Chief Executive Stephenson said in a statement.
The deal combines the 20 million subscribers to DirecTV's service, which ranks it as the largest satellite operator in the country, with the 5.7 million people who subscribe to AT&T's U-verse digital TV service. Combined, the 26 million subscribers the company would have still trails the roughly 30 million that Comcast would control assuming its deal with Time Warner Cable is approved by regulators. Though smaller on a per-subscriber basis, the deal instantly vaults AT&T into a national competitor since neither it or DirecTV is hamstrung by the regional limitations that bound cable distributors.
Regulatory approval for both the Comcast–Time Warner Cable deal and the AT&T–DirecTV union is far from certain. Both deals face a tough fight in front of the Department of Justice, as consolidation has narrowed control of the pay-TV distribution landscape to a handful of companies. Part of the reason why AT&T and DirecTV moved so swiftly to conclude their deal was to get it in front of regulators for review simultaneous with the Comcast–Time Warner Cable transaction, with the thinking being that if officials approve that deal they will have to also approve this one.
The argument from pay-TV distributors is that consolidation is necessary for negotiating better carriage deals with programmers, who have been increasing the amount they charge, known in industry parlance as "carriage fees," exponentially in recent years.
For DirecTV, the deal is a clear victory. Not only did the company get a per-share price from AT&T higher than it would have had it sold even just two years ago, but the satellite operator also gets to combine with AT&T at a time when its market position is increasingly being challenged. Unlike cable competitors that can offer a triple play of video, broadband, and telephone service, DirecTV is a pure-play video offering — it lacks a broadband or telephony component, which has put it at a competitive disadvantage. DirecTV, though, has the exclusive pay TV rights for NFL Sunday Ticket, which provides every out-of-market NFL game for TV, laptops, or mobile devices.
The clear loser here is Dish, the satellite operator that competes with DirecTV and has also explored a deal with it and AT&T. Indeed, an argument can be made that Dish would be a better partner for either DirecTV, which would allow for greater cost savings, or AT&T, which could use its available spectrum to increase its wireless capacity. Dish and DirecTV actually tried to merge themselves in 2002 but that deal was rejected by regulators. It was thought, however, that the TV landscape has changed so dramatically since then that perhaps a merger of the two satellite operators would pass regulatory muster, just as the combination of satellite radio companies Sirius and XM was approved in 2007. The combination of AT&T and DirecTV means that Dish, controlled by billionaire Charlie Ergen, is left out in the cold, at least for now.
For AT&T, the deal is as much about the $2.6 billion in cash flow DirecTV generates as it is about television. Sure, adding DirecTV affords AT&T the ability to offer a bundled package of video, broadband, and telephone services to subscribers. And as linear video consumption declines, it can move the satellite operator's subscribers to other platforms.
But just as important a factor in the deal is access to DirecTV's cash, which can help AT&T fund both its dividend payments to shareholders and other strategically important initiatives, including future acquisitions. The company basically said as much in its press release announcing the deal, noting that "along with DirecTV's current strong cash flows, this transaction is expected to support future investment in growth opportunities and shareholder returns."
AT&T has increased its dividend payment, the money it returns to shareholders, every year for the last three decades, distributing $9.7 billion to investors last year. The company funds those payments with free cash flow, and analysts are increasingly worried that the amount of money it pays out is eating up too much of its cash. According to The Motley Fool, AT&T used 70% of its free cash flow to fund dividend payments last year. According to Barclays, a deal at this level would add around $4 billion in free cash flow to AT&T annually overall and anywhere from $500 million to $1.1 billion after dividend payments.
More importantly, having access to more free cash flow would give AT&T the flexibility to pursue other strategic deals over time. Like, for instance, in the wireless industry, where AT&T is arguably seeing more competition than it is on the video side, with Verizon and Sprint having access to vast amounts of cash to expand by virtue of their own recent deals. AT&T has much more at stake in wireless than it does in video, which is why it tried to buy T-Mobile for $39 billion in 2011 (the deal was eventually rejected by regulators) and why earlier this year it examined by European wireless operator Vodafone.
Outside of an acquisition, AT&T could use the extra cash to upgrade the quality of both its wireless and landline networks. Or further build out its prepaid phone business. Or, since DirecTV's Latin American business is included in the deal, it moves aggressively into that market, which has been a growth area for the satellite operator.
Goldman, Sachs & Co., and Bank of America Merrill Lynch acted as financial advisers to DirecTV and Weil, Gotshal & Manges LLP, Jones Day, and Wiltshire & Grannis LLP served as legal advisers.