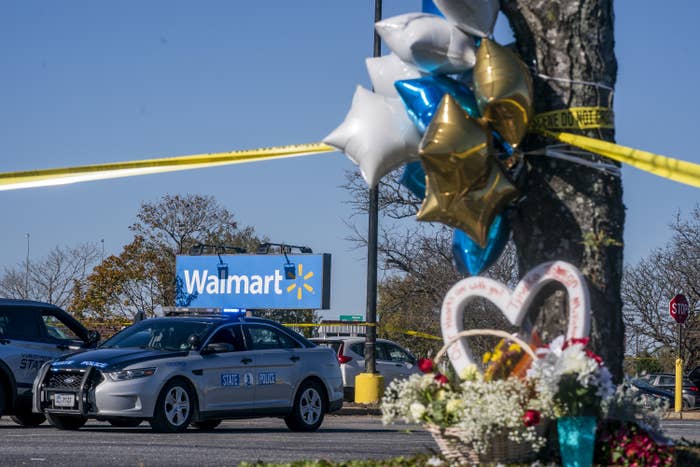 Just two days ago, Dr. Jessica Burgess was checking in on a colleague in Colorado Springs who'd treated victims of the mass shooting at a gay bar. On Wednesday, the Colorado doctor returned the gesture as Burgess found herself treating gunshot victims of yet another mass shooting, this time at a Walmart in Chesapeake, Virginia.
"It's very disheartening that now I'm in the same position, with my colleagues from across the country checking in on me and our team," the acute care surgeon at Sentara Norfolk General Hospital in Norfolk, Virginia, told reporters Wednesday afternoon. "It is disheartening, and it's hard when sometimes there's only so much we can do after the injuries have already been done."

On Tuesday night, a Walmart employee opened fire on his coworkers, killing six of them and injuring at least six others. It comes just days after a shooter in Colorado Springs killed five people and injured 18 more inside Club Q, a gay nightclub. The back-to-back tragedies provided a grim reminder that gun violence is a national epidemic.

Burgess told reporters that as a surgeon, taking care of people when they're most in need is what she loves to do. But as a parent, spouse, and community member, it's heartbreaking to see this kind of gun violence. Burgess said she was the backup surgeon on call Tuesday night and was called in when the hospital got reports of the mass shooting. Three people continue to be treated at the hospital, two of whom are in the ICU in critical condition.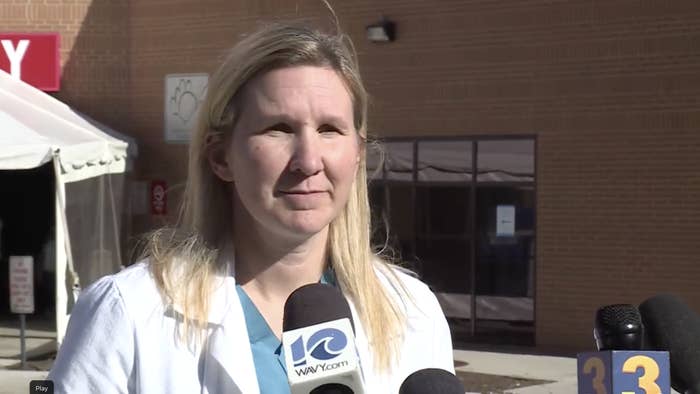 According to the American Public Health Association, gun violence in the US is a public health crisis and the leading cause of premature death in the country, responsible for more than 38,000 deaths annually. As of Nov. 23, at least 39,717 people have died from gun violence this year, and another 21,582 have died by suicide, according to data from the Gun Violence Archive. There have been 608 mass shootings so far this year.

When healthcare professionals called for gun control in 2018, the National Rifle Association tweeted for them to "stay in their lane." It's very much in their lane, however, because of the time, care, and resources they expend trying to save lives. More than 100 people — many of them healthcare workers — are involved in the treatment of a victim from the moment they're shot to the moment they're released from a hospital. Sometimes the process takes months.
Sentara Norfolk General Hospital is a level one trauma center, Michael Hooper, vice president and chief medical officer, told reporters on Wednesday, and it's prepared for incidents like the Walmart shooting.

"Unfortunately, we deal with events like this very frequently," he said.

But it takes a toll.
"It's always disheartening when you see unnecessary violence on this level," said Tracey Chandler, a clinical nurse manager at the hospital.
As news of the shooting at the Walmart broke, many on social media shared their dread at seeing yet another mass casualty event. People had only begun to grieve the deaths at Club Q when another shooting grabbed headlines. It prompted new calls to action, and renewed despair over the number of lives lost.
Brett Cross, whose 10-year-son Uziyah Garcia was killed in the Uvalde, Texas, school shooting that left 19 children and two teachers dead, tweeted that each mass shooting takes a toll on him.
"I am deeply saddened to hear about the Club Q shooting," he tweeted on Monday. "It takes a toll on me personally every time there is more people getting their membership into this club nobody ever wants to be in. Every single one of the victims are somebodies child."

Maxwell Frost, who was recently elected as the first Gen Z member of Congress, tweeted that gun violence is "preventable." The 25-year-old activist has served as a national organizing director at March for Our Lives.
"DO NOT BECOME NUMB TO THIS," he tweeted. "6 people have been shot and killed. This is avoidable. This is preventable. This is a policy failure. THIS ISN'T NORMAL."

Burgess, the surgeon in Virginia, told reporters Wednesday that she and her colleagues are just starting to process the events of the last day.
"This is what we want to do," she said. "This is where we want to be, so we're proud of what we did last night. ... But it's a lot to process. These are people in our community whose lives were cut short the day before Thanksgiving, so it's heartbreaking."