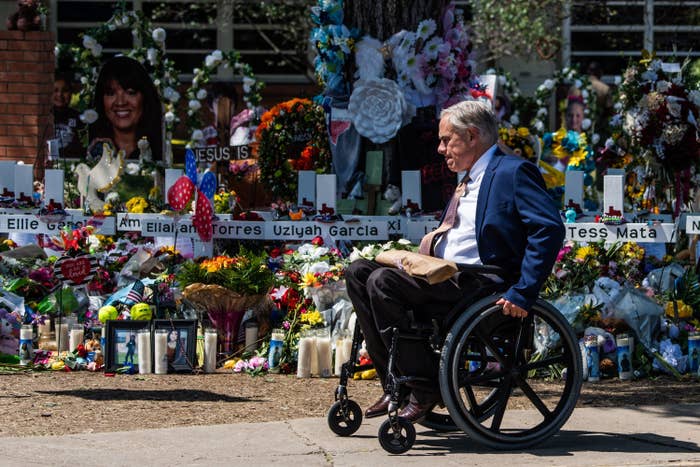 More than 60% of Uvalde County voters help reelect Republican Gov. Greg Abbott on Tuesday, just five months after the school shooting at Robb Elementary that left 19 kids and two teachers dead.

Texas hasn't elected a Democratic governor in more than 25 years, but some were holding out hope that voters would have a clear reason to go blue this year. Hours after what was one of the worst school shootings in US history, Abbott attended a fundraiser hundreds of miles away, and he later said at a news conference that it "could have been worse." He did not attend any of the victims' funerals, and he has pushed back against gun control efforts. Meanwhile, Democratic challenger Beto O'Rourke supported raising the minimum age for gun purchases to 21 and banning assault weapons. His impassioned calls for action to prevent future shootings won him the public support of at least 35 family members of the Uvalde victims.
The mother of 10-year-old Maite Rodriguez appeared in an emotional campaign ad for O'Rourke.
"She wore green Converse with the heart drawn on the right toe. Those shoes ended up being one way to identify her body in that classroom. I never want another family to go through this. Greg Abbott has done nothing to stop the next shooting. No laws passed. Nothing to keep kids safe in school. So I'm voting Beto for Maite," Ana Rodriguez says in the video.
But ultimately, the county went Republican, as it had in the 2020 election. After the results came in, several parents of the victims of the school shooting tweeted a graphic of an upside-down #UvaldeStrong, suggesting that Uvalde didn't support the victims after all.

Brett Cross, whose 10-year-old son Uziyah Garcia was killed in the shooting, tweeted that he was particularly disappointed by the support his community had shown Abbott.
Kimberly Mata-Rubio, whose 10-year-old daughter Lexi was killed, tweeted that the state of Texas had sent her a clear message with the election.
"My daughter's murder wasn't enough. Just know, you fucked with the wrong mom. It doesn't end tonight. I'll fight until I have nothing left to give. Lexi's legacy will be change."
Outsiders saw some of Uvalde's divisions at a school board meeting in October, during which hundreds of local residents — most of whom were white — showed up to support Uvalde Consolidated School District Superintendent Hal Harrell, while the families of the victims demanded accountability from him.
During that meeting, Cross said Uvalde would be more supportive if the Robb Elementary victims had been white.
"I will say this, if it had been 17 white kids, all of those people out there would have been in here," he said. "All of our kids matter."

Mata-Rubio said during the meeting that she was "disgusted" by Uvalde residents.

"How dare you decide now when a job is at stake to come together, but you stay home as we, the families, have been demanding transparency and accountability," she said, crying. "How dare you attack those of us who lost our children in the worst way possible."