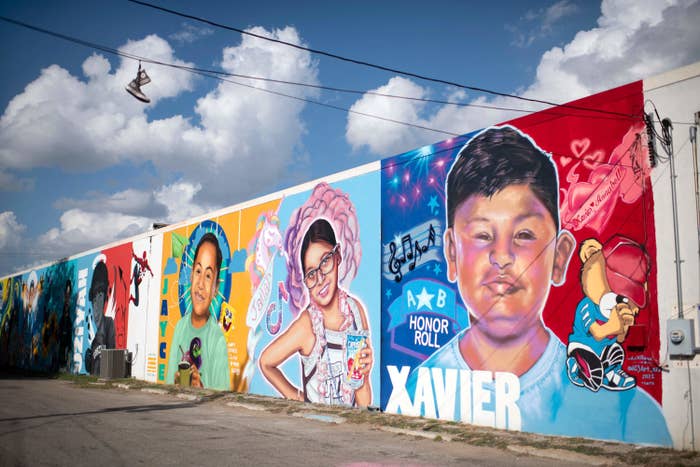 The Uvalde shooter wrote "LOL" with his victims' blood on a classroom's whiteboard, Texas Rep. Joe Moody said during a hearing on Tuesday.
Moody, a Texas representative from El Paso who was part of the investigation into the Uvalde mass shooting, shared the disturbing detail during Tuesday's hearing on House Bill 2744, which would raise the age to buy a semiautomatic rifle from 18 to 21. The graphic detail wasn't something that had been shared outside of the group who investigated the shooting, Moody said.
He described the whiteboard in the classroom, which had, on one side, a list of "lovebirds": four pairs of elementary school students who had childhood crushes on each other. Three of the pairs included kids who were murdered during the May 24 mass shooting at Robb Elementary School in Uvalde, Texas, that killed 19 students and two teachers.
"The attacker scooped up the blood of his victims and smeared it into a disgusting message there," Moody said. "What he wrote in innocent blood right next to that 'lovebirds' banner was the phrase 'LOL.' Laughing out loud. That's what he thought of what he had done. His message to us wasn't anger or hatred. It was something flippant. He celebrated that he could do what he did. That's his critique of us, because we let this happen."
The people inside the Legislature room, including family members of Uvalde and Santa Fe victims, whimpered and cried as Moody revealed the horrifying detail.
His comments during Tuesday's hearing were used to convey the impact of additional regulations on guns. Moody noted that if House Bill 2744 had been in effect that day, the Uvalde shooter — who bought his weapon the day after his 18th birthday — wouldn't have been able to buy the semiautomatic rifle he used to murder the 21 victims. Gun safety advocates have long pushed to raise the minimum age necessary to buy weapons, as federal law sets a minimum age of 18 to buy long guns like rifles and semiautomatic weapons.
House Bill 2744 was left pending in the Statehouse's Community Safety Committee at the end of the hearing.
Javier Cazares, whose daughter Jacklyn Cazares was killed in the mass shooting, testified Tuesday in support of raising the age to buy a semiautomatic rifle.
"My baby girl was full of life and love," he said. "She never learned to ride her bike, never made it to the fifth grade, will never experience her 15th birthday, prom, graduation from high school, college, and becoming a vet, visiting Paris, or even falling in love because she was taken by being murdered at 9 years old."
Veronica Mata, whose daughter Tess died in the Uvalde mass shooting, testified that her daughter didn't have an option between life and death.
"But you, as leaders, have a choice of what my daughter's life will be remembered for," she said. "Did she die in vain or will her life have saved another child, maybe your child."
The bill was introduced late Tuesday, and testimony went into early Wednesday morning. Kimberly Garcia, whose 10-year-old daughter Amerie Jo Garza died in the Robb Elementary shooting, tweeted that she and others had to wait 10 hours before they could testify.
"Today was so mentally exhausting," Garcia tweeted. "We had to wait hours, about 10 hours just to hear our bill get called so we could testify. The pain we have to endure over and over talking about what we are going through. To make change, make a difference, and be voices for our children."