The Department of Justice said on Thursday that former president Donald Trump can be sued by police over the violent Jan. 6 insurrection at the US Capitol.
DOJ officials issued their statement amid an ongoing lawsuit filed by two Capitol police officers and 11 members of Congress who claim that Trump is liable for physical and mental injuries they sustained during the riot at the Capitol on Jan. 6, 2021.
Trump had asserted that his role as president granted him immunity from the lawsuit on the grounds that he was performing official duties. After the lawsuit was filed in February 2022, a federal district court ruled last year the lawsuit could continue after Trump claimed he was immune from any civil lawsuit.
Trump's claim prompted the DOJ to issue its filing on Thursday that was submitted to the US Court of Appeals for the District of Columbia circuit and published by the Washington Post.
"The United States respectfully submits that the Court could resolve this appeal by rejecting the former President's categorical position and holding that a President's speech on a matter of public concern is not protected by absolute immunity if it constitutes incitement to imminent private violence—as the parties have effectively assumed was true here for purposes of this appeal," the DOJ wrote.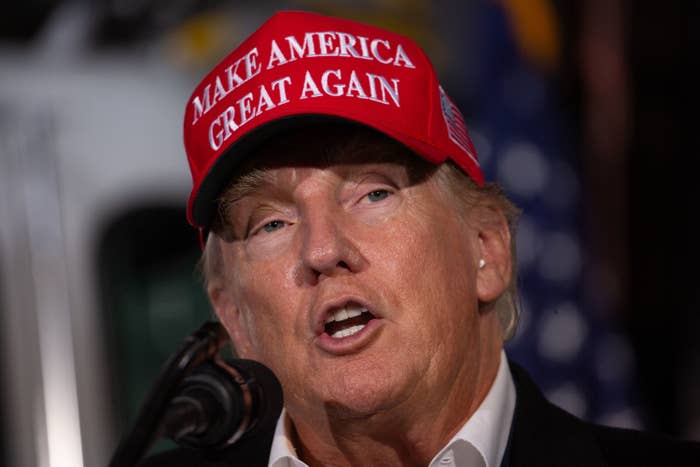 The initial lawsuit was filed by officers James Blassingame and Sidney Hemby in February 2022 and was later joined by members of Congress. The suit alleges that Trump's Jan. 6 rally speech "incited his supporters to commit imminent acts of violence and lawlessness at the Capitol." It goes on to say that the police officers and members of Congress were physically or emotionally injured by the acts of the rioters.
About 150 Capitol police officers were injured during the insurrection, and four police officers have since died by suicide.
The DOJ, in its filing, said that limits on a president's immunity "must be carefully drawn to avoid chilling legitimate presidential speech to the public," noting that presidents may use "strong rhetoric" that may result in listeners "overreact, or even respond with violence."
Still the DOJ maintained that "no part of a President's official responsibilities includes the incitement of imminent private violence. By definition, such conduct plainly falls outside the President's constitutional and statutory duties."