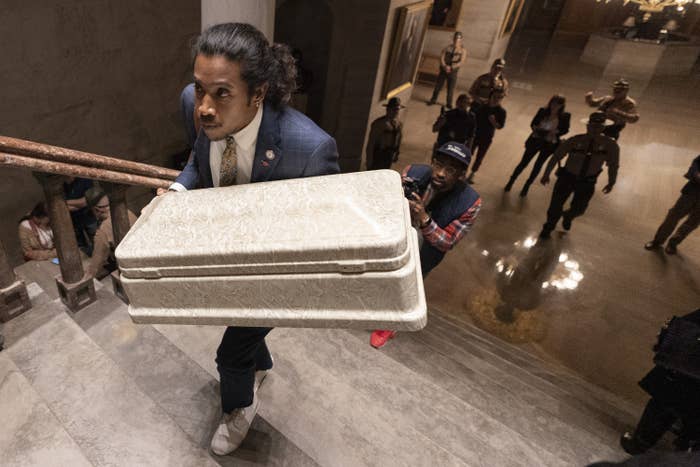 Tennessee Rep. Justin Jones, one of the Democratic lawmakers who was expelled for protesting gun violence and then reinstated earlier this month, tried to carry a baby-size casket onto the Tennessee House floor on Monday to once again call for stricter gun laws.
Jones had told MSNBC on Sunday that he wanted to "put pressure" on Tennessee Republicans to put the interests of the people over NRA contributions.
"It is immoral that we are allowing this to happen time after time after time and all they tweet is 'thoughts and prayers,'" Jones said. "It is immoral. It is extreme and we must continue to make them uncomfortable."
On Monday, protesters marched from McKendree United Methodist Church to the state Capitol to protest HB 1202, which would make it easier for teachers to carry firearms at school. They included Bishop William Barber and members of groups including Repairers of the Breach, Everytown for Gun Safety, Moms Demand Action, and Students Demand Action. Members of the crowd carried six caskets.
At the Capitol, police blocked the crowd from entering, and Jones took over carrying a baby-size casket. He passed through initial security with it, but sercurity stopped him from bringing it onto the House floor. At one point, WREG reported, he passed it off to Rep. Justin Pearson, his colleague who was also expelled and reinstated after protesting for gun control.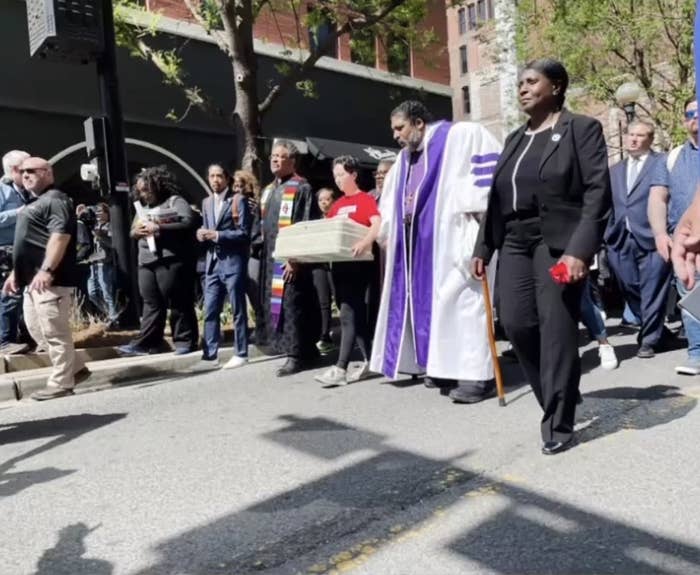 "Today on the House floor, we'll be voting on HB 1202 to allow teachers to carry guns in schools," Jones tweeted on Monday. "Is this really the direction we want to go as a state— more guns in schools? This is an irresponsible response to school shootings and will not keep students safe. This is madness."
During the march, Barber spoke to the crowd about the need for stronger gun laws in the US.
"It must be about the people refusing to accept children dying," he said. "Dying because politicians block gun laws that save lives. They block healthcare that would save lives. They block living wages and they refuse to address policy that would save lives and we are here and we will come again and again and again and again."
The protest comes just a few weeks after six people, including three children, were killed at the Covenant School in Nashville. Tennessee has few restrictions on guns, according to Everytown, a gun violence prevention organization, and no permit is required to openly or concealed-carry a handgun. In June 2022, Republican Tennessee Gov. Bill Lee said he did not support any new restrictions on firearms.
On April 6, Jones and Pearson were both expelled after they led a protest for gun control on the House floor; they were later reinstated to the Legislature.
Gun violence in the US is a public health crisis, according to the American Public Health Association. It is a leading cause of premature death in the country, responsible for more than 38,000 deaths annually. As of April 18, at least 5,373 people have died from gun violence this year, and another 7,128 have died by suicide, according to data from the Gun Violence Archive.