The 6-year-old who shot his teacher on Friday in Virginia remains at a medical facility and is receiving treatment, police said during a news conference Monday.

Steve Drew, the police chief of Newport News, Virginia, said the shooting at Richneck Elementary School was an "unprecedented situation" and also praised the 25-year-old teacher, who is in stable condition, for her quick actions. Abigail Zwerner was able to get all of her students out of the classroom after she had been shot, he said, adding that he believed she saved lives.
On Friday, the first-grader shot Zwerner, his teacher, while she was giving instruction, Drew said. A school employee then physically restrained the child until officers arrived. The legally purchased firearm belonged to the child's mother, Drew said, but he would not comment on how or if the firearm was secured at the child's home. Virginia does not have any law about how guns must be stored.
Drew said the child pointed the gun at Zwerner and fired one round, which police have described as an "intentional" action. In defense, Zwerner raised her hand and the bullet went through her hand and into her chest, he said. On Friday, police originally said that the child shot Zwerner during an "altercation," but on Monday, Drew walked back on that statement, calling it an "interaction."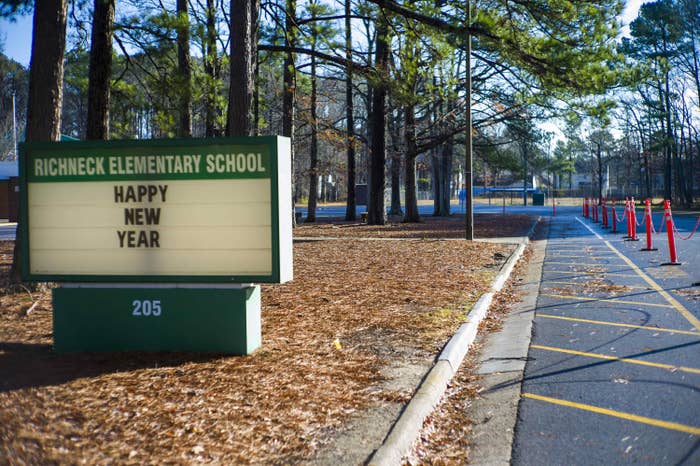 The child was taken to a local hospital, and he is under a temporary detention as he continues to receive treatment, Drew said.
George Parker, the school district's superintendent, said classes at the elementary school are canceled this week while the district begins to conduct its own investigation, interviewing faculty and staff. Parker added the district has offered mental health support to its students and staff.
"An incident like this doesn't just traumatize one community," he said during the news conference. "It traumatizes the entire city."

Phillip Jones, the mayor of Newport News, called Zwerner a "hero" for ensuring her students made it safely out of the classroom after she was shot.
"She was faithful as a teacher and she ensured that everyone was accounted for and that she was the last one to leave," Jones said.