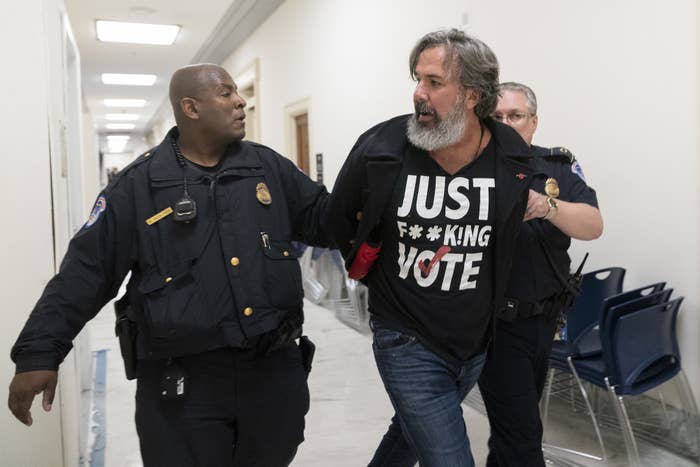 A parent of a student who was killed in the Parkland high school shooting massacre was arrested Thursday at the Capitol after he spoke out during a committee hearing on gun regulations.
The arrest happened near the end of the hearing, where lawmakers debated a new federal rule that would require any pistol-stabilizing braces to follow additional regulations, like longer waiting periods and registration. During the discussion, Rep. Pat Fallon, the Republican chair of the hearing, spoke about Mexico's gun violence despite gun regulations there. That didn't sit well with Patricia Oliver — whose son Joaquin Oliver was killed in the 2018 mass shooting at Marjory Stoneman Douglas High School in Parkland, Florida — and she spoke up from the audience.
"You took my son away from me and I'm not going anywhere," she said. Fallon then asked Capitol police to remove her and Manuel Oliver, Patricia's husband.
"You're full of shit," Manuel Oliver told Fallon in response.
Capitol police escorted the pair out while Manuel Oliver yelled at Fallon. Fallon did not respond to BuzzFeed News' requests for comment.
According to the Capitol police, Manuel Oliver "disrupted" the hearing and "refused to stop shouting" and then tried to go back inside the hearing room. Oliver was arrested, but not jailed. Patricia Oliver also "disrupted" the hearing, Capitol police said, but she was not arrested because "she followed the lawful directions" of officers.
"Anyone who disrupts a Congressional hearing and disregards a law enforcement officer's orders to stop are going to be arrested," the Capitol police wrote in an statement to BuzzFeed News.
After Patricia and Manuel Oliver left the hearing, Fallon asked the room if it was another insurrection, adding, "Does the Capitol police not do their jobs?"
"During this hearing I heard lie after lie — the biggest was that these Republicans care about our kids when all they do is waste time in the Capitol making decisions that leave our children soaked in their own blood," Manuel Oliver said in a statement to BuzzFeed News. "So, I spoke up and said something, because my son, Joaquin, would've wanted me to. After I was kicked out, they called us narcissists — are we narcissists for fighting for my son, fighting so that no family in America has to go through what we did?"
"For [Patricia] and me, getting arrested is totally irrelevant," Manuel Oliver tweeted Thursday afternoon. "What really offends us is the fact that chairman @FallonForTexas allowed lie after lie in order to protect the gun industry's ambitious strategy. Our son Joaquin still has a voice and he will use it whenever is needed."
Patricia Oliver tweeted that she was simply exercising her "right to free speech."
"I am not scared to speak up for what I believe in," she tweeted. "WE NEED TO HOLD LAWMAKERS ACCOUNTABLE AND MAKE THEM SPEAK THE TRUTH."
After the arrest, Rep. Ro Khanna, a Democrat from California, spoke before the committee and said the family should be shown empathy after losing their son to gun violence.
"We need to have empathy for someone who's coming to the United States Congress in...grief of the most unspeakable kind," Khanna said. "And so if they curse or if they are angry, let's understand where that anger and pain is coming from."
Fallon responded by saying he had no idea Patricia Oliver was a parent of a gun violence victim.
"I don't know her," he said. "She was a stranger to me."
Rep. Maxwell Frost, who is Congress's first-ever Gen Z member, tweeted that Manuel Oliver was thrown out of the hearing because "he had the audacity to disagree with the Republican lawmakers in the room."
"And today, Republicans on this committee choose to sit in front of those parents, and the survivors and organizers, and advocates that are in the audience right now – people who are reliving their trauma listening to this, people impacted by gun violence across the nation… and show that their priority is gun lobby money, manufacturers who profit off deaths, and creating fake narratives for political gain," Frost said at the hearing.