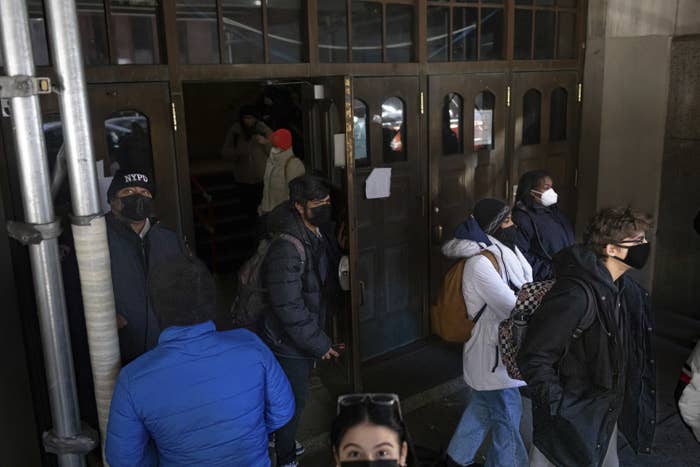 Hundreds of New York City teenagers at dozens of public high schools walked out of class on Tuesday in protest of the city requirement that students must attend school in person.

"Students have to juggle this decision of whether to come to school to pursue their education or to stay home and keep themselves and their families safe," Rommy Sasson, a junior at Brooklyn Tech and one of the five walkout organizers, told BuzzFeed News.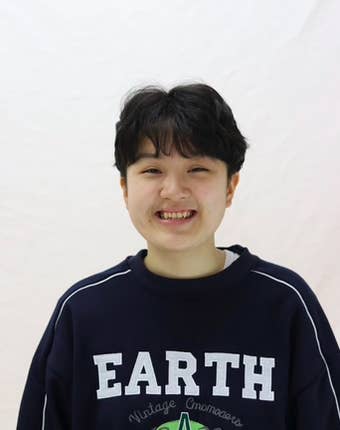 "It's to show that we've had enough," said Dora Chan, a 17-year-old senior at Brooklyn Tech and another organizer.
Teens from Brooklyn Technical High School and Stuyvesant High School, among the city's top selective public schools, organized the walkout after they grew concerned with New York's rising COVID numbers over winter break and were frustrated that they cannot do remote learning. Organizer Cruz Warshaw, a junior at Stuyvesant, estimated that more than 30 city schools had students walk out at 11:52 a.m., which is at the end of fifth period at Brooklyn Tech.
New York City began its extreme COVID surge in December due to the Omicron variant, and on Monday, the city reported 35,371 new COVID cases. Not only are cases rising, but people are also having a hard time finding rapid and PCR tests. Yet, Eric Adams, mayor of New York City, said Sunday that schools must remain open. "I believe we're doing the right thing for our children, having them in the safest place, and that is in the school building," he told Face the Nation.

But high school students disagree about just how safe school is for them — particularly when many live with older relatives or unvaccinated younger siblings. Chan, who lives with her grandparents, is so fearful about making them ill that she's missed school for the past week.
"If I were to get COVID and come back home to my grandparents, who are at risk, I don't even want to say it," Chan said. "We all know that COVID could result in death, and so it's a really, really bleak reality that all New York City students are facing today."
Students returned after winter break just last week, but the teens told BuzzFeed News that school didn't feel normal — teachers and students were absent due to sickness or fear of getting sick, and classrooms felt empty and tense.
"The atmosphere at school has been much more of defeat and worry these past few days," Sasson said. "That has been weighing on everyone's mental health."
Online school is no longer available to New York City students, as a citywide policy.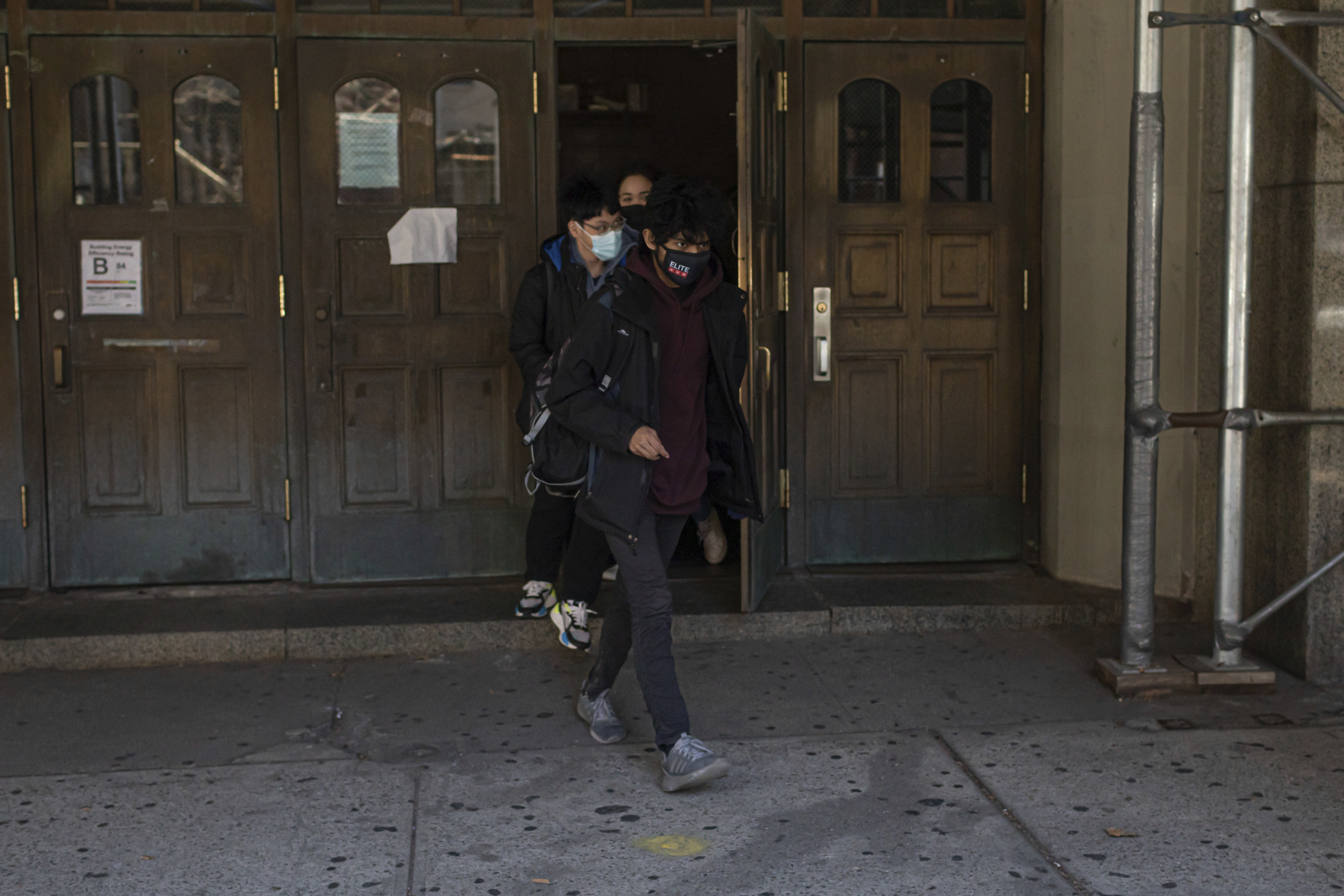 For Rifah Saba, a junior at Stuyvesant High School, she said it's "disheartening" to know government officials don't value students' health and safety. Saba called lunchtime at her school "appalling."
"The cafeteria is the biggest, most appalling COVID regulation violation you could see because it's people in close contact, people with their masks down huddled together in a group," she said.
In a statement to BuzzFeed News, Sarah Casasnovas, the deputy press secretary for NYC schools, said the city's Department of Education supports the "civic engagement" from the students.
"Nothing is more important than the health and safety of our school communities, and we've doubled in-school testing and deployed 5 million rapid tests to quickly identify cases, stop transmission, and safely keep schools open," the statement read. "Student voice is key and we'll continue to listen to and work closely with those most impacted by our decisions — our students."
The walkout had an immediate effect: The organizers are meeting with Chancellor David C. Banks on Wednesday to discuss ideas and concerns.
These students have already gone through one school year doing remote learning, so they understand it's not ideal. Chan said her learning suffered because of it. But because cases are so high right now, these students believe it's the only safe option.
"It's scary," Chan said. "I really, really think the city needs to understand this. The students know remote learning is bad. Teachers know it's bad too. But we're saying that yes, but still because of public safety. Public safety needs to come first when we're in this circumstance."
Chan said that the walkout faced criticism on Twitter, mainly from older people, but she wants to stress that the students who walked out risked getting in trouble. Also, older people might not understand what it's like because they aren't going to high school during a global pandemic.
"When we see hundreds and hundreds of students taking this risk and not knowing if it would actually work out, it shows something about this generation," Chan said. "We all collectively are united on this sentiment that schools need to shut down now."