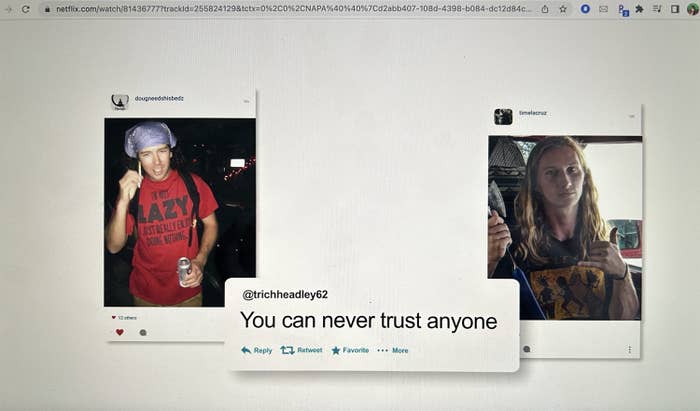 A man from Kentucky is suing Netflix for using his image without permission in a documentary about a murderer.
During The Hatchet Wielding Hitchhiker, a 2023 Netflix documentary about Caleb McGillvary, a viral internet star who was convicted of murder in 2019, a photo of another man holding a hatchet, Taylor Hazlewood, appears on the screen while the narrator asks, "Is this a guardian angel or a stone-cold killer?" Text also appears on the screen that reads, "You can never trust anyone."
Hazlewood, a 27-year-old who works as a respiratory therapist in a neonatal ICU, has nothing to do with McGillvary, though, and according to the lawsuit he filed, Netflix used the photo without permission. In June 2019, Hazlewood took a photo with his friend's hatchet and posted it on Instagram.
Netflix released the documentary on Jan. 12, and on Jan. 20, a friend told Hazlewood that they'd seen his photo used in the documentary. After that, more than 20 of Hazlewood's friends and acquaintances contacted him about his photo in the documentary, causing him to experience "reputational harm, stress, anxiety, and anguish," according to the lawsuit.
Hazlewood's attorney, Angela Buchanan, told BuzzFeed News her client is "a private and quiet man, was galvanized by his inclusion in the true-crime documentary The Hatchet Wielding Hitchhiker, which tells the salacious story of Caleb McGillvary's rise to fame and subsequent first-degree murder conviction." She said Hazlewood "had no connection whatsoever to the people or events depicted in the film."
"Netflix, and the production companies upon which they rely, must be held accountable when they are negligent and cause this sort of reputational harm," Buchanan said.
The lawsuit is seeking at least $1 million in damages.
Netflix did not comment on the lawsuit.
McGillvary was nicknamed "Kai the Hatchet-Wielding Hitchhiker" after his interview for KMPH News in Fresno, California, went viral in 2013. The news station had interviewed him after he used his hatchet to hit a man trying to assault a woman. The interview went viral, landing McGillvary on TV shows including Jimmy Kimmel Live!
After his 15 minutes of fame, though, McGillvary was convicted of murdering Joseph Galfy Jr., a 73-year-old attorney who died of blunt-force trauma at his home on May 13, 2013. McGillvary said he killed Galfy in self-defense after Galfy allegedly attempted to rape McGillvary, but the jury didn't agree and McGillvary was sentenced to 57 years in prison.
Earlier this year, McGillvary said that Netflix's documentary exploited him.
"So, Netflix is making a movie about my life story before I was arrested," McGillvary said in a statement to the Tab. "But they refuse to pay me anything for it… if someone made a movie about O.J. Simpson's football career, you'd better believe he'd be making bank off it. Guys who kill and rape women get money for their pre-arrest fame – but I saved women from being killed and allegedly killed a rapist, so Netflix is ruthlessly exploiting me. What the fuck?"