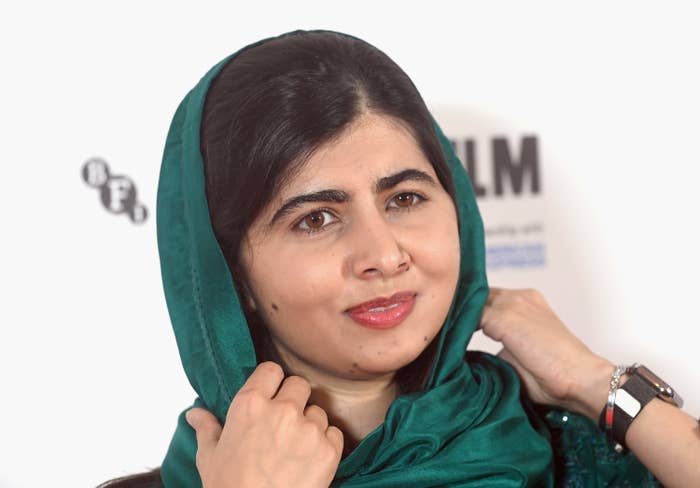 Malala Yousafzai, the activist for girls' education who won the Nobel Peace Prize in 2014, joked in a recent interview that she deserves tickets to both Beyoncé and Taylor Swift.
During Saturday's episode of NPR's Wait Wait… Don't Tell Me, author and comedian Josh Gondelman gave Yousafzai a scenario: If her Nobel Peace Prize came with free concert tickets, would she want to see Beyoncé or Taylor Swift?
Yousafzai had to think about it. "When I was little, I used to, like, sing the 'Love Story' song together with my friends," Yousafzai said. "So that was like one of the first two songs we started singing back in Pakistan. And Beyoncé, I mean, she's a legend, so I would want both tickets."
"I have the Nobel Peace Prize and I demand both," she added as the audience laughed. Gondelman responded with, "Yeah, incredible answer." And thus, an internet war between the Swifties and the Beyhive was avoided.
After the podcast episode aired, Yousafzai retweeted a Taylor Swift fan account, adding a caption saying she "would never want any bad blood between us," a nod to Swift's 2014 song "Bad Blood."
In the Wait Wait… Don't Tell Me interview, Yousafzai also spoke about where she keeps her Nobel Peace Prize (she won't say) and where she was when she found out she won the award (chemistry class). The hosts also asked her if there was ever a time when she wasn't peaceful.
"I'm not a big fan of [the] gym, running, walking," Yousafzai said. "I need to sit and I need to relax. ... I stand up for education, other than that..."
In 2014, Yousafzai became the youngest person to win the Nobel Peace Prize, when she was honored at age 17 for her work advocating for girls' right to education. In a news release at the time, the Nobel Committee wrote that Yousafzai was an activist under the "most dangerous circumstances." In 2012, Yousafzai survived being shot in the head by a Taliban gunman while she was riding the bus home from school.
In 2023, Yousafzai may have more awards on the horizon: A short documentary she executive produced, Stranger at the Gate, is up for an Oscar. The film, nominated in the Best Documentary Short Film category, tells the story of an Afghan refugee who meets a US marine planning to bomb her mosque. Yousafzai said that since she finished college two years ago, she has more time to focus on her mission of "empowering young women and girls from different backgrounds to get the opportunity to share how they see the world."
She told Gondelman and Mo Rocca that she will be attending the Oscars ceremony on March 12 and that she is "so nervous" to meet the celebrities. She said she already met some at the Oscars luncheon on Feb. 13, including Tom Cruise, Michelle Oh, and Austin Butler "and his deep voice."