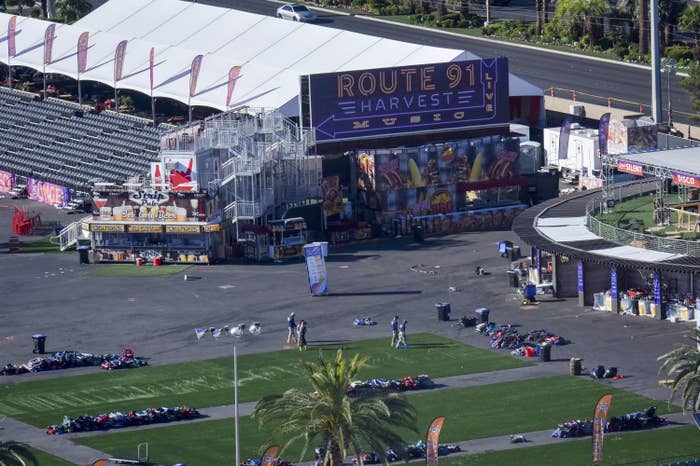 Just a few weeks before a man killed 60 people and injured more than 400 in the single deadliest mass shooting in the US, he lost $38,000 gambling at a Las Vegas casino, according to documents made public this week by the FBI.
The shooter would spend up to 18 hours a day gambling in casinos, according to the documents, often winning large sums.
According to the documents, casinos used to give high-earning gamblers like the shooter free penthouse suites, trips on cruises, and more incentives. About three years before the mass shooting, they stopped this practice and even banned the high-earners from gambling at their casinos. The shooter was banned from several Vegas casinos because of the money he won, according to the FBI documents.
"[The shooter] was very upset with the way casinos were treating him and other high rollers," the document reads. It goes on to say that another gambler who knew the shooter said that he was also stressed about the treatment of "high rollers" and "believed the stress could easily be what caused [the shooter] to 'snap.'"
The shooter opened fire out the window of his room on the 32nd floor of the Mandalay Bay resort on Oct. 1, 2017, striking the crowd that had gathered for the last day of the 91 Harvest music festival. He killed himself in his hotel room about an hour after the massacre. Authorities said he acted alone, and in early 2019, the FBI concluded there was "no single or clear motivating factor" for the shooting.
The FBI's 2019 report implied that the shooter was inspired by his father, who was also a high-stakes gambler as well as a bank robber and fugitive who was on the FBI's 10 most wanted list in 1968.
However, investigators uncovered that the shooter's bank accounts had dropped by roughly $1.5 million between September 2015 and September 2017, which "could have been a contributing factor," Joe Lombardo, then the Clark County sheriff, said during a news conference in January 2019.
The 2019 investigation also revealed that he might have been planning on committing a mass shooting because in the year leading up to the massacre, he had purchased 55 firearms, mostly rifles, and searched on the internet for "Biggest open air concert venues in USA" and "How crowded does Santa Monica Beach get."
The shooter's doctor also told investigators that he might have had bipolar disorder, but he refused to take antidepressant medications.
"An interview with his doctor indicated signs of a troubled mind, but no troubling behavior that would trigger a call to law enforcement," Lombardo said in 2019. "Without a manifesto, or even a note to answer questions, the totality of the information that has been gathered leaves us to only make an educated guess as to the motives of [the shooter]."
The FBI did not respond to BuzzFeed News' request for additional comment.