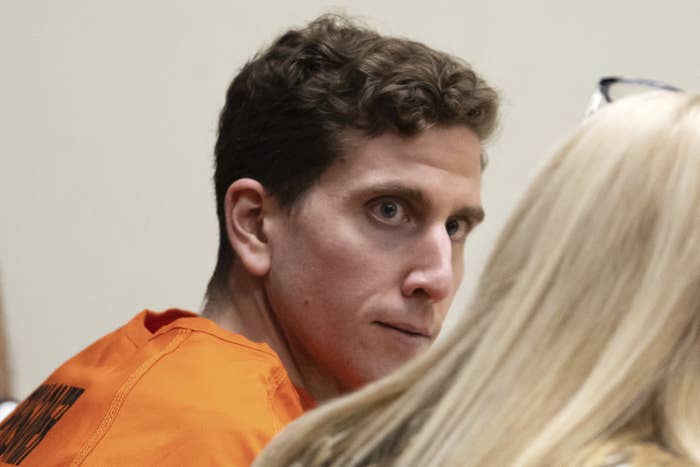 According to a search warrant for Bryan Kohberger's apartment, police found strands of hair and possible blood marks on pillows.
Police obtained a search warrant at the end of December for the apartment of Kohberger, who has been charged with murder in the November stabbings of four University of Idaho students, Kaylee Goncalves, 21; Madison Mogen, 21; Xana Kernodle, 20; and Ethan Chapin, 20. According to the document describing what they found, which was unsealed on Tuesday, the apartment contained a nitrite-type black glove, eight possible hair strands, a possible animal hair strand, a collection of dark red spot, which was collected without testing, and two cuttings from an uncased pillow of reddish/brown stain.
Kohberger was arrested on first-degree murder on the same day that police conducted the search of his apartment. Kohberger was a criminology PhD student at the Washington State University in Pullman, which is about 10 miles from the victims' university in Moscow, Idaho.
Police believe that on the night of Nov. 12, Chapin and Kernodle, who were dating, arrived back at Kernodle's rental home after a night out. Goncalves and Mogen made their way back to the residence, which they shared with Kernodle, around 2 a.m. All of the residents, including two other roommates who were not harmed in the attack, were asleep by that time.
One of the surviving roommates said that around 4 a.m., she was woken up by what she thought was Goncalves playing with her dog in one of the upstairs bedrooms. She then looked out her bedroom window but did not see anything. When she opened her door for a second time, she said she heard crying from Kernodle's room and a male voice say something to the effect of, "It's OK. I'm going to help you."
According to the arrest affidavit, the roommate opened her door for a third time and saw someone in black clothing and a mask walking toward her.
She said it was a male, 5'10" or taller, athletically built with bushy eyebrows. She didn't recognize the male, but as she stood in a "frozen shock phase," he walked past her and she locked herself in her room.
Goncalves and Mogen were found dead hours later in Mogen's bed, and Kernodle and Chapin were found dead in Kernodle's room.
Police have said they found a knife sheath on the bed next to Mogen's body and a latent shoe print at the scene. The DNA on the button snap of the knife sheath linked Kohberger to the crime, according to the arrest affidavit.