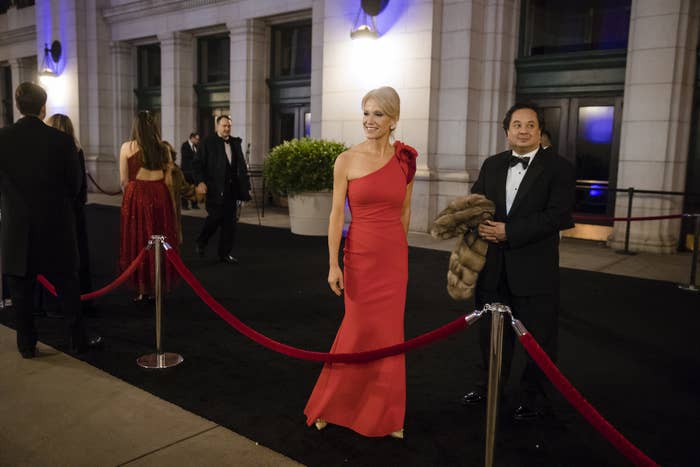 Kellyanne Conway and George Conway are divorcing after 22 years of marriage, the couple announced on Saturday.
In a joint statement posted to Twitter, the couple said they were in "the final stages of an amicable divorce."
"We married more than two decades ago, cherish the many happy years (and four corgis) we've shared, and above all else, our four incredible children, who remain the heartbeat of our family and our top priority," the statement said.
The split was first reported by the New York Post and the New York Times. Per the Post, both sides have retained lawyers to go over details.
In recent years, the Conways have become known as an unusual power couple for their political disagreements and sometimes even active hostility to each other, which often played out in the public eye.
Kellyanne was a prominent adviser and spokesperson for former president Donald Trump, starting as his campaign manager during the 2016 election and remaining loyal through the president's time in the White House. In contrast, husband George became one of Trump's loudest critics and even cofounded the Lincoln Project, an organization of Republicans aiming to stop Trump's 2020 reelection. During the Trump administration, the couple frequently found themselves at odds, with George publicly criticizing Trump while Kellyanne actively defended the president.
The sometimes obvious discord between the couple often baffled observers: In 2018, the Washington Post called them "a house divided," while Quartz cited them in 2019 as "a lesson in what not to do."
In Kellyanne Conway's 2022 memoir Here's the Deal, she discussed some of the political conflicts in the marriage and wrote about discovering George Conway's tweets about Trump for the first time.
"For the first time since George and I had gotten serious, I was looking at the possibility that the man who had always had my back might one day stab me in it," Kellyanne wrote in her memoir, according to the New York Post's Page Six.
In the time following the Trump presidency, the couple has discussed their conflicts in several media appearances. In a May 2022 interview on CBS Mornings, Kellyanne indicated the pair did not wear their wedding rings. Meanwhile, on a November 2022 episode of Jimmy Kimmel Live, George said that after he first tweeted negatively about Trump, Kellyanne called George and yelled at him.
Kellyanne and George have four children together, including Claudia Conway, who went viral on TikTok after she posted about her liberal political views and the family's problems. In 2020, both Kellyanne and George stepped back from their public political commitments, citing a desire to focus on their family.