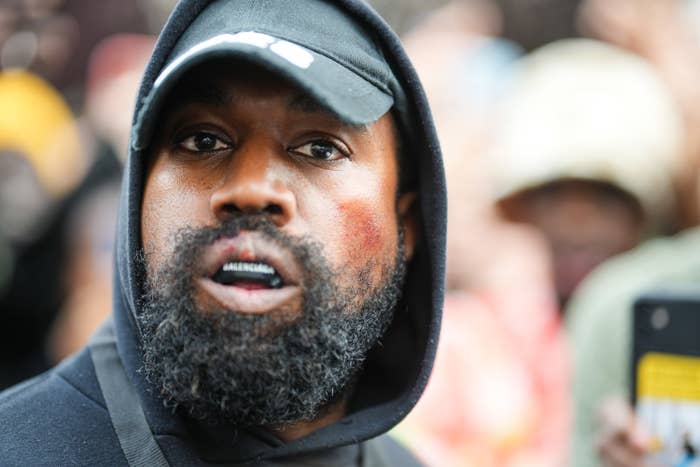 Two former teachers at Kanye West's Donda Academy are suing the school, alleging labor violations in addition to restrictive and unusual school rules for teachers and students.
Among other allegations, the lawsuit claims the kids were only allowed to eat sushi, the school had no janitorial services, and West wouldn't allow the teachers or students to wear any jewelry. The teachers also allege the school did not meet Department of Education requirements or follow state regulations, and teachers were not required to have Basic Life Support certification or mandatory reporting training.
The lawsuit was filed Thursday by third-grade teacher Cecilia Hailey and fifth-grade teacher Chekarey Byers, who both worked at Donda Academy from January to March 2023. On March 3, 2023, Hailey and Byers were fired from Donda Academy without a reason given to them, according to the lawsuit, which is claiming a violation of the state's labor code. They believe they were fired in retaliation for complaining to the school's administration.
Both teachers say they complained about health and safety violations, including a lack of disciplinary systems. They allege in the lawsuit that their complaints weren't taken seriously and that Donda Academy's principal Moira Love called two of them "aggressive."
Hailey and Byers were the only Black teachers at the school, according to the lawsuit. "I'm just tired of the rhetoric being that Black women who are competent are seen as aggressive," Hailey said in a press release.
Donda Academy, as well as a lawyer for West, did not immediately return BuzzFeed News' request for comment.
Byers also claims in the lawsuit she never received her first paycheck and that her and Hailey's paychecks would often be short $1,800 to $2,700 per pay period.
"Kanye West is clearly as bad at running a school as he is at managing his own personal and professional life, enabling an unsafe and illegal school environment for students that also discriminated against the plaintiffs based on their race," the plaintiffs' attorney, Ron Zambrano, said in a press release. "These egregious violations at Donda Academy are just another example of West's unusual behavior, and our clients just won't stand for it, no matter his celebrity status. Kanye needs to realize his genius is in creating music, not in school administration."
West, who legally changed his name to Ye in 2021, first opened Donda Academy in 2022 and now serves as its CEO, secretary, and CFO. Donda Academy is an unaccredited private Christian school for students in pre-kindergarten through 12th grade.
The lawsuit also alleges a number of strict and unusual rules at the academy. No crossword puzzles or coloring sheets were allowed, the lawsuit claims. There were allegedly no classes on the second floor because West was afraid of stairs. Students weren't allowed to use forks, and all cups and bowls were required to be gray. No color or artwork was allegedly allowed in the classrooms, and students were required to wear black head-to-toe West-designed apparel. Brands like Nike and Adidas were prohibited, according to the lawsuit.
West also didn't allow any chairs in the school, the lawsuit claims, and kids had to sit on foam cushions or stand while teachers had to stand or use a stool. Students allegedly had to eat their lunch on the floor because there weren't any tables, and recess was indoors because students weren't allowed to go outside.
"I'm extremely sad about all of this," Byers said in a news release. "It was such a huge honor and privilege to work at Donda Academy for Kanye West. I'm a huge Kanye fan. His first album was the first I ever purchased. I still enjoy his music, and I'll never deny his talent, but while his vision for the school sounds great on paper, it's just pure chaos and mutiny. It's like a mental hospital being run by the patients."