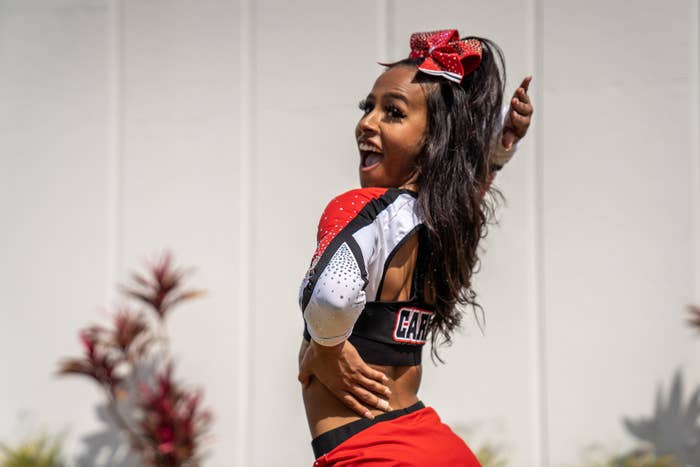 Jada Wooten, one of the stars of Netflix's Cheer, said she was disinvited to events featuring other cast members and opened up about being made to feel like she's "too much" for cheerleading.

"I'm not sharing this for you to feel bad for me. At ALL," she wrote in an Instagram post on Monday. "Only to inspire any of you to be brave."

According to Wooten, who is a cheerleader at Trinity Valley Community College, she signed a contract with apparel company Rebel Athletic — a major player in the cheer world — to participate in three photo shoots and appear at a list of events. The company knew which cheerleaders would be featured on the series, she said, but at that point, no one had seen the new episodes.
But after the show's second season aired, Wooten said Rebel disinvited her from several appearances because she had used bad language on camera. "Moms won't want their daughters taking pictures with you," they told her, according to Wooten's post.
Wooten said she was saddened to hear she didn't fit the brand's image, but she also said she wouldn't apologize for who she is or change.
"Because you know what? It never stops there," she wrote. "There will always be one more 'too much'. More chipping away at who I am when trying to belong where I'm not meant to be."

In a statement to BuzzFeed News, Rebel Athletic confirmed it had disinvited Wooten from meet-and-greet events.

"Due to her choice of words in Cheer Season 2, and our median audience being 8 to 10 years old, we asked her to sit out 3 meet and greet events that would attract a younger audience," the company said.
The company added it had been happy to partner with her and had hoped to still feature her in its lookbooks.

"Jada choose to decline those offers, and instead she asked to terminate her relationship with Rebel in its entirety," the company said.
Wooten also said she wasn't invited to participate in the Cheer tour, which is sponsored by Rebel and includes cheerleaders from both Navarro College and Trinity Valley. The tour, which will head to venues across the nation, will feature Gabi Butler, Morgan Simianer, DeVonte Joseph, and others.
Cheer features the coed cheer teams of Navarro and Trinity Valley, two junior colleges in Texas, as they prepare for their national championship. Athletes often get heated as they struggle to learn acrobatic routines and stunts, and the show leans into the drama on and off the mat. After Jerry Harris, the breakout star of the show's first season, was charged with producing child sexual abuse material, the show's second season followed the fallout within the close-knit world of the sport.
On the show, Wooten stood out as a leader on the Trinity Valley team who was always outspoken as she tried to motivate her teammates. She'd learned through her own journey to always be herself, and in her Instagram post, she reminded her followers they were perfect just as they are.
"This is to the real ones. The ones who are too much or never enough," she wrote. "Too big, too loud, too black, not black enough, too small, too poor, not smart enough. This is to all of you who are any of these things and still live your authentic life in spite of it!"