BuzzFeed Quiz Party!
Take this quiz with friends in real time and compare results
Check it out!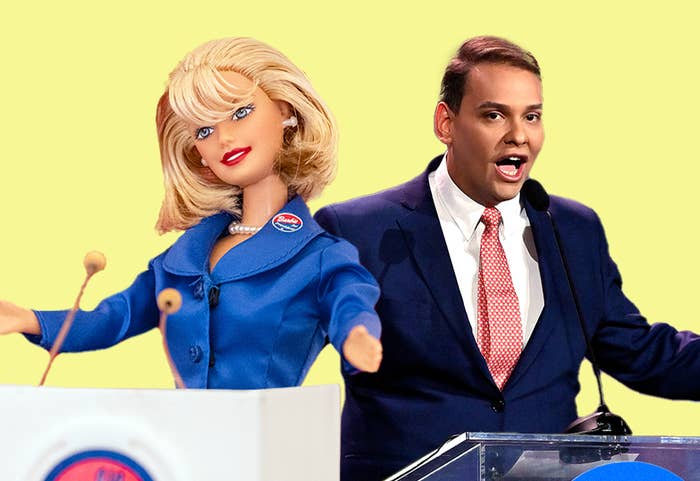 Since her birth in 1959, Barbie has taken on more than 200 jobs, ranging from older sister to chef to entrepreneur. Since his birth in (apparently) 1988, Republican Rep. George Santos has had more than a dozen (supposed) titles and careers. When Santos launched his campaign in 2021 for US representative for New York's 3rd Congressional District, he claimed a variety of biographical details: that his mother survived the 9/11 attacks and that his company "lost four employees" in the Pulse nightclub shooting. Although there is no evidence for either claim, Santos has since doubled down on both assertions. But after he won the election, the New York Times discovered his résumé was full of embellishments and false claims, kicking off a series of investigations from the House Ethics Committee, the Federal Election Commission, and the Campaign Legal Center.
Santos has owned up to some things, like his previous marriage to a woman (despite saying he was gay) and his claims that he is Jewish (later clarifying he is Jew-ish).
According to a survey from Siena College released in February, 78% of Santos's constituents believe he should resign. Some of his constituents formed a group called Concerned Citizens of NY-03 to campaign to have him removed from office. And in February, some of them traveled to Capitol Hill to demand he be expelled.
In the meantime, the wild stories about Santos keep coming. The latest: The FBI and other state and federal authorities are reportedly investigating the deal of a 141-foot super yacht allegedly brokered by Santos, although it's unclear whether any laws were broken.
In a February interview with Piers Morgan, Santos called himself the subject of "desperate journalism" but also called himself a "terrible liar" and asked the public for forgiveness. "What I tried to convey to the American people is I made mistakes of allowing the pressures of what I thought needed to be done. This wasn't about tricking anybody. … This was about getting accepted by the party here locally."
Despite the ongoing investigations, Santos's fellow Republicans have largely been silent about what his supposed résumé says, minus Republican Sen. Mitt Romney, who called on him to resign this year. Santos told Morgan it wasn't the first time someone told him to shut up and it wouldn't be the last.
None of the alleged lies, investigations, or calls for him to resign are stopping him — on Tuesday March 14, Santos filed paperwork for reelection in 2024. He's in good company, because Barbie has run her own campaigns for the past few elections, leading many to believe she'll run for president in 2024.
In honor of Santos's many claimed accomplishments, please take this quiz to find out who (supposedly) had the job: Santos, Barbie, or both (!).