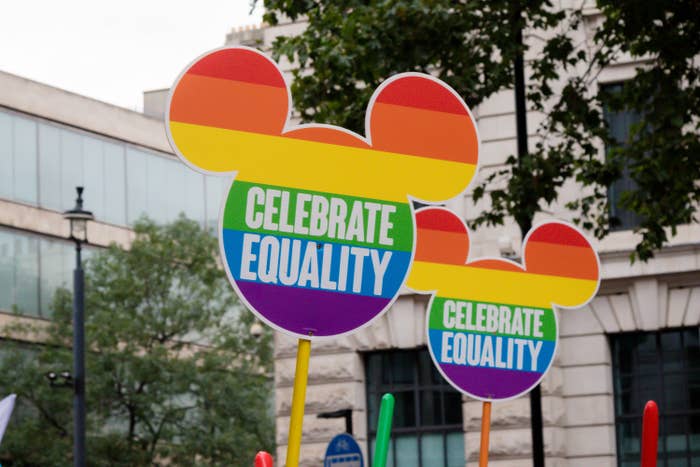 Disney employees — ranging from characters in the theme parks to writers on their TV shows — are speaking out against their employer after reports the company donated money to politicians sponsoring the so-called "Don't Say Gay" bill.
The Florida Senate passed the legislation on Tuesday by just five votes. It previously contained a provision that would have forced teachers in Florida to notify parents of students' sexual orientation, but that amendment was withdrawn. Now the bill bans "classroom instruction" on sexual orientation or gender identity for students in kindergarten through third grade and teaching "in a manner that is not age-appropriate or developmentally appropriate for students."
Disney donated nearly $200,000 over the course of two years to members of the Florida legislature that pushed forward the legislation, according to the government accountability news site Popular Information. A Disney representative did not respond to an inquiry from BuzzFeed News regarding the donation report.
On Wednesday, CNN reported Disney CEO Bob Chapek announced at a shareholders meeting that he had reached out to Gov. Ron DeSantis to convey that the company is disappointed and concerned. He also said Disney tried to work behind the scenes to oppose the bill and that the company would donate $5 million to LGBTQ rights organizations.
But earlier in the week, current and former Disney employees spoke out on social media to express their disappointment in tweets and videos, as well as in interviews. Even a descendant of Walt Disney's has joined the outcry.

"If this bill was in place when I was growing up, I probably would not be here," Franky Jr., a trans former cast member at Walt Disney World, told BuzzFeed News.

Critics argue the law could strip vulnerable students their support systems by preventing any classroom discussion of gender or sexuality at any age, putting them at further risk of isolation and bullying. The bill, which allows parents to sue over these issues, could also open up already cash-strapped public schools to expensive lawsuits. It is now on DeSantis' desk, and he has indicated he will sign it into law. It would go into effect July 1.
"If I were to have been outed to people I wasn't ready to come out to back then and the school wasn't a safe place for me, then there is no way I would have been able to come out in high school," Franky Jr. added. "There is no way I would have been able to have a safety net or safe place to figure out who I am, figure out exactly what I like, exactly how I want to dress."
Franky Jr. worked at the theme park off and on from 2015 to 2021. He said support from his fellow cast members is part of what encouraged him to medically transition and pursue hormone therapy.
Disney donating to politicians supporting the "Don't Say Gay" bill doesn't make sense, he said, because it would harm the cast members and their families who view the parks as an escape.
Disney has explicitly not spoken out on the bill. And in lieu of a statement to BuzzFeed News, a Disney spokesperson forwarded an email from CEO Bob Chapek that was sent to employees on Monday.
Chapek wrote that he and the leadership team support LGBTQ employees and their families and communities. But Disney has not issued a statement because "corporate statements do very little to change outcomes or minds." Instead, he wrote, statements just divide.
But Abigail Disney, the grand-niece of Walt Disney who has been openly critical of the company, tweeted that Chapek is more worried about "right-wing backlash" than his fans or employees.
"The times for neutrality are long since over," she tweeted. "That train has left the goddam station. What is Disney for? Is it for pretending what America is about, or it is for defining a vision for a world in which fantasy, love, kindness, decency and loyalty are bedrock values."

Colleen Evanson, who is the lead writer for a Disney+ show that has yet to be released, told BuzzFeed News that as an ally, she is upset and outraged for her LGBTQ coworkers.

"It's really frustrating when Disney is trying to champion and have more diversity and inclusion both on camera and behind the scenes, and they want to sell these rainbow Mickeys during pride," Evanson said. "But it just feels like virtue signaling when you're not willing to take a stand."
It's confusing to Evanson considering Disney has taken political stands in the past. After the insurrection on Jan. 6, Disney stopped contributing to politicians who refused to certify President Joe Biden's win. And in 2016, Disney threatened to stop filming in Georgia if the state passed an anti-LGBTQ law.
Lucy Boheme, who is trans and worked as a Disney World cast member from 2007 to 2008, told BuzzFeed News that when she was growing up, Disney was a source of comfort for her.
"My earliest memory is being about 2 to 3 years old and being beaten because I was acting too 'girly,'" Boheme said. "I vividly remember being hit, but Winnie the Pooh was on TV. Somehow, my child mind got lost in the Hundred Acre Wood. I couldn't feel the blows. And from that moment, Disney became a source of comfort."
When she was 18, she came out and moved to Florida to work at Disney World. She still believed in the magic, she said.
"I believed that if I stayed kind and true to myself I would find family and friends who accepted me just as I was," she said about working there. And she did.
So Chapek not taking a stand against the "Don't Say Gay" bill hurts just that much more.
"Today, Bob Chapek told me that the magic I've believed in for my entire life is not for LGBTQ+ people like me anymore," Boheme said, referring to the email.
"We aren't worthy enough to be stood up for, treated equally or humanized. Bob's statement today has made it crystal clear that he doesn't care about LGBTQ+ people, just the money we give him," she continued. "The magic has died for me, and the little queer kid being beaten for being queer is crying and alone again."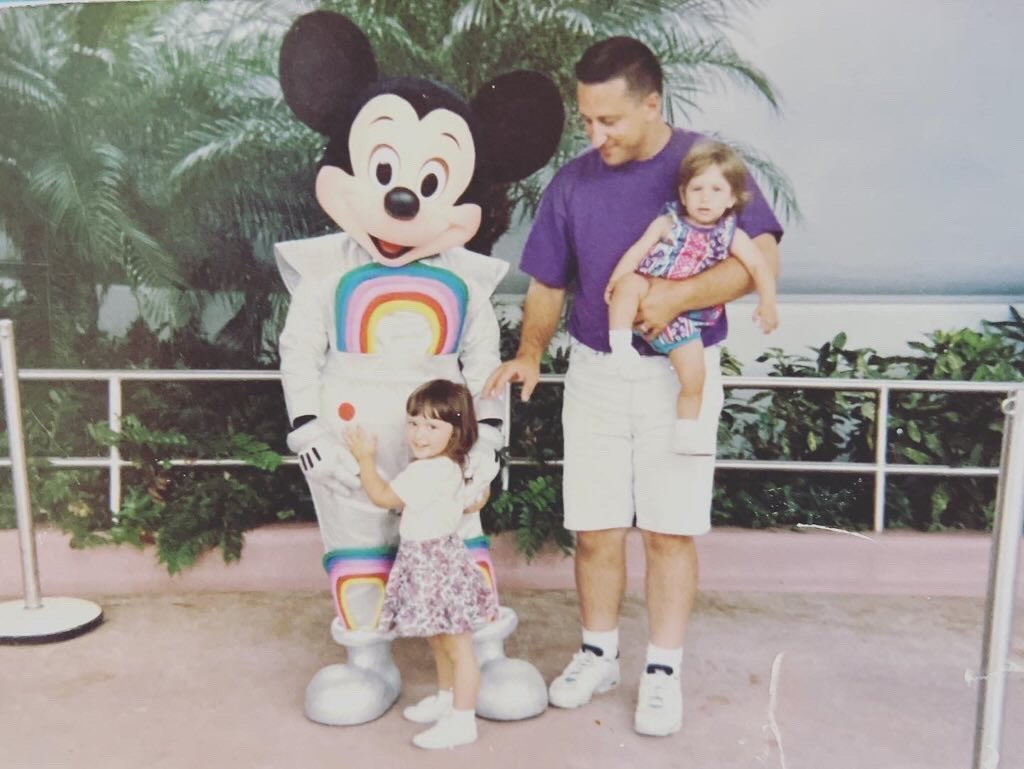 Kaitlyn Ritter, a director of the same unreleased Disney+ show as Evanson, told BuzzFeed News in an email that her late father, who also worked for Disney, would be disappointed in the company's stance.

"The blood and suffering of LGBTQIA+ children will be on Disney's hands thanks to their support of this life-altering bill," Ritter, who identifies as bisexual, said. "It breaks my heart."
Ritter added that she feels devalued by her company and fearful of the future her company has allegedly contributed to creating.
"I am truly feeling broken today, as someone who, since childhood, trusted, and loved, and hoped to grow at this company. Who, as an adult, makes content for the children of our future, under the Disney company, while knowing the truth about Disney's true stance on their safety," she wrote.

"Make it make sense, Disney," she added.