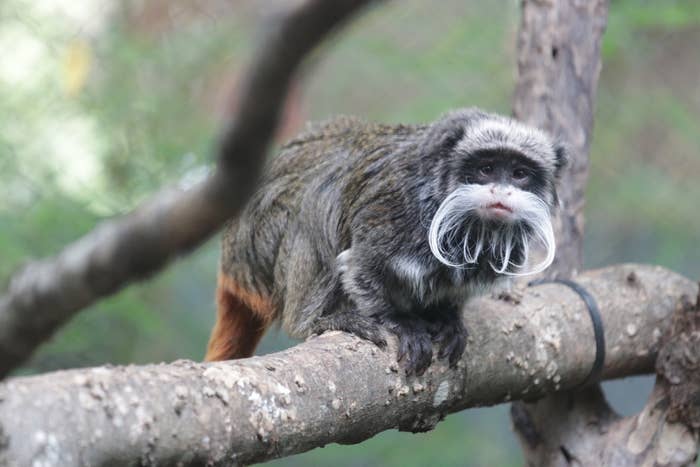 Two emperor tamarin monkeys went missing Monday morning from the Dallas Zoo, making it the third recent unusual activity regarding the zoo's animals.
"Emperor tamarin monkeys would likely stay close to home," the Dallas Zoo said in a statement to BuzzFeed News. "The Zoo searched near their habitat and across Zoo grounds, and did not locate them. Based on the Dallas Police Department's initial assessment, they have reason to believe the tamarins were taken."
According to Dallas police, the monkey encosure pen had been cut open, and preliminary investigation showed the monkeys had been intentionally taken. The investigation is ongoing, police told BuzzFeed News.
On Jan. 13, a clouded leopard went missing after zoo employees discovered a tear in the mesh enclosing its habitat. Nova, the missing clouded leopard, was eventually found later that day near her original habitat on zoo grounds.
Then on Jan. 22, the Dallas Zoo announced that they discovered an endangered vulture had died and the circumstances around the death were "unusual." It's been reported that Pin, the 35-year-old lappet-faced vulture, had some kind of wound when he was found dead. The Dallas Zoo is offering $10,000 to any information leading to an arrest and indictment regarding the death of the vulture.
On Monday morning, the Dallas Zoo once again alerted the police department that two emperor tamarin monkeys were missing and their habitat was "intentionally compromised."
In a statement, the Dallas Zoo said it has added cameras throughout its grounds and "increased onsite security patrols during the overnight hours."
"We will continue to implement and expand our safety and security measures to whatever level necessary to keep our animals and staff safe," the statement reads.
Last week, Kristin Lowman, a Dallas police spokesperson, told WFAA that the police has been interviewing zoo staff and gathering video surveillance.
Gregg Hudson, president of the Dallas Zoo, told the Dallas Morning News on Jan. 13 that the clouded leopard's opening in her enclosure was "suspicious," and Dallas Police Sgt. Warren Mitchell said the department had opened a criminal investigation into the incident.
"It is our belief that this was an intentional act," Mitchell said.
The zoo wouldn't say if it believes all three incidents are connected, but all of them have been reported to Dallas police. Meanwhile, it's closed for the next few days due to inclement weather.