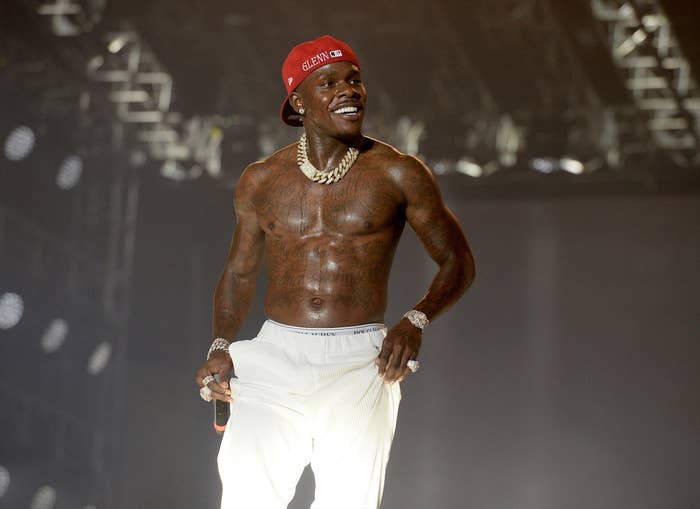 DaBaby apologized on Monday for making anti-gay comments that led to three music festivals canceling his appearances and celebrities such as Elton John and Madonna criticizing him.
"Social media moves so fast that people want to demolish you before you even have the opportunity to grow, educate, and learn from your mistakes," the rapper wrote on Instagram. "As a man who has had to make his own way from very difficult circumstances, having people I know publicly working against me — knowing that what I needed was education on these topics and guidance — has been challenging. I appreciate the many people who came to me with kindness, who reached out to me privately to offer wisdom, education, and resources. That's what I needed and it was received."

He added, "I want to apologize to the LGBTQ+ community for the hurtful and triggering comments I made. Again, I apologize for my misinformed comments about HIV/AIDS and I know education on this is important. Love to all. God bless."
The backlash was sparked when after DaBaby made disparaging remarks about people living with HIV and AIDS at a Miami concert last month.
"If you didn't show up today with HIV, AIDS, any of them deadly sexually transmitted diseases that'll make you die in two, three weeks, put your cellphone light up," DaBaby told the crowd at the Rolling Loud Festival.
He also said, "Fellas, if you ain't suck a nigga dick in the parking lot, put your cellphone light up. Keep it fucking real."
He kept going when he posted on his Instagram stories: "My gay fans, they take care of themselves. They ain't got no nasty gay niggas, see what I'm saying? They ain't no junkies on the street."
Several celebrities have expressed their disapproval for the 29-year-old rapper's remarks, including Dua Lipa, who features him on her hit song "Levitating."
"I'm surprised and horrified at DaBaby's comments," Lipa wrote on her Instagram story last week. "I really don't recognize this as the person I worked with. I know my fans know where my heart lies and that I stand 100% with the LGBTQ community. We need to come together to fight the stigma and ignorance around HIV/AIDS."

Elton John tweeted that "mistruths have no place in our society and industry and as musicians," adding that "a musician's job is to bring people together."