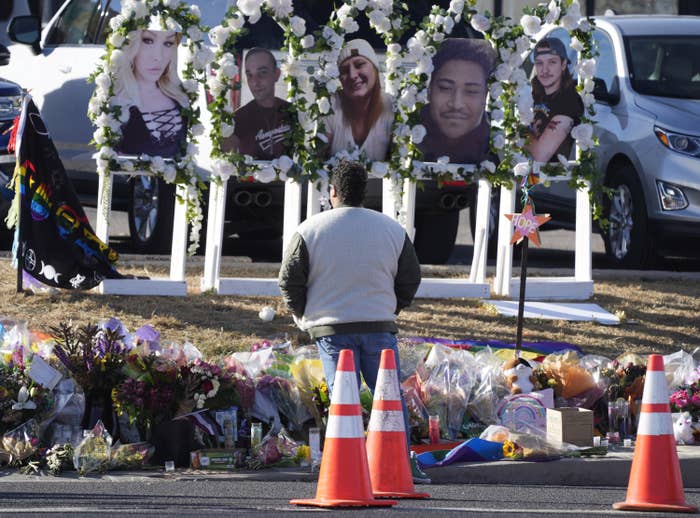 The suspect accused of killing five people in an LGBTQ nightclub in Colorado Springs ran a neo-Nazi website and used anti-gay slurs, a police detective testified on Wednesday.
At a preliminary hearing on Wednesday, prosecutors for the first time provided evidence related to why they charged 22-year-old Anderson Aldrich with hate crimes as well as murder in the Nov. 19, 2022, shooting at Club Q. The hearing is scheduled to continue through Friday, when a judge will rule if there is enough evidence to take the case — which includes more than 300 charges — to trial.
The alleged shooter, whose defense attorneys have said uses they/them pronouns, ran a website and posted several videos of other mass shootings, including ones at synagogues and mosques mainly in Europe, according to the Colorado Springs Police Department's Rebecca Joines, the lead detective on the case. She testified that she believes the suspect modeled the Club Q shooting after the shootings they posted on their neo-Nazi website. Joines said that detectives found a cellphone taped to a hat inside the suspect's car, leading detectives to believe they had considered livestreaming that night.
Joines also testified that the suspect had used anti-gay slurs in the past, calling their apartment property manager a "faggot" after they had an argument over the suspect not getting their mail. Joines also said that the suspect sent a photo of a rifle scope over a Pride parade to someone else over Discord.
The suspect had been to Club Q in 2021 and 2022 at least six times before the shooting, Joines said, and on Nov. 19 bought a ticket for a drag show there. On the night of the shooting, the suspect arrived at Club Q around 10:14 p.m. and stayed for just a few minutes before leaving and coming back inside with guns, including an assault-style rifle, she said. After the shooting, Joines said, she tried to interview the suspect at the hospital and they cried and asked if anybody was hurt.
In addition to the five people who were killed, at least 18 others were injured. Dozens of people were inside Club Q that night for a drag show; when the shooting broke out, Richard Fierro and Thomas James, two club patrons, confronted the suspect and beat them, which authorities have said prevented even more people from being killed.
On Wednesday, defense attorneys brought up the suspect's gender identity and sexuality, saying that they told James, "My mom will not accept me because I'm gay, you're all the same."
But that may be irrelevant in court; as the Associated Press noted, hate crime laws focus on the victims, not the perpetrators.
Survivors and victims' family members were in court on Wednesday. Club Q had been considered a safe haven for LGBTQ people in the conservative community of Colorado Springs.
"That's usually the club that most people here in Oklahoma, when they take a trip out there, that's where they're recommended to go for a safe space," Tempest Cartwright, who was best friends with a Club Q bartender who was killed in the shooting, told BuzzFeed News last year. "A lot of people here know Club Q as being that safe haven."