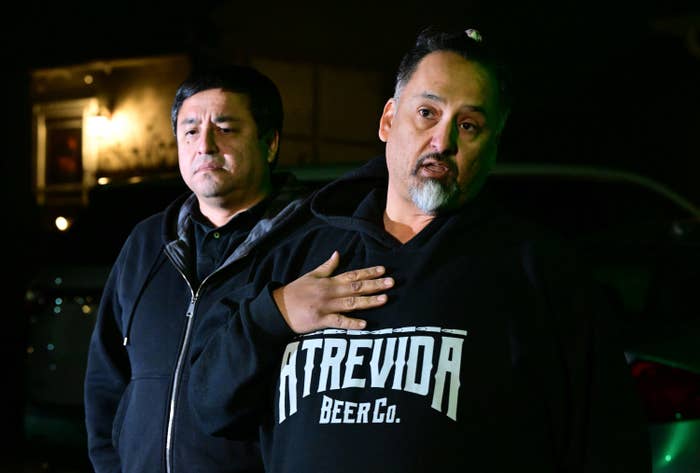 It started out as one of the best nights Richard Fierro and his family had had in a long time.

Club Q, a longtime safe haven for LGBTQ people in Colorado Springs, was hosting a drag show on Saturday night. Fierro, his wife, his daughter, and her boyfriend, and others were out to celebrate a birthday, and one of his daughter's friends was performing. Videos from the club showed it was a typical night: happy people, music, and dancing.
But all of that changed just before midnight, when a person wearing tactical gear and carrying an AR-15-style rifle and handgun walked into the gay nightclub and began shooting. At 11:56 p.m., the first 911 call was made. By midnight, police officers were on the scene, and by 12:02 a.m., the suspect was taken into custody.
For those six or so minutes in between, club patrons fled, hid, and fought back. Fierro went directly toward the shooter.
"The guy came in shooting," Fierro, a 45-year-old former Army officer, told reporters outside his home Monday night. "Came in shooting. He was shooting. I don't know what the hell he was shooting at. I smelled cordite. I saw the flash."
The shooter killed five people and injured 18 more in those few minutes before he was subdued by Fierro and another person, Thomas James. Police and local officials have said the death toll could have been much higher if they hadn't intervened.
"I have never encountered a person who engaged in such heroic actions and was so humble about it," Colorado Springs Mayor John Suthers said of Fierro on Monday.
When Fierro recalled the events of Saturday night to reporters outside his home, his memory was fuzzy, but he said he remembered a lull in the shooting — and before he knew it, he had grabbed the shooter and pulled them down. Fierro, a large man, said the shooter was even larger.
Fierro grabbed the shooter's handgun and began hitting them in the back of the head.
"I saw him, and I went and got him," Fierro said. "And I told him when I was hitting him, 'I want to kill you, guy. I'm going to kill you.'" He ordered another man to grab the shooter's rifle.
"I told the guy in front of me, 'Kick him in his head, kick him in his head,'" Fierro said. "I'm yelling, '911. Somebody call 911.'
'I'm going to kill you,'" he said to the shooter.
He called for a trans woman running by to kick the shooter in the face.
"She took her high heel and stuffed it in his face," Fierro said.
"I just know I got into mode and I needed to save my family, and that family at that time was everybody in that room."

But even with his quick actions and those of others in the bar, Fierro wasn't able to save one person close to his family. His daughter's longtime boyfriend, Raymond Green Vance, was shot and killed.
"There are five people that I could not help, one of which was family to me," Fierro said. "Raymond was part of my family since my daughter was in high school. I went to his football games. I sat with his mom. I sat with his little brother. They are great people."

Daniel Aston and Derrick Rump, who performed and bartended at the club, were also killed, along with patrons Kelly Loving and Ashley Paugh. Eighteen other people were injured, including Barrett Hudson, who was shot seven times.
New to town, he'd been checking out Club Q for the first time. When he heard the gunshots, he thought at first that balloons were popping. After about seven pops, he knew something was wrong, he told CNN.
"I looked to my right and the door had shut and the gunman is standing there," Hudson told CNN. "And this dude ... took a step or two back from him, and the gunman murdered him right in front of me."

"Everyone took off running," Hudson told CNN. "I took off running to the back and I got shot. I knew I got shot a few times. I fell down. He proceeded to shoot me. I got back up."

In an Instagram video from his hospital bed, Hudson said he was shot seven times in the back. He made it out of the club and, in spite of his injuries, managed to get over a fence and run across the street to a gas station, where people inside helped to stop the bleeding until paramedics arrived.
Joshua Thurman was dancing when the shooting began, he told KOAA.
"I thought it was the music, so I kept dancing. Then I heard another set of shots and then me and a customer ran to the dressing room, got on the ground and locked the doors, and called the police immediately," Thurman said.
The suspect, identified as 22-year-old Anderson Aldrich, was taken to a hospital after police arrived. On Tuesday, Aldrich was transferred to El Paso County Jail and is scheduled to appear virtually in court on Wednesday. Preliminary charges include murder and hate crimes.
Club Q has been closed since the shooting that turned it into a crime scene. In a statement on Monday, its owners called out anti-LGBTQ rhetoric and urged people to join them in taking a stand.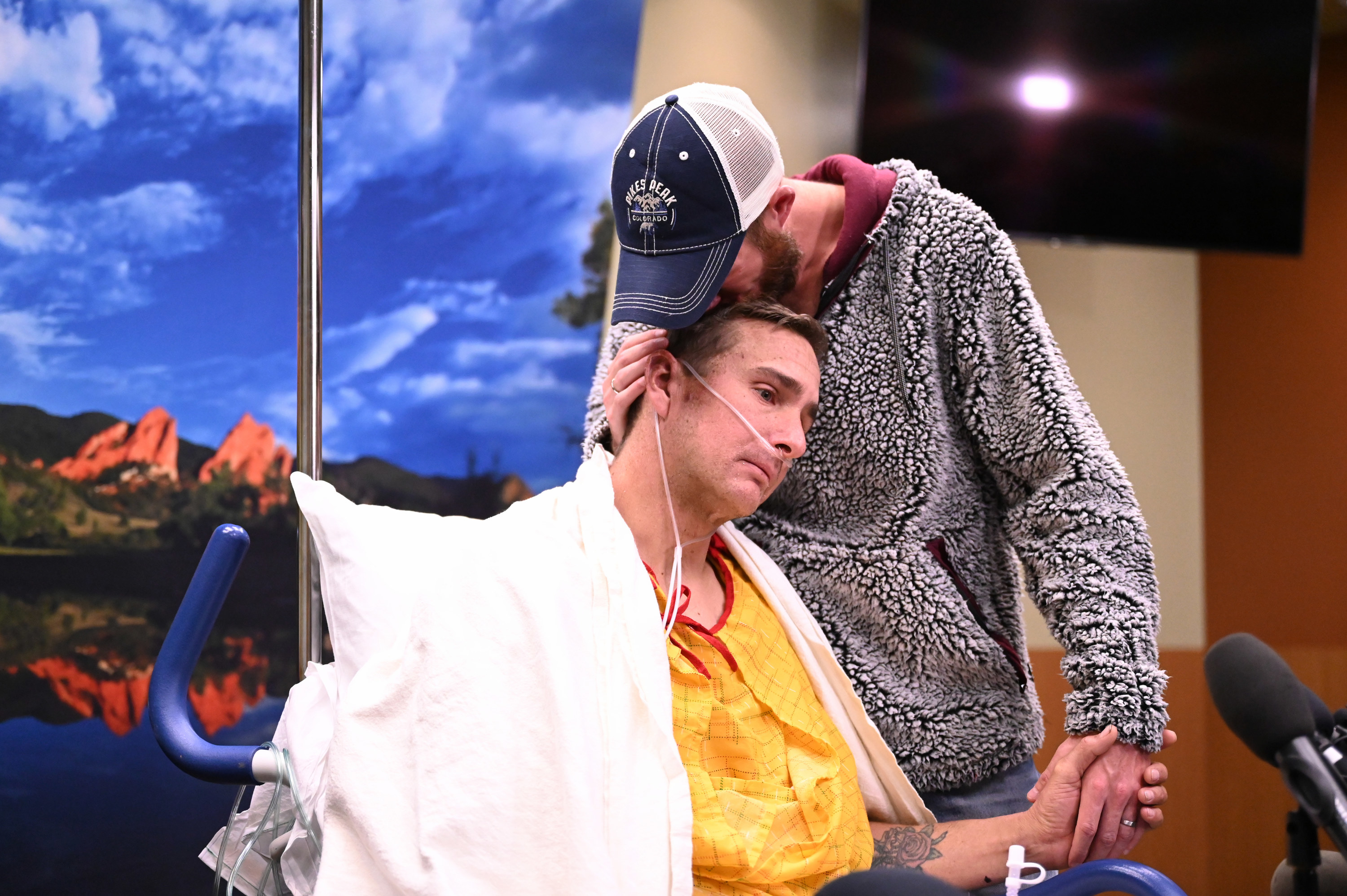 On Tuesday, another gunshot wound survivor described the incredible pain he's experienced since the attack.
Anthony, whose last name was not released, spoke with his spouse by his side at Centura Penrose Hospital, telling reporters that he lost two friends in the shooting. He said he expects he'll be uncomfortable going anywhere for a long time; Club Q was supposed to be a sanctuary.
"That has always been one of my mom's biggest worries and concerns is going out and being gay and not having somewhere to go," he said. "But when I was welcomed into Q by a bunch of people, I knew that I had a home. I had a space space, and they made sure that everybody knew that it was a safe space."