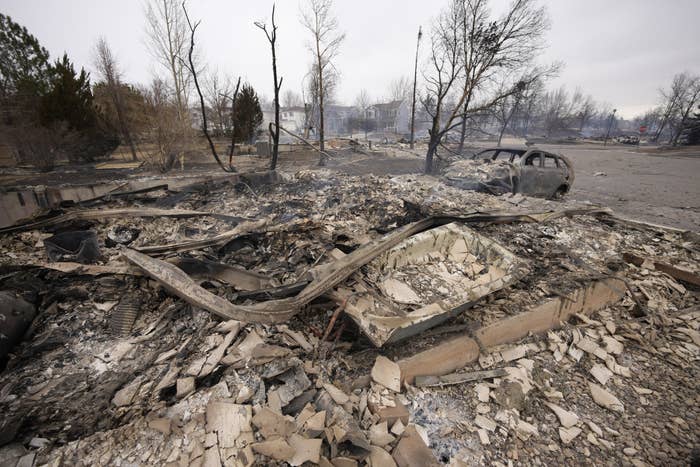 More than 500 homes were destroyed and tens of thousands of people were forced to evacuate after high winds whipped two wildfires in suburban areas near Boulder, Colorado, on Thursday.
Both fires were likely started by downed power lines, Boulder County Sheriff Joe Pelle said, but officials are continuing to investigate. As of Thursday evening, only one injury had been reported — debris blew into a police officer's eye — but Pelle stressed the human toll could be higher.
By Friday morning, however, there were still no reports of fatalities, he said, adding that a person who had been reported missing was accounted for and doing well.

"So that's awesome news, and actually, I think given the events that we had yesterday, pretty miraculous," Pelle said during a news conference.

Kelli Christensen, a spokesperson for UCHealth Broomfield Hospital, told BuzzFeed News the facility received six patients in connection with the fires. Christensen did not provide any information about their condition or injuries, citing privacy laws.
The Middle Fork and Marshall fires started Thursday morning and exploded as wind gusts of more than 100 mph hit the region. As of Thursday evening, the Marshall fire had burned through 1,600 acres, prompting evacuations in Superior and Louisville, as well as parts of Broomfield. Videos on social media showed people leaving stores that shut down as smoke loomed.

All 370 homes in the Sagamore subdivision outside the town of Superior were destroyed, as well as 210 homes in the Old Town neighborhood. A shopping center and hotel also burned, and authorities said the full scope of damage in other neighborhoods remained unknown.
"I would estimate it's going to be at least 500 homes," Pelle said, but added that he would "not be surprised if it's 1,000."

The fires burned over an area that includes approximately 2,000 homes, but some neighborhoods were left standing, while others were completely devastated, authorities said.
The National Weather Service Boulder extended a high-wind warning until 8 p.m. Thursday for locations at the base of the foothills, but winds weakened in the area of the fires overnight.

"We were fortunate that the winds dissipated last night," Pelle said.

As snow began to fall over the Boulder area Friday morning, authorities said that as long as the weather holds up there shouldn't be much additional damage from the fires.

Colorado Gov. Jared Polis said he spoke with President Joe Biden on Friday and that the state has been approved for federal assistance. Still, he recognized that many things lost could not be replaced.
"There's no way to quantify in any financial way the price of a loss, the price of losing the chair that was handed down to you from your grandmother, of losing your childhood yearbooks, of losing your photos, of losing your computer files, which hundred of Colorado families have experienced today with no warning," Polis said.

Footage from a Denver7 News reporter showed homes continued to burn Thursday night.
Weather disasters are inextricably linked to human-induced climate change. The planet has already warmed 2.1 degrees Fahrenheit since 1880, according to NASA, and that's making disasters worse. Wildfire seasons are getting longer. Hurricanes are getting wetter and more dangerous. Heat waves are getting hotter, more frequent, and longer-lasting. Heavier rainfall across the US is triggering more inland flooding. And the cost of climate disasters is soaring. Stopping this vicious cycle will require drastically reducing our reliance on climate-polluting fossil fuels.

According to the NWS Boulder, the second half of this year was one the driest on record for the Denver area.
"Denver received well above normal precipitation from February through June. But since then, precipitation has flat-lined," the station tweeted.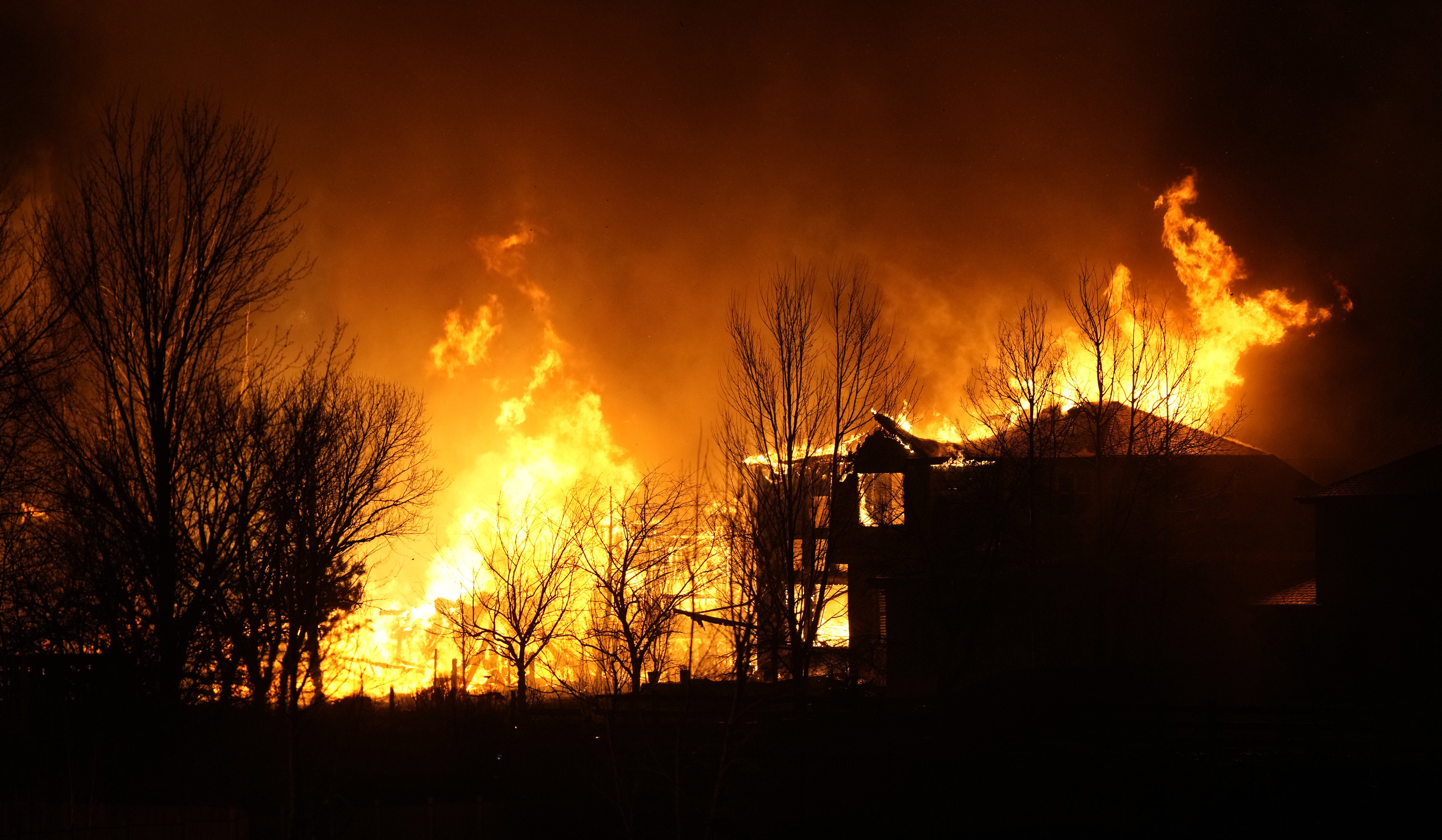 Polis also acknowledged how unusual the timing was for a wildfire.

"Here in December, who thought we would be fighting a major grassland fire?" he said.
On Friday, after viewing the damage from above, Polis again spoke to the shock of watching the disaster materialize so rapidly at a time when the state and the country are grappling with yet another surge in the coronavirus.
"You know it feels like we've experienced enough tragedy and loss these last two years and then yesterday happened over the course of several hours," he said. "This is our community and to watch it burn so quickly, so unexpectedly is something that I think we're all just struggling to believe and understand."