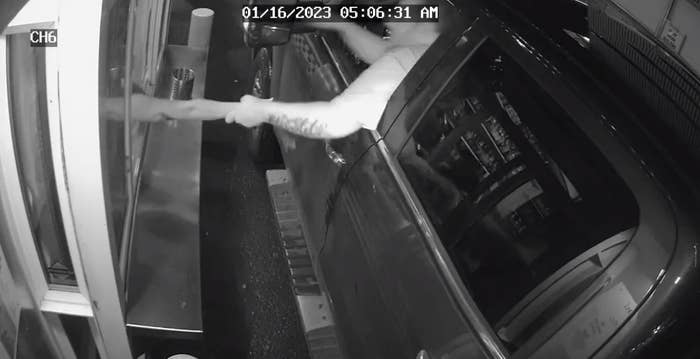 A man was arrested on suspicion of attempted kidnapping on Tuesday after police released chilling surveillance video showing someone trying to pull a barista through a drive-thru window.
On Wednesday, police in Auburn, Washington, identified the suspect was Matthew Darnell, but it's still unclear if he had any connection to the barista or the coffee business. In Darnell's first court appearance, the judge found probable cause for attempted kidnapping in the second degree, and his bail was set at $500,000, according to police.
The incident took place around 5 a.m. Monday, and police posted the surveillance video Monday night. In the video, the barista is handing change to a man in a pickup truck when he uses what police described as a "looped ziptie device" to try and drag her through the drive-thru window.
After she manages to pull away and shut the window, he drives off, leaving behind his change.
According to police, the man has a tattoo on his left forearm that reads "Chevrolet." They said on social media that he was arrested after "overwhelming support from the community" in response to the video.
The suspect was arrested at his home in Auburn, Kolby Crossley, the police department's public information officer, told BuzzFeed News.
When police conducted a search on the Darnell's pickup truck, they found evidence linked to the crime, although Crossley didn't disclose what the evidence was.
The barista, who was working alone at the time, was not injured in the incident.