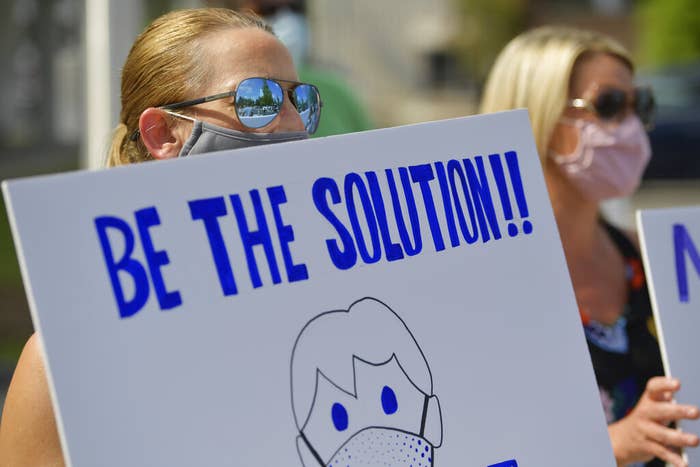 Thousands of students who have returned to schools across the US are already in quarantine after having been exposed to COVID-19 as the highly contagious Delta variant continues to wreak havoc on reopening plans.
All 53 fourth-graders at Patrick Henry School of Science and Arts in Richmond, Virginia, have been quarantined after four students reportedly tested positive for COVID-19. The students will go to class virtually until they're cleared to go back to school, which is located in a county where only about 42% of the population is vaccinated.
The fourth-graders haven't been able to get vaccinated, because the doses have so far only been authorized for kids 12 and up.
"I think given what we saw over the first couple of weeks, we're gonna take a much more active role in that oversight and a more muscular approach to managing Patrick Henry and ensuring that all the protocols are followed," Superintendent Jason Kamras told the Richmond Times-Dispatch.
But thousands of children who have recently returned to school are already paying the consequences of Delta's rapid spread.
In a South Carolina school district, 126 students and 22 staff members tested positive for COVID-19 during the first week back at school, resulting in more than 600 students and seven staff members having to quarantine after coming in contact with those who were positive. Masks are an option for Kershaw School District students even though just 42% of Kershaw County residents are vaccinated, according to the State. (Because of Delta, the CDC has recommended that schools require universal masking for anyone aged 2 and up, regardless of vaccination status.)
Pediatric cases of COVID-19 are rising nationwide as infections continue to surge in areas with low vaccination rates. While the vast majority of kids with COVID-19 experience mild symptoms, such as runny noses, coughs, and fevers, a very small percentage — from 0.1% to 1.9% — end up hospitalized, according to data reported by 23 states and New York City and compiled by the American Academy of Pediatrics and the Children's Hospital Association.

Some parents have expressed concerns about the outbreaks on Twitter.

Throughout the state of Mississippi, roughly 1,000 students and teachers have tested positive for COVID-19, and nearly 5,000 are quarantined. In some districts, masks are optional. In southern Mississippi, ​​Oak Grove High School and Purvis High School announced they were going virtual starting Aug. 16 because of the "high transmission rate of COVID-19." Only about 35% of Mississippi is fully vaccinated.

The Instagram account for Oak Grove's class of 2024 posted about the increase in positive COVID cases. The caption reads, "Study hard while you're home & make the best of it!"
Things might not be worse in Ankeny, Iowa, but it could get there quickly. The superintendent of that school district, which has more than 12,000 students, informed parents that students are not required to quarantine if they've been exposed to someone with COVID-19, according to IowaWatch.org.

According to the CDC, if a student shows signs of sickness, they need to be immediately isolated and masked and a guardian should pick them up. If that student tests positive with COVID, everyone who was in close contact with them should be alerted and the student's teacher should also quarantine. The student can return to school after 10 days of their first symptoms and at least 24 hours without a fever.